About this Event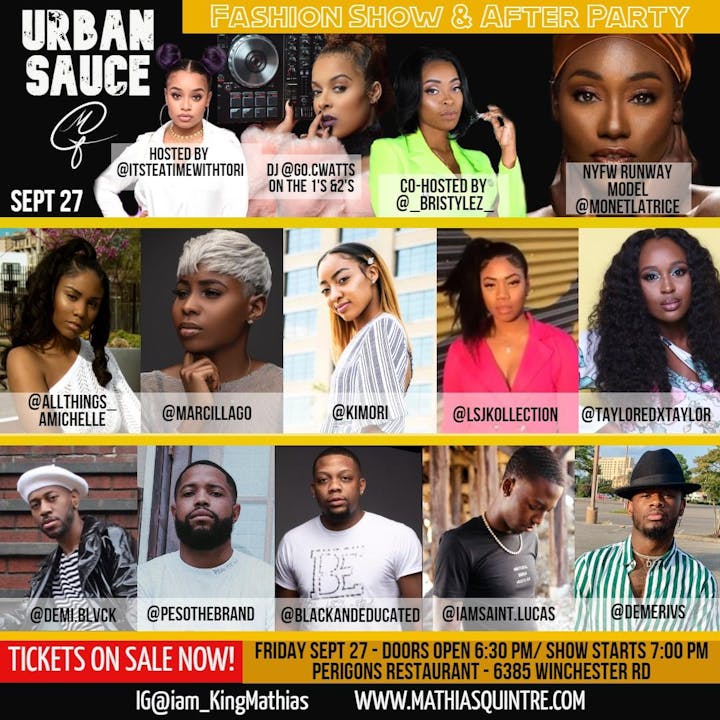 TICKETS CAN ONLY BE PURCHASED ON OUR WEBSITE AT www.MathiasQuintre.com
TICKETS CAN ONLY BE PURCHASED ON OUR WEBSITE AT www.MathiasQuintre.com
FASHION SHOW & AFTER PARTY
On Friday, September 27, 2019, we are bringing you the BIGGEST Urban Fashion Show of 2019. URBAN SAUCE will be a fashion show that you won't be able to forget equipped with cocktails, live performances, great food, and this season's HOTTEST fashions!
The Mathias Quintré Models will BLAZE the runway featuring the styles of local fashion designers, stylists, and fashion influencers. But it doesn't stop there!
After the fashion show, everyone is invited to join Mathias Quintré for the Official Brand Release After Party as we celebrate the release of the Mathias Quintré Fashion Brand!!
PARTY ALL NIGHT, DRINKS ALL NIGHT, FOOD ALL NIGHT!
Yes! "We gone get you LIT!" The Mathias Quintré Model Baddies will be hosting, order food & drinks ALL NIGHT, and live DJ @Go.Cwattss will be on the 1's & 2's! This is an event that you do not want to miss!!!