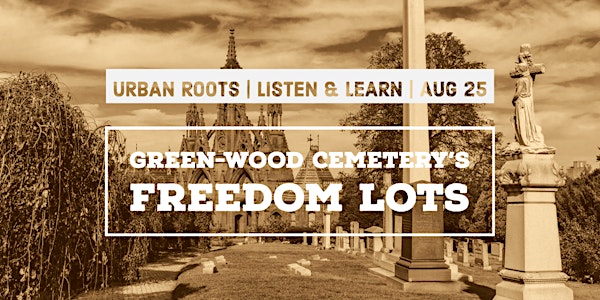 Urban Roots Listen & Learn: Green-Wood Cemetery's Freedom Lots
Join Urban Roots as they host a virtual Listen & Learn session with Green-Wood Cemetery to dive deeper into the history of the Freedom Lots
About this event
In the 1850s, Green-Wood Cemetery was the second most popular tourist attraction in America (only behind Niagara Falls). Today, tens of thousands of people still go to visit this Brooklyn landmark to see the beautiful landscaping and ornate graves of America's elite … but few people realize that Green-Wood didn't JUST cater to the rich and famous. In fact, since its early days, the cemetery set aside land for the burial of African Americans. In 2017, however, these lots were in disrepair, and in danger of being lost forever.
Our episode "Unearthing Black History in Brooklyn," tells the story of these lots — and of the people of color who took action to not only preserve the physical graves but the memories of those buried there. During this virtual Q&A you'll get to hear directly from guests Jeff Richman, Green-Wood's historian, and Neela Wickremesinghe, its director of restoration and preservation, go behind-the-scenes of the podcast, and dive even deeper into Green-Wood's little-known African American history.
PARTICIPANTS
Neela K. Wickermesinghe (Panelist) is the Robert A. and Elizabeth Rohn Jeffe Director of Restoration and Preservation. She has worked at Green-Wood since 2016 restoring, resetting, and managing Green-Wood's vast monument collection. Neela presents at conferences and lectures on conversation issues, and has volunteered at a number of organizations dedicated to preservation and conversation. Neela earned a BA degree in Architecture and Urbanism at Smith College in Northampton, MA, and an MS degree in Historic Preservation at Columbia University's Graduate School of Architecture, Planning and Preservation in New York City.
Jeff Richman (Panelist) is the historian at Brooklyn's Green-Wood Cemetery. Thirty-one years ago, he led his first tour at Green-Wood—a place that combines so many of his interests: 19th century New York City and photography of it, landscape design, sculpture, rural cemeteries, nature, and more. He became its part-time historian in 2000 (while practicing law, representing indigent criminal defendants for 33 years) and its fulltime historian in 2007. He is the author of many books, including Brooklyn's Green-Wood Cemetery: New York's Buried Treasure (1998). He also co-designed two Green-Wood maps, authored two self-guided walking tours and an app, and curated several gallery exhibitions. Since 2002, he has also led Green-Wood's Civil War Project, which, through the work of hundreds of volunteers, has identified 5,200 Civil War veterans interred at Green-Wood.
Vanessa Quirk (Moderator) is a journalist who writes and speaks about cities' past, present, and future. She's the co-host of Urban Roots, which tells little-known stories from urban history; Uncertain Things, a long-form interview show for our uncertain times; and City of the Future, about the ideas and innovations that will transform cities.
Deqah Hussein-Wetzel (Audience Moderator) is a historic preservationist based in Cincinnati. She is the founder of Urbanist Media — an anti-racist community preservation not-for-profit — and the Urban Roots podcast, which both share the same mission: to elevate underrepresented voices and help preserve the places significant to them.
ABOUT URBAN ROOTS
Urban Roots is a narrative documentary podcast that unearths histories of women and people in color that are in danger of being forgotten. Our first season focused on three black neighborhoods in Cincinnati. Our second season explored African American histories in Brooklyn, Los Angeles, and Indianapolis. Find us wherever you listen to podcasts (Apple, Stitcher, Spotify, Pocket Casts) and on YouTube.