Urban Roots Benefit // Farms In Schools // Art by Anthony James // DJ set by Ben Goldwasser from MGMT // William Close and the Earth Harp

Saturday, December 3, 2011 from 7:00 PM to 11:00 PM (PST)
Event Details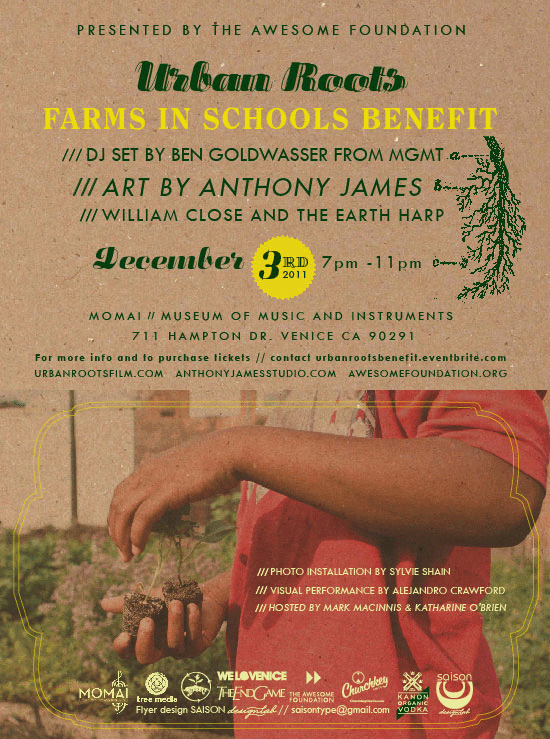 Artist Anthony James partners with documentary film Urban Roots to put farms in schools.
Director, Mark MacInnis of the highly acclaimed documentary film Urban Roots has partnered with celebrated contemporary artist Anthony James to fund the creation of farms in schools.  On December 3, 2011, MacInnis and James will unveil limited edition sculptures inspired by the Urban Roots documentary. Proceeds from the sale of these works will go towards the Urban Roots Field of Dreams initiative supporting farms in underprivileged schools.
Urban Roots, a Tree Media production, is a timely and moving film about the emergence of urban farmers in the most unlikely of places – downtown Detroit.  Produced by Leila Conners and Matthew Schmid, and directed by Detroit-native Mark MacInnis, the film shows the vibrant local economy of farming that has united people of all ages and walks of life.  These urban farmers come together to create a community based on healing the soil and growing and eating healthy food while transforming the landscape.
After seeing the film, visionary artist Anthony James was inspired to create and donate these limited edition sculptures.  TreeHugger magazine has described James' sculptures as "something out of a dystopian future where the only remnants of nature are locked up in museums and zoos." The LA Times noted the work is  "- a bit like the scene in 'Alice in Wonderland,' in which Alice peers through the keyhole of a tiny door onto a beautiful garden only to realize that she is unable to enter." Mark MacInnis, director of Urban Roots said "Anthony really understands the beauty that still exists in cities like Detroit. Detroit's farmers have taken on the tough physical work of clearing concrete and enriching the soil and that's exactly what an inspirational artistlike Anthony does—create something amazing where others can't." 
The Awesome Foundation will present these works of art beginning at 7 pm on December 3, 2011 at MOMAI in Venice, California.  Museum of Music and Instruments (MOMAI) is located at 711 Hampton Drive, Venice, CA 90291. Music by Ben Goldwasser from MGMT from 7-11pm. Private viewings will be held between 5pm – 7 pm.  Purchase of the art work is tax deductible.  To purchase a copy of Urban Roots go to www.urbanrootsfilm.com. A portion of DVD sales will also go to building farms in schools.
For media/event information or to schedule private viewing
Contact: info@theendgameco.com 
Have questions about Urban Roots Benefit // Farms In Schools // Art by Anthony James // DJ set by Ben Goldwasser from MGMT // William Close and the Earth Harp ?
Contact Urban Roots
When & Where

MOMAI
711 Hampton Drive
Venice, CA 90291


Saturday, December 3, 2011 from 7:00 PM to 11:00 PM (PST)
Add to my calendar
Organizer
Urban Roots 
www.urbanrootsamerica.com
Anthony James  
www.anthonyjamesstudio.com
Mark MacInnis 
www.urbanrootsfilm.com
The Awesome Foundation 
www.awesomefoundation.org
Tree Media 
www.treemedia.com 
Ben Goldwasser 
www.whoismgmt.com 
William Close 
www.earthharp.com
TheEndGame  
www.theendgameco.com  
MOMAI   
www.momai.org 
SAISON designlab
saisontype@gmail.com

Katharine O'Brien
Host 
Sylvie Shain
Urban Roots Photos
Shevy 
www.blameitonshevy.com
Karla Braun