Description
13th Annual
Urban Paradise Weekend
THE REUNION WEEKEND
Urban Paradise Weekend is a Festival that occurs every Memorial Day Weekend in beautiful Dominican Republic. It's a Festival that is Welcomed Annually by the Bavaro Beach region in Punta Cana. This is the 13th year of a string of events, PARTIES, and land and water activities that are put together to give you... The Party-goers... a true All-Inclusive, Party-filled weekend, during one of the Most Celebrated Weekends of the Year, at one of the most luxurious resorts on the planet. Your Memorial Day Weekends will never be the same after experiencing everything that we have put together for Urban Paradise Weekend. (FACEBOOK LINK)... https://www.facebook.com/events/737344719932901/
Make Urban Paradise your Weekend of Fun in 2019! Make it your...
Guy's Trip

Girl's Trip

Couple's Trip

Bachelor/Bachelorette Wknd

Frat Trip

Vacation

Reunion

Motivation to get that Beach Body toned up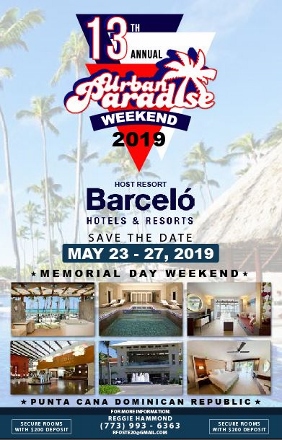 Here's a short list of what you can expect during Urban Paradise Weekend 2019, as you're getting ready for Memorial Day Weekend in Punta Cana.
Old School Block Party that Welcomes you to the UPW13 and gives you that DR experience.

Day Parties

Night Club Parties

Bikini and Splash pool parties

An All White Party that will make you feel godly.

A Day filled with Outdoor Activities. (See Flyer Below)

An All Black Affair hosted by a few of the dopest names in Sports

A Booze Cruise that's loaded with Top Notch Booze. Unlimited Drinks. Dope Music. Bring your Swimsuit/Trunks and jump into the warm ocean if you want! Why not,you'll be on vacation? Bring your own drinks if you prefer, who cares, you'll be on vacation.