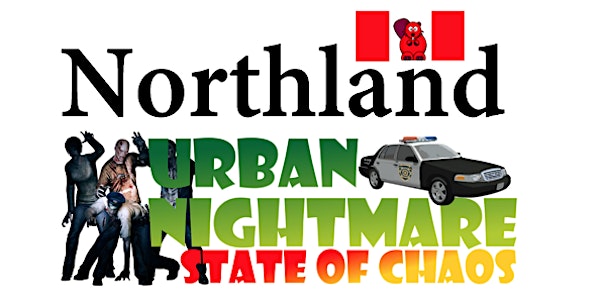 Urban Nightmare: State of Chaos (Montreal)
When and where
Location
McGill University (ICAMES) 3465 Peel Montreal, QC H3A 1W7 Canada
Refund Policy
Contact the organizer to request a refund.
Description
Northland is a generally nice (if sometimes smug and self-righteous) place, known for its cold winters, hockey, doughnut shops, poutine, and polite do-gooders prone to apologize for the slightest transgression. As the country celebrates its birthday on July 1, however, this peaceable place may face its greatest threat ever.
South of the Border, something is happening. There are reports of violence, chaos, and panic well beyond the violence and chaos of daily life there. Military units are being mobilized, and this time not to invade some foreign country. Some even claim that undead hordes have taken to the streets in search of human brains—or, at the very least, free national health care. How much longer will it be before the urban nightmare moves north?
Urban Nightmare: State of Chaos will be the world's first Wide Area Megagame. Eleven linked and simultaneous games will be played in five countries: the UK (Birmingham, Bristol, Cambridge, Leeds, London, Southampton), Belgium (Brussels), the Netherlands (Nijmegen), the United States (Austin, New York), and Canada (Montreal).
In Montreal, we will be running a relatively small (30 player) megagame, involving threats in two cities, plus provincial and federal authorities. This may be rather more sedate than our earlier, much larger, games: New World Order 2035 and War in Binni. However it should be just as enjoyable for those who enjoy the complex interplay between federal-provincial relations and an impending apocalypse.
If you have questions, please email (Northland@brynen.net) for further details before purchasing a ticket. Note that we will be starting early on Canada Day so that we can synchronize with the European and other games. Refreshments will be available.
UNSCOM: Northland is a non-profit event brought to you by dedicated volunteers at PAXsims, McGill University, and the Ivory Goat Gaming Group.