Location
904 Latin Beat
10210 San Jose Boulevard
Suite 1
Jacksonville, FL 32257
Come join us every Monday night to learn how to dance Urban Kizomba! Beginner class starts at 7 PM and Level 1 starts at 8 PM.
About this event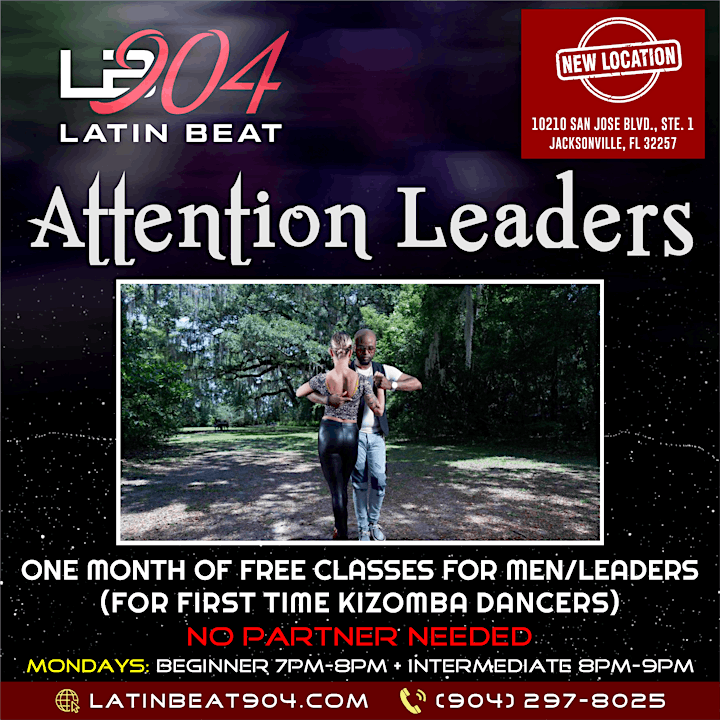 * Classes are every Monday
* Beginners start at 7:00 PM
* Intermediate starts at 8:00 PM
* Men\Leaders get 4 free classes (must be new to dancing)
* No partner needed
* $15 per class
Welcome to Latin Beat 904, a team of talented dance instructors dedicated to teaching Latin dance in Jacksonville, FL. We love teaching and our team has introduced hundreds to the exciting world of Latin dancing.
Whether you're a complete beginner or an experienced dancer, we offer private lessons, group classes and host corporate events to meet your needs.
We believe that anyone can learn to dance as long as they are in the right environment and give a little effort to learn the steps. We apply a very methodical approach to teaching all of the dances we offer: 1) Learn what to do with your feet; 2) Learn to connect with your partner; 3) Learn the variations. Combine these with a great learning environment with contagious energy and you'll be tearing up the dance floor before you know it.