URBAN ISLAND CRUISE: Theme Cruise ft. JADAKISS

Ends Monday, October 14, 2013 at 8:00 AM (EDT)
Event Details
Dell-Way Travel
presents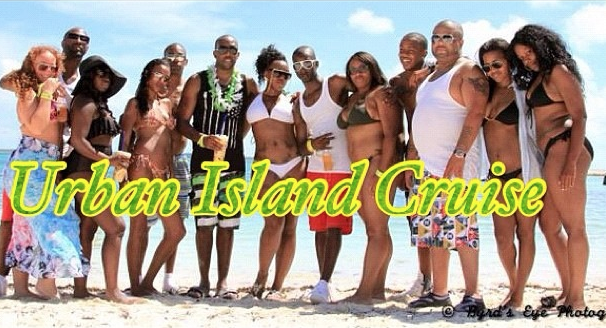 Urban Island Cruise 2013
"Keys to Cozumel" 
Aboard
The Carnival Victory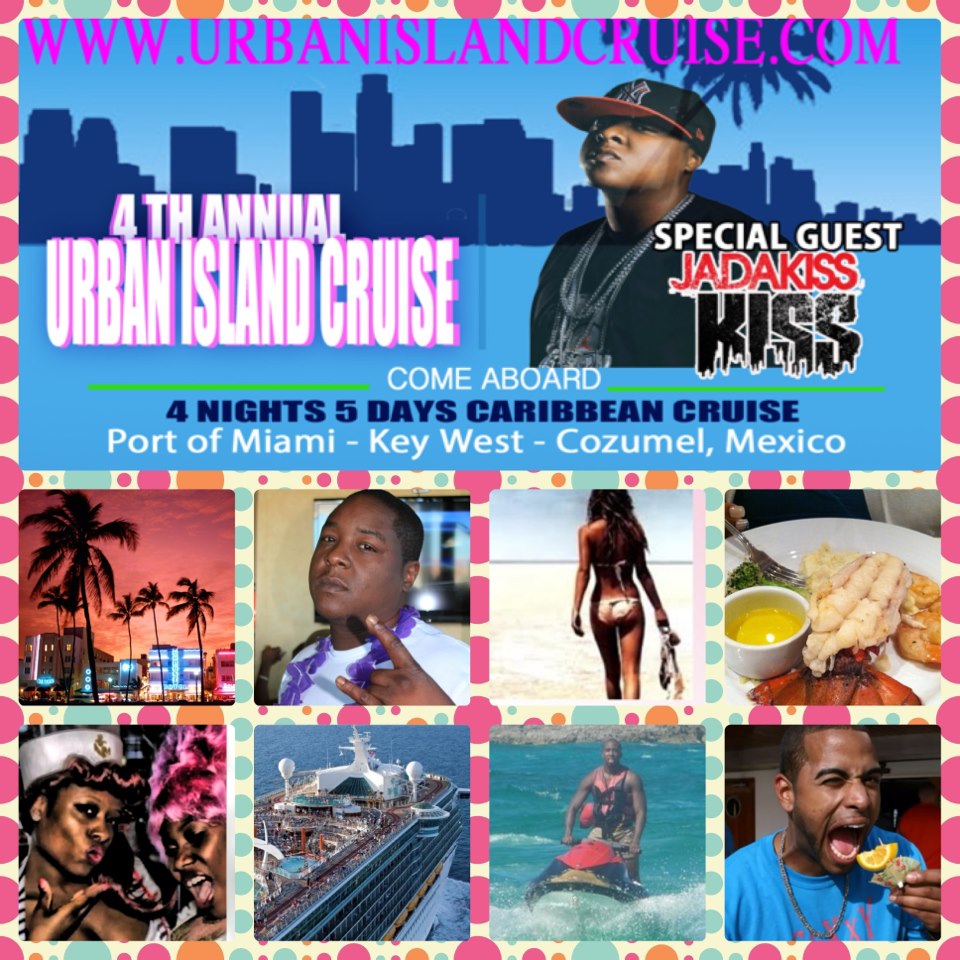 Sailing from the Port of Miami
Oct. 10, 2013  
| Day | Port of Call | Arrival Time | Depart Time |
| --- | --- | --- | --- |
| Thu | Miami, FL |   | 04:00 PM |
| Fri | Key West, FL | 07:30 AM | 02:00 PM |
| Sat | Cozumel, Mexico | 01:00 PM | 10:00 PM |
| Sun | Fun Day At Sea |   |   |
| Mon | Miami, FL | 08:00 AM |   |
Join us on our Signature Urban Island Cruise which sets sail
from the Port of Miami onboard
The Carnival Victory
Enjoy 4 Nights of a Fiesta Filled vacation as we sail thru
the Florida Keys& Cozumel, Mexico.
Get Ready to enjoy a NO Sleep Vacation
at The Urban Island Cruise
'Exclusive' Themed Events
SAIL OFF MEET & GREET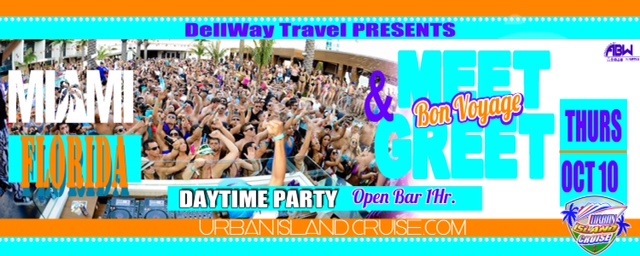 AFTER HOUR RENDEZVOUS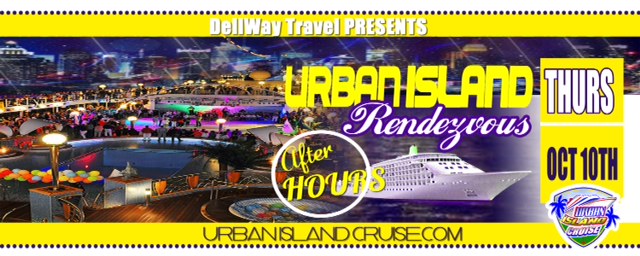 KEY WEST
7:30AM - 1:00PM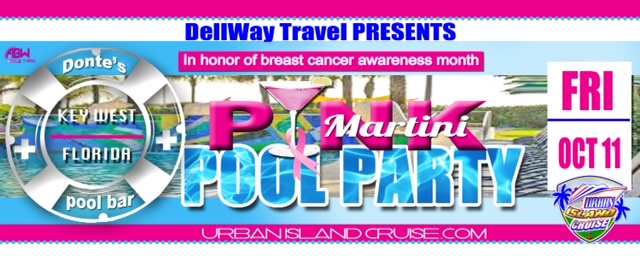 CAPTAIN'S DINNER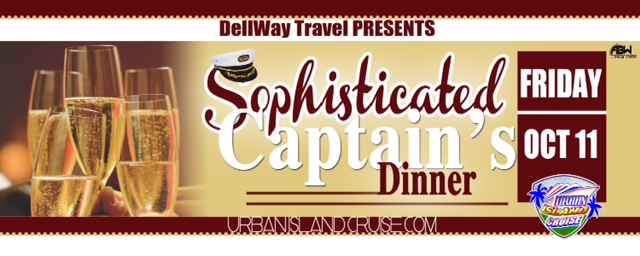 HARLEM NIGHTS
BLACK & WHITE AFFAIR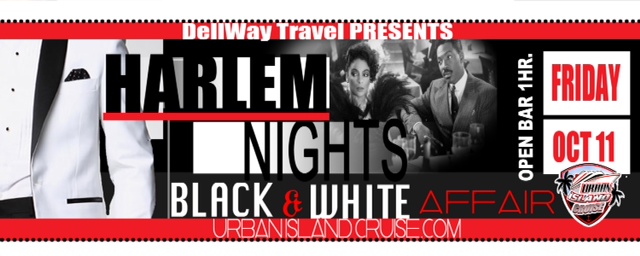 COZUMEL, MEXICO
1pm - 10pm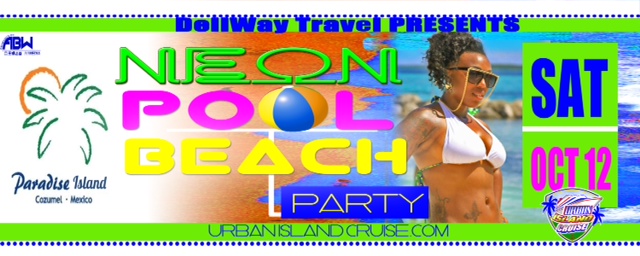 THE FUN DOESN'T STOP
MARGARITAVILLE
COZUMEL, MEXICO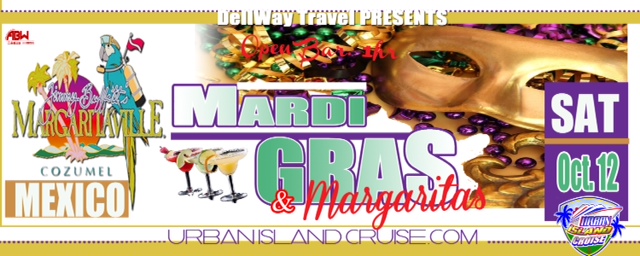 SUNDAY IS FUNDAY AT THE SEA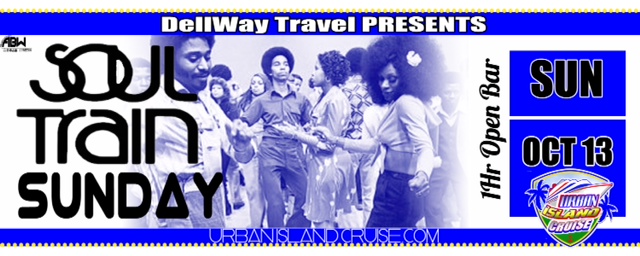 CARIBBEAN FAREWELL PARTY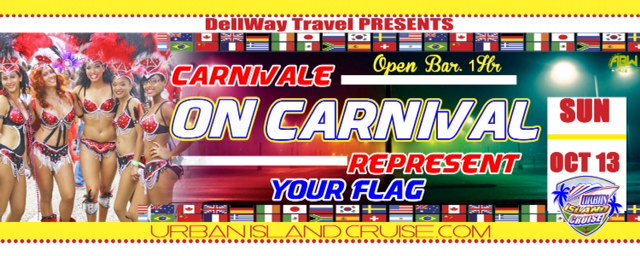 CRUISE ONLY PRICES - PARTY PASS SOLD SEPARATELY!!
-FOR ALL BOOKING MADE AFTER 06/03/2013

INSIDE CABINS 
PARTY PASS 'NOT INCLUDED' - ADD $250 PER PERSON
 

CATEGORY

TRIPLE

DOUBLE

SINGLE

 INSIDE

 $355

 $380

$820

OCEAN VIEW CABINS

PARTY PASS 'NOT INCLUDED' - ADD $250 PER PERSON
 

CATEGORY

TRIPLE

DOUBLE

SINGLE

 OCEANVIEW

 $395

 $425

 $890


BALCONY CABINS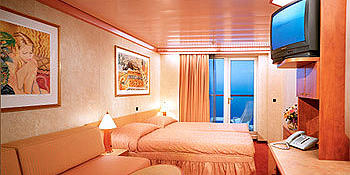 PARTY PASS 'NOT INCLUDED' - ADD $250 PER PERSON
 

CATEGORY

TRIPLE

DOUBLE

SINGLE

 BALCONY

 $475

 $600

 $1120

JUNIOR SUITES SOLD OUT!!!
 

QUINT

QUAD

TRPL

DBLE

SNGL

 N/A

 $715

$790

$940

$1599
Rates are NOT Secured until booked.
Double Deposits and Payments required.
OCEAN SUITESSOLD OUT!!!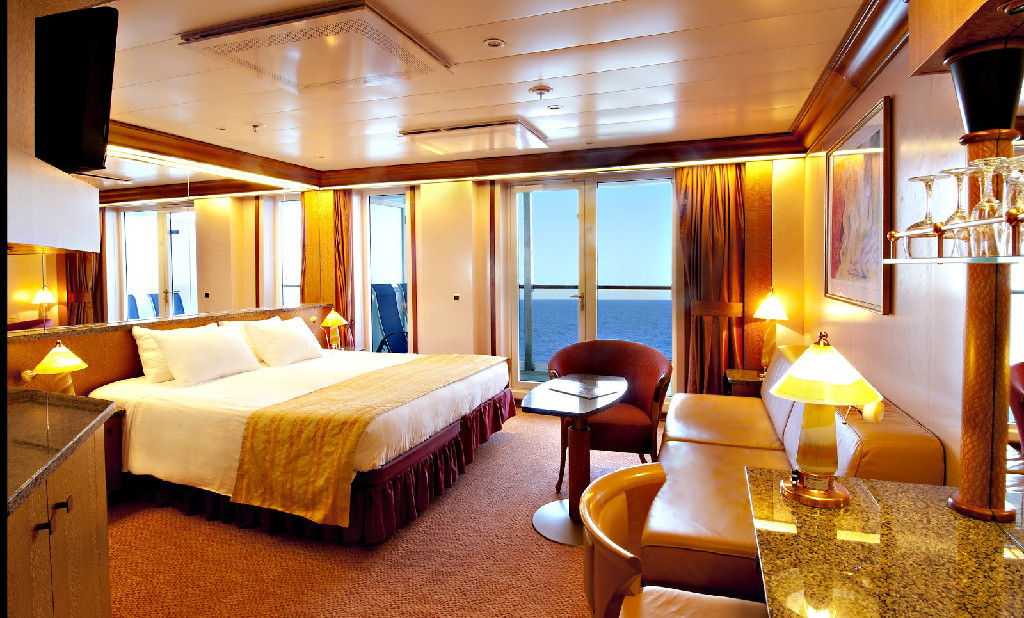 PARTY PASS 'NOT INCLUDED' - ADD $250 PER PERSON
 

QUINT

QUAD

TRPL

DBL

SNGL

 N/A

$590

$630

$810

$1530
Rates are NOT Secured until booked.
Double Deposits and Payments required.

GRAND SUITES
PARTY PASS 'NOT INCLUDED' - ADD $250 PER PERSON
 

QUINT

QUAD

TRPL

DBL

SNGL

 $675

$760

$700

$1170

$2230
Rates are NOT Secured until booked.
Double Deposits and Payments required.
DONT MISS ALL THE FUN!!!
ADD PARTY PASS FOR $250
TO INCLUDE:
All parties, dining, and shows listed in addition to all amenities
and entertainment offered by Carnival Cruise Lines.
*5 Open Bar Events
* Exclusive Island Parties and Ship events
*Group T-shirt
*Bottle of Wine in every cabin
*All taxes and Fees
WHATS NOT INCLUDED:
*Airfare
(WE HAVE FLIGHT PACKAGES AVAILABLE AT WWW.URBANISLANDCRUISE.COM)
*Transportation to and from the cruise port/airport
*Gratuities on Cruise (about $15 per day per person)
*Travel Insurance. Optional but STRONGLY recommended
**PAYMENTS ARE NON REFUNDABLE AND NON TRANSFERABLE WITHOUT THE PURCHASE
OF TRAVEL INSURANCE**
Deposits and Party Bands are Non refundable
PAYMENT
A non-refundable deposit of $50.00 per person ($200.00 per person for suites) is due with your application. 
Additional minimum monthly payments of $75.00 per person ($150.00 per person for suites) are required every 30 days until paid in full.
You must make the minimum monthly payments.A Late fee of $5.00 will be applied monthly to all Late payments.  In addition, for all cabin categories, any remaining balance must be received no later than June 28, 2013.
Please remember that you must keep your monthly payments current to avoid forfeiting the early booking discount, downgrading your cabin, or complete cancellation without refund.
Initial cabin deposits, as well as all subsequent payments, including hotel reservations, are NON-REFUNDABLE. Please inquire about insurance to protect your vacation investment by visiting https://www.goccl.com/irman/bookccl/booking_procedure/Carnival_CVPP_Description_of_Coverage.pdf.
 TERMS AND CONDITIONS
Prices listed are per person and include taxes and fees. Airfare is not included.
Single occupancy is 200% of the per-person price, plus taxes, fees and party band.
Gratuities of $15 per person, per day are not included. 
Carnival reserves the right to effect a fuel surcharge if a rise in the market price of oil necessitates a supplement. There is no fuel surcharge currently in place.
Taxes, fuel surcharges, port charges and all fees are subject to change..
Currently, only proof of citizenship (Birth Certificate, Green Card) and a government issued photo ID is required to cruise to the ports on our schedule. However, passports are HIGHLY RECOMMENDED to take this cruise, due to the nature of the itinerary. Without a passport, you will not be permitted to fly into or depart some of the islands by air if necessary, even in case of an emergency.
Pre/Post Cruise Hotel Options: Urban Island Cruise

Wanna spend some fun in the beautiful Miami sun before and after your Urban Island Cruise??
Great! We negotiated special discounted group rates for the CHESTERFIELD Hotel & Suites in the Heart of
South Beach!
Just 1 block away from the infamous Wet Willies, Ocean Drive, and sandy South Beach!

***URBAN ISLAND CRUISE SEND OFF PARTY WILL TAKE PLACE IN MIAMI THE NIGHT BEFORE WE BOARD THE CRUISE!! GET THERE A NIGHT BEFORE AND GET THE PARTY STARTED RIGHT!

CHESTERFIELD HOTEL,
SUITES + DAY SPA
855 Collins Avenue Miami Beach, FL 33139
T: 305.531.5831 F: 305.535.9665 // www.thechesterfieldhotel.com

HOTEL INCLUDES: "FREE" drinks nightly from 7-8pm; VIP club passes; "FREE" wi-fi;
"FREE" airport shuttle from MIA. (please review hotels policy and schedule for
accurate info).

Follow the Link to book:
for Wednesday: (coming soon)

for Monday: (coming soon)

Additional info to consider:
-Miami Carnival Festival is on this weekend, great way to get a preview of what
it's like.


These are options, not mandatory. Remember you must be in the cruise port no
later than 2pm on Thurday 10/10/13, the ship departs at 4pm. It is your
responsibility to book your flights to your hotel stay accordingly.



BYRD'S EYE PHOTOGRAPHY AND VIDEO NOTICE
Dell-Way Travel retains the right to use all passenger's images and/or likeness in connection with any still photograph, live or recorded video display or other transmission or reproduction of the event, in whole or in part. These images may be used for advertising, websites, videos and promotion. Attendance at all DWT events gives consent to be photographed for use in print and/or electronic publicity for future events & all social media sites. To ensure the privacy of individuals and children, images will NOT be identified using full names or personal identifying information if we receive documentation from the photographed subject, parent or legal guardian, declining to be photographed. If you do not want us to use a photo or video of you, please send all request to dell@dellwaytravel.com or samanthajoe@dellwaytravel.com 24hrs. before the event.
DELL-WAY TRAVEL DISCLAIMER
Dell-Way
When & Where
1015 N America Way
Miami, 33132


Ends Monday, October 14, 2013 at 8:00 AM (EDT)
Add to my calendar
Organizer
DELL WAY TRAVEL
Dell-Way travel is a full service travel agency providing you with the absolute best experience w/ great value everytime you travel. Specializing in cruises and group travel!
  Check my website at www.dellwaytravel.com
ALL MAJOR CRUISES:
Carnival, Norwegian, Royal Caribbean, Celebrity, Disney, Princess, and Cunard.
GROUP TRAVEL
for any occasion: Wedding, Bachelor Parties, Just the Ladies or Only the Fellas trip.
SPECIAL WEEKEND GETAWAYS:
Memorial Day, Labor Day, All-Star Weekend, Superbowl Weekend.
Kendell Middleton
DELL-WAY TRAVEL
"Specializing in Cruises and Group Travel"
P: 914-375-7106
URBAN ISLAND CRUISE: Theme Cruise ft. JADAKISS