Location
Huston-Tillotson University
900 Chicon Street
Austin, TX 78702
Description
The Urban Health Expo is a collaborative event with over 30 professionals and organizations, including:
-UT Champ/NFL Alumni Vince Young
-the 2-time Olympic Gold Medalist Natasha '400-MDiva' Hastings
-Psychologist/Journalist/Professor Dr. Nicole Cross
-Baby Greens
-Ballet Afrique
...and many more, in the health and wellness industry designed to address the systematic health challenges affecting residents of Central Texas. The event will offer fitness demos, cooking classes, dance sessions, yoga and more with celebrity athletes, doctors and trainers.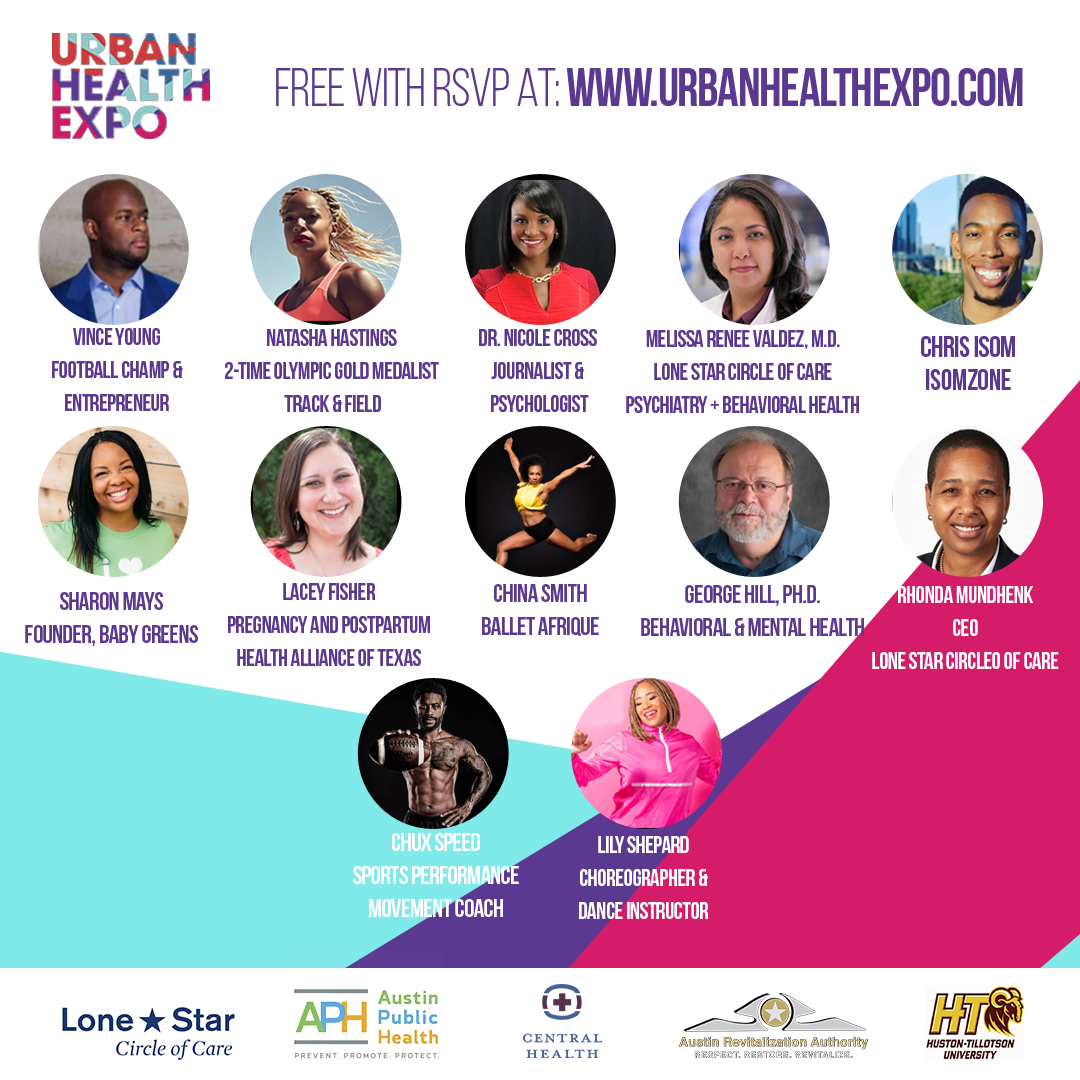 "Our communities of color have higher rates of cancer, diabetes, heart disease, stroke, HIV and other sexually transmitted infections. With this disproportionate burden of disease there is lower life expectancy, decreased quality of life and loss of economic opportunities. Together, we must rise and transform our neighborhoods, our workplaces, our social groups, our places of worship, our schools and our health centers. We can do better when we know better," said Rhonda Mundhenk, CEO of Lone Star Circle of Care.
The Urban Health Expo is set to take place Saturday, January 4th, 2020, 9:30am-3pm located at the Huston-Tillotson University (900 Chicon st. Austin, TX 78702). Special thanks to the UHE health partners, Lone Star Circle of Care, Austin Public Health, Central Health, Integral Care and Planned Parenthood. Many thanks to our community partners, The Austin Socialite, Black Professional Alliance, SoulCiti, African American Youth Harvest Foundation, Young Black Austin
For more info and to attend for FREE, sign up here on Eventbrite or visit, www.urbanhealthexpo.com
MAP:

SCHEDULE: