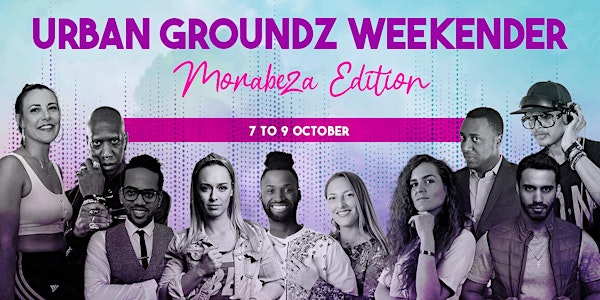 Urban Groundz - the morabeza edition
Urban Kru presents Urban Groundz Weekender
When and where
Location
Rådhusgata 5 5 Rådhusgata 0151 Sentrum Norway
Refund Policy
Contact the organizer to request a refund.
About this event
Urban Kru invites you to Urban Groundz Weekender - The Morabeza Edition in Oslo. 7 - 9th October, 2022.
Morabeza stands for the hospitality and friendliness of the Cape Verdeans to others. Cape Verdeans welcome you with a radiant smile and with a natural calmness.
Oslo's own Joao Lima, born in Cape Verde, has gathered a bunch of happy dancers to introduce you to the concept of morabeza in this comeback of bigger and better Urban Groundz!
This event is to bring us together to enjoy good music and dances, all in a fresh new venue 💥
💎 W h a t t o e x p e c t 💎
¤ New venue in the heart of Oslo with plenty of space to dance and socialize
¤ Workshops in urban kiz and konpa
¤ Awesome parties on Friday and Saturday
¤ Chill social on Sunday
¤ 🎶 Urban kiz with sprinkles of konpa, ghetto zouk, tarraxo, douceur delivered by our amazing DJ team 🎶
💫 P r e l i m i n a r y S c h e d u l e 💫
Friday:
21.00 - 22.00 Konpa workshop with Lucas and Ramona
22.00 - 04.00 Party 🥳
Saturday:
14.00 - 16.00 Urban kiz workshop with Mo Tora and Vilte
16.30 - 18.30 Urban kiz workshop with Lucas and Ramona
17.30 - 18.40 Urban kiz workshop with Lucas and Vilte
22.00 - 04.00 Party 🥳
🍲 We'll be selling dinner buffet after a long day of workshops on Saturday!!! 🍲
Sunday:
14.00 - 19.00 Social
⭐️ I n s t r u c t o r s ⭐️
Mo Tora
Vilte Stonyte
Lucas Hel
Ramona Neu
Rocky Durbankiz
Julia Niel
🎧 D e e J a y s 🎧
Nuo 🇺🇦
Dee C Beats 🇳🇴🇫🇷
Ti Wosh 🇫🇷
Sixone 🇩🇪
Nips 🇳🇴🇸🇪
✨ S p e c i a l G u e s t s ✨
Ania
Rocky
Julia
Fabrizio
Edson
Nuno
Carlos
Nimo
Kiyoshi
Christian
💰T i c k e t s 💰
Single pass 1150 Nok
Couple pass 1950 Nok
Saturday day pass 600 Nok
Party Pass 750 Nok
In case of the event cancellation due to Covid-19 tickets will refundable.