Event Information
Location
Wingate Park
615 Brooklyn Avenue
Brooklyn, NY 11203
Description
Do you have what it takes to be a UFLPRO? Register today for the UFL Combine. Push yourself to the limit.
Each participant will test their limits in muscle ups, weighted pullups and freestyle competitions.
Registration is only $25 and includes an officilally licensed UFL t-shirt. Registration is extremely limited and is open on a first come, first basis.
Participation is open to individuals who are 18 years of age and older.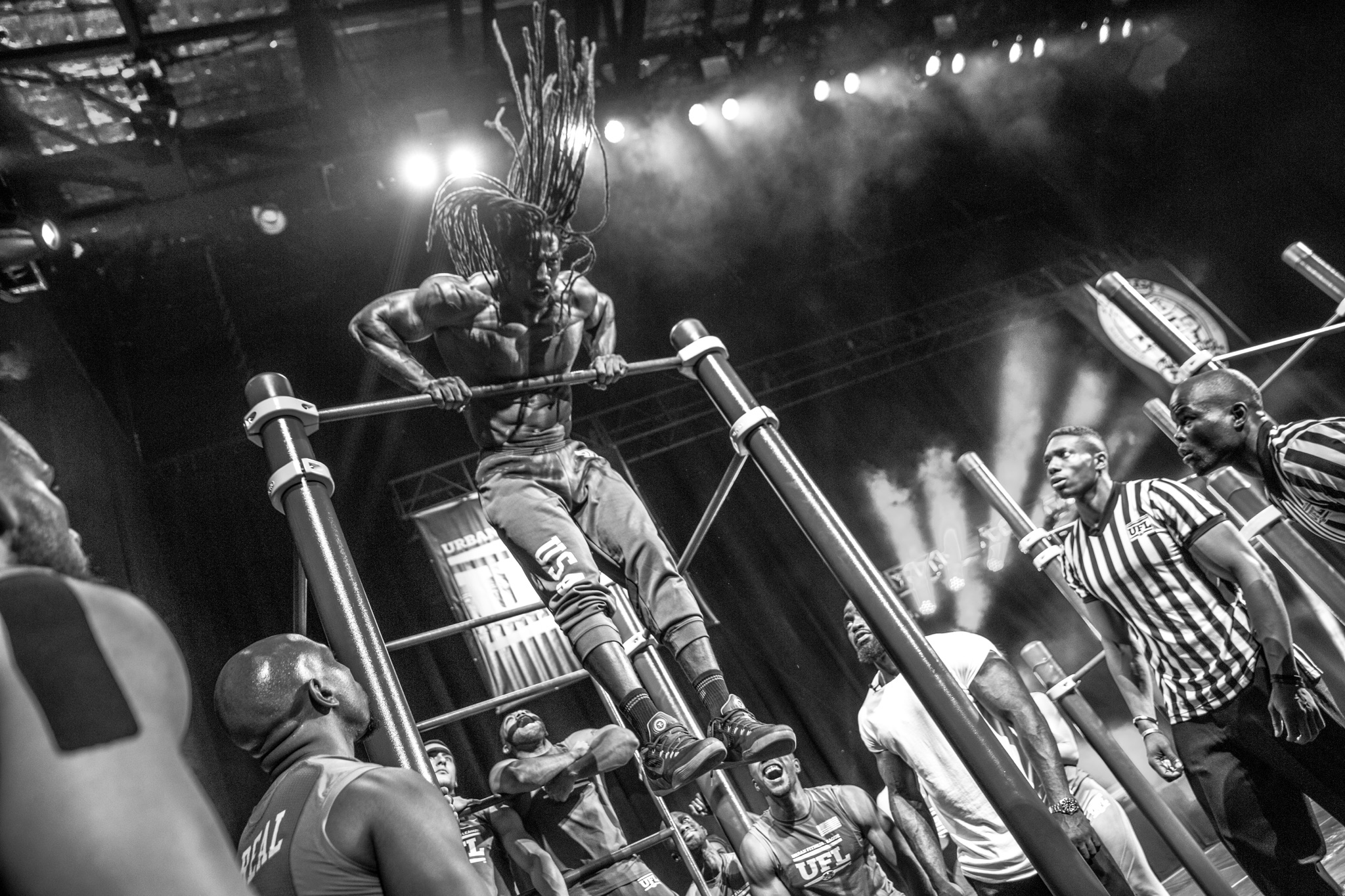 By registering for this event, you are consenting to the UFL using your image in all media worldwide on a royalty free basis in perpetuity. In consideration of being allowed to participate in any way in the UFL Combine and registering, you agree to the following: The risk of injury from the activities involved in this program is significant, including the potential for permanent paralysis and death, and while particular rules, equipment, and personal discipline may reduce this risk, the risk of serious injury does exist; and, KNOWINGLY AND FREELY ASSUME ALL SUCH RISKS, both known and unknown, EVEN IF ARISING FROM THE NEGLIGENCE OF THE RELEASEES or others, and assume full responsibility for my participation; and willingly agree to comply with the stated and customary terms and conditions for participation. If, however, you observe any unusual significant hazard during my presence or participation, you will remove myself from participation and bring such to the attention of the nearest official immediately; and, for yourself and on behalf of my heirs, assigns, personal representatives and next of kin, HEREBY RELEASE AND HOLD HARMLESS the Urban Fitness League LLC their officers, officials, agents, and/or employees, other participants, sponsoring agencies, sponsors, advertisers, and if applicable, owners and lessors of premises used to conduct the event ("RELEASEES"), WITH RESPECT TO ANY AND ALL INJURY, DISABILITY, DEATH, or loss or damage to person or property, WHETHER ARISING FROM THE NEGLIGENCE OF THE RELEASEES OR OTHERWISE, to the fullest extent permitted by law. YOU HAVE READ THIS RELEASE OF LIABILITY AND ASSUMPTION OF RISK AGREEMENT, FULLY UNDERSTAND ITS TERMS, UNDERSTAND THAT I HAVE GIVEN UP SUBSTANTIAL RIGHTS BY REGISTERING FOR THIS EVEN AND DO SO FREELY AND VOLUNTARILY WITHOUT ANY INDUCEMENT.
FAQs
Are there ID or minimum age requirements to participate in the event?
Minimum Age is 18 years old.
What are my transportation options for getting to and from the event?
Take the 2 or 5 subway to Winthrop Station. It's a 7 minute walk east down Winthrop Street and make a left on Brooklyn Avenue. Wingate Park Calisthenics Park is on the right.
Is there a fee for spectators?
No - admission is free for specators
How can I contact the organizer with any questions?
You can email us at ufl@uflpro.com
What's the refund policy?
All sales are final. No refunds.
Do I have to bring my printed ticket to the event?
You can bring a mobile confirmation or a printed ticket with an ID.
Is my registration fee or ticket transferrable?
No.

What time will each event begin?
Registration & Warmup - 1:00PM
Registration Ends 2:00PM
Last Man Standing Muscle Ups - 2:00PM
Weighted Pull-ups - 4:00PM
Freestyle - 5:00 PM
Are all events open to men and women?
Yes but there is a very limited of spaces for each competition.
Date and Time
Location
Wingate Park
615 Brooklyn Avenue
Brooklyn, NY 11203
Refund Policy