Description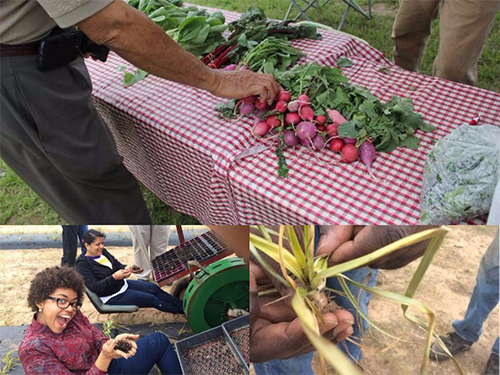 "As concerns mount over the accessibility and quality of meals in cities, urban agriculture is becoming a practical solution to give communities more choice — all while helping address greenhouse gas emissions from centralized agriculture. With over 80 percent of the American population living in metropolitan centers, urban farming has the ability to dramatically enhance economic growth, increase food quality, and build healthier communities."
~Adam James
This workshop will feature Ag Specialists, USDA Professionals and experts providing the latest up-to-date urban garden information and resources on:
The ABC's of Organic Farming, Marketing and Selling Your Vegetables, Managing Your Risks, and Urban Farm Business Planning. There will be hands-on vegetable production activities, and more! Join us for a fun and productive day!
FREE Lunch! And more!

Questions?
Contact: Rozenia Toney
Administrative Assistant
Tel: 936.261.5123
Fax: 936.261.5146
Email: rdtoney@pvamu.edu
---
ADA Assistance:
Prairie View A&M Disablitiy Services:
Tel: 936.261.3583
Fax: 936.261.3584
Email: disablityservices@pvamu.edu
THE COOPERATIVE EXTENSION PROGRAM DOES NOT DISCRIMINATE AGAINST ANYONE REGARDLESS OF THEIR RACE, COLOR, NATIONAL ORIGIN, RELIGION, SEX, GENDER IDENTITY (INCLUDING GENDER EXPRESSION), SEXUAL ORIENTATION, DISABILITY, AGE, MARITAL STATUS, FAMILY/PARENTAL STATUS, INCOME DERIVED FROM A PUBLIC ASSISTANCE PROGRAM, POLITICAL BELIEFS, REPRISAL OR RETALIATION FOR PRIOR CIVIL RIGHTS ACTIVITY, IN ANY PROGRAM OR ACTIVITY.