Urban Farming Business Basics Course

Multiple Dates
Event Details

The Urban Farming Business Basics course will help you accomplish your goals!
In collaboration with the National Center for Appropriate Technology (NCAT) and CAFE Co-op, PUENTES is offering a mini-certification course to help aspiring urban farmers to develop their future business plan. 
Come prepared with a solid idea of what you want to farm! In the first session, we'll help you articulate your goals, vision and mission.
After that, the course will walk you through developing basic components of a business plan, including a basic production plan, marketing plan, and your financial projections.
In the last class, you will present your business plan to the class. You'll receive feedback throughout from the instructors, and there will be opportunity for some participants to receive follow up help after the course is completed.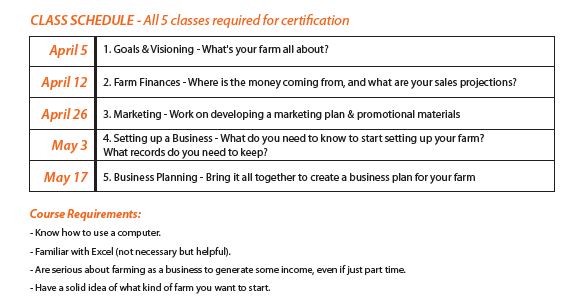 ---
Course instructors: 
Rob Shanahan has an MBA from the University of the Pacific and has been the Development Director for PUENTES over the last 2 years. 
Marisa Alcorta has a MS in Horticulture & Agronomy from UC Davis, and co-owned and started a small vegetable and fruit farm near Davis in 2012. She works as an Agriculture Specialist with NCAT, where she helps beginning farmers with farm startup. 
Cost of the course is $50 per person, PUENTES is offering 5 scholarships (contact Jeremy at jterhune@puentesca.org for more info).
---
IMPORTANT: In order order to take the course we recommend that applicants...
know how to use a computer.

are familiar with Excel (not necessary but helpful).

are serious about farming as a business to generate some income, even if just part time.

have a solid idea of what kind of farm you want to start.