Description
Urban Explorations are walking tours that allow participants a first-hand look at the area encompassing the Riverfront Legacy Master Plan.

Want to understand what is important to conference space for a city, or what happens behind the scenes when Music Theatre Wichita performs? What about a look at the river and how the east bank can connect to the west bank?

Come explore, learn and ask questions, or give comments about what you see and hear.

RSVP's are required.

Four tours will occur throughout September 24 and 25, with members of the design team and the local coalition leading the process providing information about activation of the river, green space, as well as convention and performing arts spaces.

The tours will occur at the below dates and times:
September 24 from 5 - 6 p.m. and 6:30 - 7:30 p.m.

Meet at the east connecting lobby at The Jester statue between Bob Brown Expo Hall and Century II, 225 W. Douglas near the box office. Public parking is available on the east side of the buildings. Handicapped parking is available on the west side of Century II.
September 25 from 7:30 - 8:30 a.m. and 12:00 - 1 p.m.

Meet in the Riverview Ballroom in the Hyatt Regency, 400 West Waterman. Surface parking is available just south and east of the main entrance of the hotel.
Tours are scheduled to last approximately an hour and will include walking about a half-mile and climbing up and down stairs. Those who have difficulty with mobility can indicate that on the RSVP and accommodations will be arranged. In addition, Spanish-language translators will be available.

The community is encouraged to share their vision for the riverfront at https://www.riverfrontlegacywichita.org/contact.
***If you are having issues with Eventbrite loading or submitting your reservation, please call (316) 500.6650 for assistance.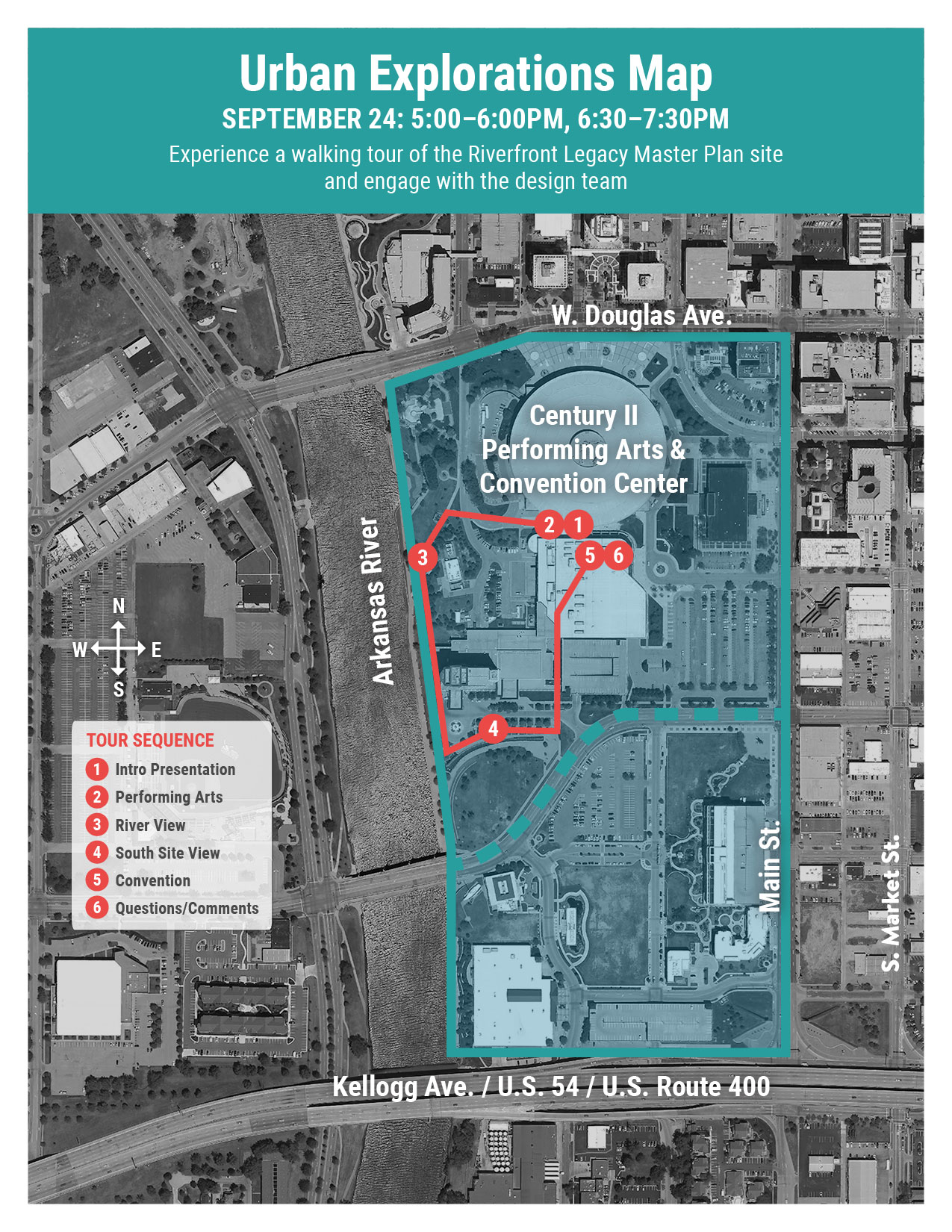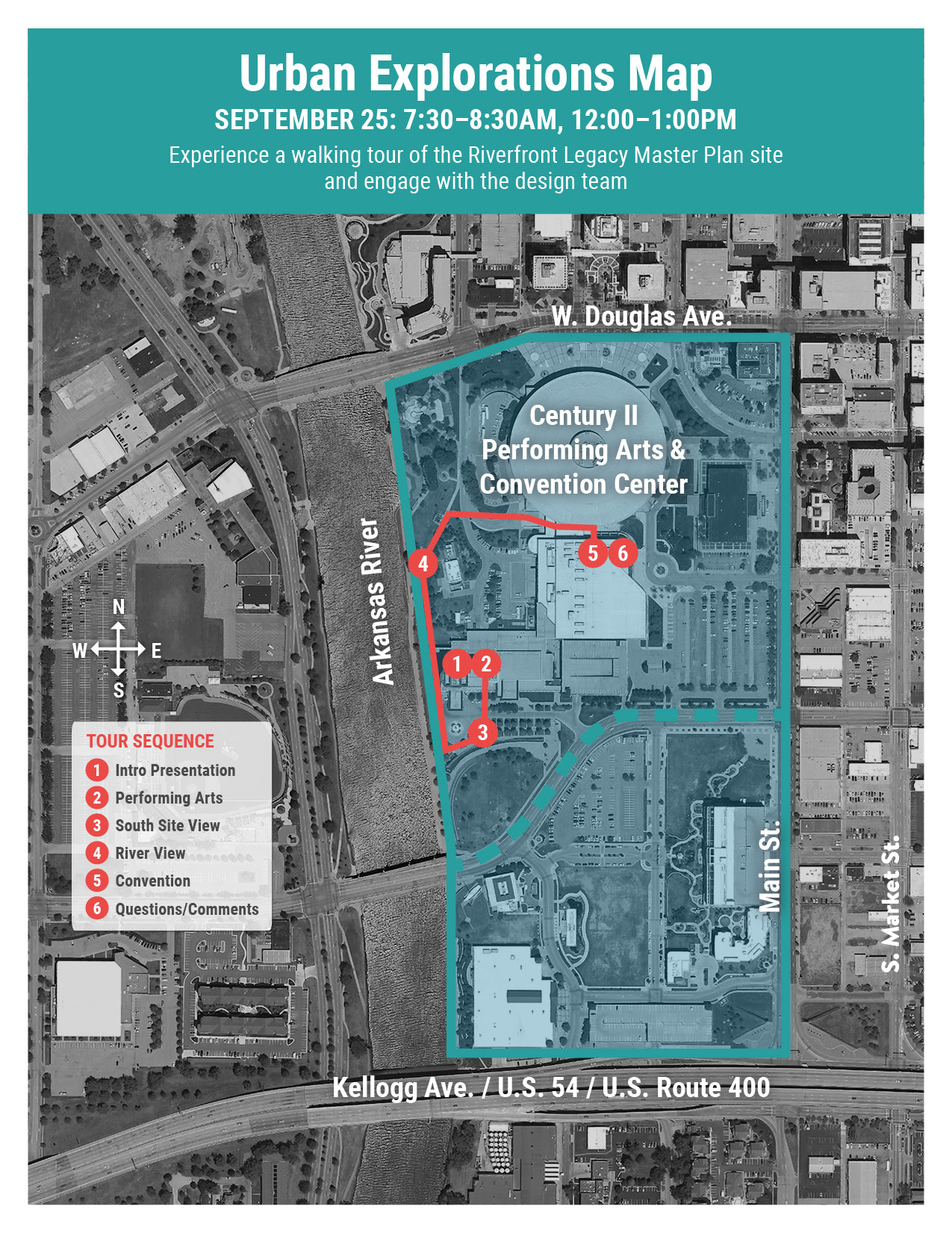 Español –
Urban Explorations/Exploraciones Urbanas es el título de recorridos a pie que permiten a los participantes una mirada de primera mano a la zona que abarca el Riverfront Legacy Master Plan.
¿Le gustaría entender que es lo importante para el espacio de conferencias de una ciudad, o lo que sucede detrás de las escenas cuando actúan en el Music Theatre Wichita? ¿Qué tal una mirada al río y cómo el banco del este puede conectarse con el banco del oeste?
Venga a explorar, aprender y hacer preguntas, o a compartir sus comentarios sobre lo que ve y oye. Es necesario hacer Reservación y la puede hacer en bit.ly/UrbanExplorations
Cuatro recorridos se llevarán a cabo durante el 24 y 25 de septiembre, con los miembros del equipo de diseño y la coalición local liderando el proceso y proporcionando información sobre la activación del río, espacios verdes, así como los espacios de convenciones y artes escénicas.
Los recorridos se llevarán a cabo en las siguientes fechas y horarios:
24 de septiembre de 5 - 6 p.m. y 6:30 - 7:30 p.m.
Reúnase en el pasillo que conecta la estatua de Jester entre Bob Bob Brown Expo Hall y del Century II, 225 W. Douglas cerca de la taquilla. El estacionamiento público está disponible en el lado este de los edificios. Hay estacionamiento disponible para personas con discapacidad en el lado Oeste del Century II.
25 de septiembre de 7:30 a 8:30 a.m. y 12:00 - 1 p.m.
Reúnase en el Riverview Ballroom en el Hyatt Regency, 400 West Waterman. El estacionamiento en superficie está disponible justo al sur y al este de la entrada principal del hotel.
Se anima a la comunidad a compartir su visión del Riverfront en
https://www.riverfrontlegacywichita.org/contact