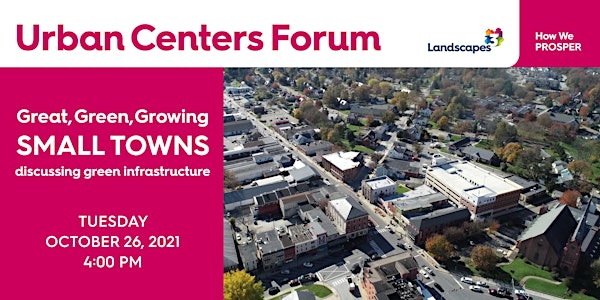 Urban Centers Forum: Great, Green, Growing Small Towns
Discussing green infrastructure to keep Chester County's Urban Centers thriving into the future
When and where
Location
Oxford Borough Hall 1 Octoraro Alley Oxford, PA 19363
About this event
We are excited to announce the 2021 edition of the annual Chester County Urban Centers Forum, "Great, Green, Growing Small Towns," on Tuesday, October 26 from 4:00 pm – 6:00 pm at Oxford Borough Hall (1 Octoraro Alley Oxford, PA 19363). The Forum will discuss green infrastructure such as transportation projects, street trees, and stormwater improvements to keep Chester County's Urban Centers thriving into the future.
Hybrid Event - In-person and Virtual: 4:00 - 6:00 pm
Oxford Borough Hall (1 Octoraro Alley Oxford, PA 19363)
• Permeable Paving (Hoopes Alley porous paver project); Green (stormwater) Bump-outs; Stream Protection Fee Program – Will Williams, West Chester Borough
• Swarthmore Borough Roundabout - Pedestrian safety, traffic calming, and stormwater management/vegetation – Nicole Kline and Jamie Kouch, McMahon Associates, Inc.
• Street Trees; Urban Forests; Green Infrastructure; Urban Heat Island effects – Chris Linn, Delaware Valley Regional Planning Commission (DVRPC)
A walking tour of Oxford's main street will be available after the Forum (details pending)
Please note that CDC guidelines for in-person events will be followed.
If you would prefer to join us virtually, please register here:
https://us06web.zoom.us/webinar/register/WN_jRrfLmZYSAysTlDMgRxiVQ
Also note that as an attendee of this event, you agree to the release of photos that may be taken and used on our website, social media sites, and publications.