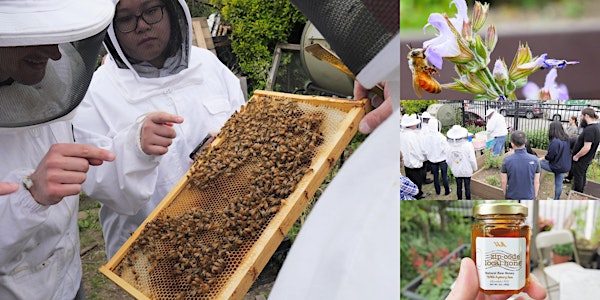 Urban Beekeeper 101: Honey Tasting to Hive Inspection with Beekeeping Suit
Location
LIC Roots Community Garden
29-08 47th Avenue
Queens, NY 11101
New York Adventure Club | www.AdventureClub.com
About this event
Did you know that one-sixth of the world's flowering plant species depend on honey bees for pollination? It's time to suit up and learn about these docile insects that we all depend on with one of the premier beekeepers in the NYC area.
Join New York Adventure Club for an exclusive hands-on beekeeping tutorial with Wilk Apiary, which has been keeping honey bees in Queens since 2012.
Led by Cornell University Certified Master Beekeeper Tom Wilk of Wilk Apiary, our special beekeeping experience will include:
An overview of Wilk Apiary and how beekeeping in NYC has grown since it was legalized in 2010
A discussion around honey bees, from how they produce honey to their vital role in pollination
A hands-on opportunity to suit up like a professional beekeeper and see honey bees and their hive up close
Tasting honey from the same apiary over two different harvests to see how the taste changes with each new season
Afterward, you'll go home with a jar of the apiary's fresh local honey along with a special discount code to purchase more from their website!
Click here to see pictures from one of our last beekeeping experiences with Wilk Apiary!
Click here to watch a video to learn more about Wilk Apiary!
See you there!
*Attendees must wear long pants and closed-toe shoes
**Do not eat bananas for breakfast as the smell could make the honey bees more aggressive
***There are no restrooms on site
Testimonials
"Getting up close and personal with the bees was a great experience and tasting honey from the hive! I almost didn't want to wear the bee suit. Tom Wilk was just as enjoyable to be around, hilarious guy. He was entertaining and engaged when speaking about the bees. Wouldn't mind getting a beer with the guy. " -Cindy
"I'm a born and bred New Yorker, so I feel like I know almost everything about my city, but this event proved me wrong. Bees are everywhere, yet I never really knew about NYC's beekeeping practices. Very cool!" -Kristina
"It was everything I wanted it to be - educational, hands on, and so much fun! Tom was awesome! He was very knowledgeable, friendly, and just an all around great guy." -Jarod
"Small group Very informative." -Kanya
"Incredibly informative and fun--learned so much and loved the hands-on aspect of the event." -Michael
"All of it. Really enjoyed the instructors." -Conor
"It was a relaxing setting, and you could see everything up-close. Tom and Geraldine were great!" -Edward
"Instructor, activity." -Christopher
"Tom was incredibly informative and kind." -Hadi
Disclaimer
Event takes place rain or shine.
By attending a New York Adventure Club experience, you accept our terms of service.
Categories: In-Person, Instructional