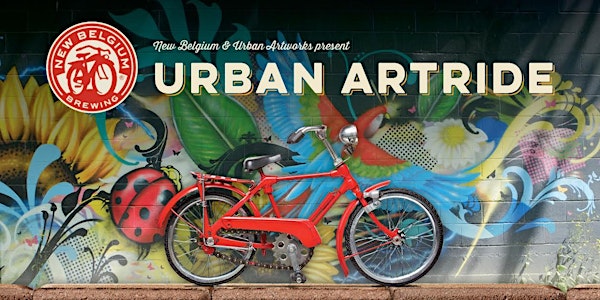 Date and time
Saturday, June 20, 2015 · 8:30am - 2pm PDT
Location
Seattle 1900 S. Jackson Seattle, WA 98144
Refund Policy
Contact the organizer to request a refund.
Description
Join us on June 20th for Urban ArtRide, a very special guided bike tour of Seattle's vibrant street art scene including our city's best murals and installations, featuring the artists themselves giving a short talk on their piece! Curated by Urban Artworks and ride safety provided by Bombus Bikes.
Meet-up:
8:30am at 1902 S. Main St. Cold brew provided by Porchlight Coffee.
ride will depart promptly at 9am

Route will incorporate 8-12 stops with appearances/talks by leading street artists: Game Not Fame, Weirdo and Kyler Martz (to share a few)

End game:
~2pm at the Kangaroo & Kiwi Pub in Ballard: party hosted by New Belgium Brewing Co. (21+)

50 tickets. Tell your friends. Grease your chains.
Additional info/helpful to understand level of cycling: the route will include 8-12 stops between the start and end point, and the ride will be a slower/more leisurely pace, keeping the group all together for the duration of the ride. While the route will be the flattest possible, this is Seattle and we have hills here J so anticipate some hustle to get up a couple shorter hills. This event isn't recommend for younger children (though please make your own call here), and the end-point/party is 21 yrs +. We look forward to rolling with you!
SUGGESTED TO BRING/PREP:

- helmet: wear your helmet, it's required
- bike lock: will be helpful for midway stop and end point party
- water/hydration: stay hydrated for optimal fun-having!
- pocket snacks: nuts are great (and at midway you can buy a snack)
- sunscreen up in the AM
- hat if you're sun-sensi

SIMPLIFIED ROUTE & APPROXIMATE TIMES

- Launch: 1900 S. Jackson: 9am
- Belltown: 10:30am
- South Lake Union: 11:30
- Fremont: 1:15pm
- Ballard: 2pm

PRO TIPS/WHAT TO EXPECT:

- beverages and bathrooms are available at start, midway and end points
- get to know the route leaders and riding crew so we can all lookout for each other: we'll aim for a slower pace and stay together like a large amorphous amoeba
- ride with caution using your best judgement at all times
- crowds in Fremont: we will be navigating through/around the Solstice events in Fremont
- ride leaders will have a PA system and walkie-talkies to help communicate/coral
- most importantly--expect to have SO MUCH FUNS

CONTACTS:
Pre-event and day-of info and organization: Kathleen Warren @ 803-466-6932
Route support: Todd Gillman @ 206-300-0131, Thomas Kolb @ 360-434-1440, Sam Sawyer @ 206-553-9423, Kathleen Penny @ 206-794-5957
We're exciting meet up and ride together! See you bright and shiny and early for check-in at 8:30am.
Thanks for coming out,
Urban Artride