Urban Agriculture Teach-In at the Resilient Communities Legal Cafe!
Description
Free Walk-in Legal Advice starts at 4:30pm
Urban Farming Discussion starts at 6:00pm l $10 Suggested Donation
No reservation needed!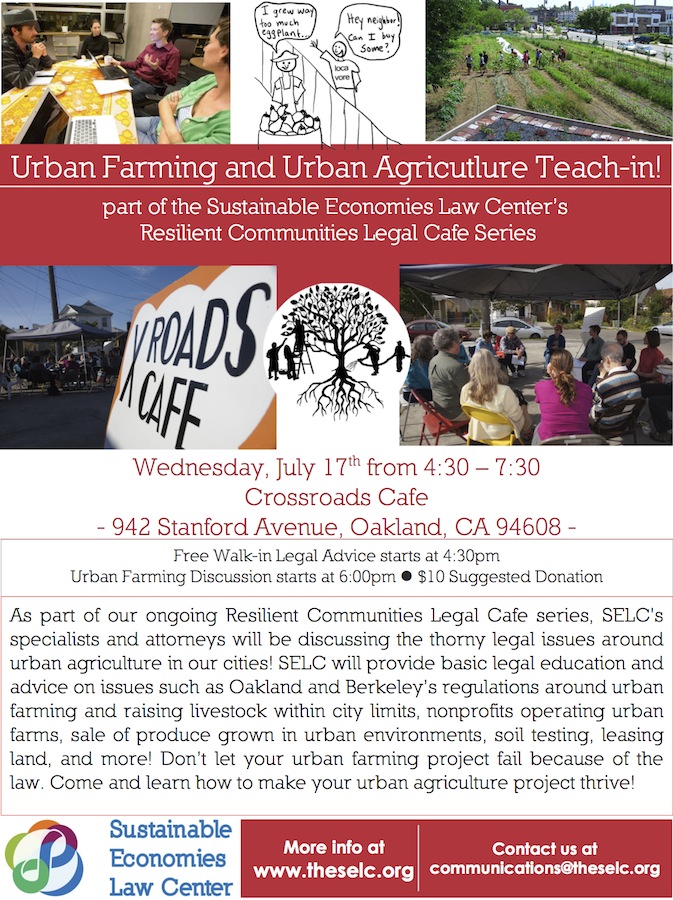 As part of our ongoing Resilient Communities Legal Cafe series, SELC's specialists and attorneys will be discussing the thorny legal issues around urban agriculture in our cities! SELC will provide basic legal education and advice on issues such as Oakland and Berkeley's regulations around urban farming and raising livestock within city limits,nonprofits operating urban farms, sale of produce grown in urban environments, soil testing, leasing land, and more! Don't let your urban farming project fail because of the law. Come and learn how to make your urban agriculture project thrive!
Organizer of Urban Agriculture Teach-In at the Resilient Communities Legal Cafe!

The Sustainable Economies Law Center (SELC) cultivates a new legal landscape that supports community resilience and grassroots economic empowerment. SELC provides essential legal tools — education, research, advice, and advocacy — to support this transition to localized, resilient economies. Our work focuses on practices that promote justice and sharing, including Cooperatives, Community Currencies, Community Enterprises, Local Investing, Cohousing, Urban Agriculture, Community Renewable Energy, and other innovative economic strategies.