A discussion of opportunities for federal and state funding in Connecticut for Urban Agriculture
About this Event
A comprehensive introduction to funding opportunities in Urban Ag in Connecticut for producers, new, beginning or interested farmers, non profits and more. Hear from State officials, USDA, FEMA, FSA, DECD, SBA and many more as we discuss opportunities to grow, develop and begin farming in urban and suburban areas in Connecticut. This is an introduction to funding opportunities with subsequent webinars following centered around topics, projects, opportunities and more. If you are a farmer, have a dream of some day farming or if you are a non profit that supports production in Connecticut, we invite you to join us for these interesting and informative webinars. Webinars will have time for questions and discussion with panelists.
Webinars are recorded and will be posted on the Connecticut Department of Ag's website: CTGROWN.GOV. Please see below for speakers and programs.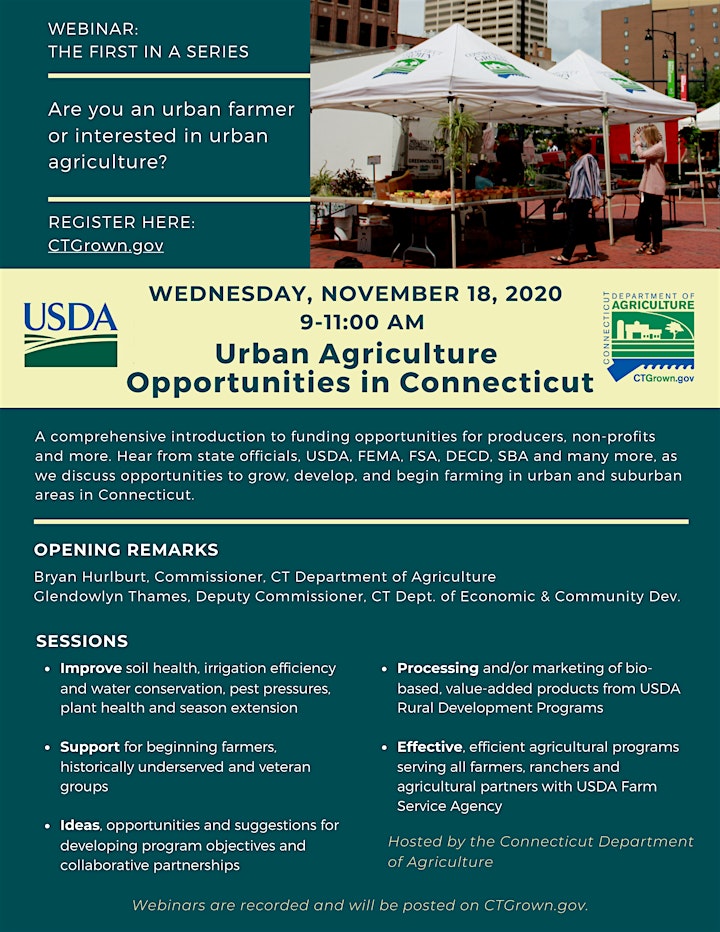 Webinars are recorded and will be posted on CTGROWN.GOV
Wednesday, November 18, 2020
9:00 AM – 11:00 AM EDT
Opening Remarks:
Bryan Hurlburt, Commissioner, CT Department of Agriculture
Glendowlyn Thames, Deputy Commissioner, CT Department of Economic & Community Development
Sessions Include:
USDA Conservation Assistance
USDA's Natural Resources Conservation Service (NRCS) helps urban farmers by providing technical and financial assistance to growers in: improving soil health, increasing irrigation efficiency and water conservation, addressing weeds and pest pressure, and addressing plant health and productivity through season extension.
Thomas Morgart, State Conservationist, USDA, NRCS
Debbie Surabian, State Soil Scientist, USDA, NRCS
Nancy Ferlow, State Resource Conservationist, USDA, NRCS
USDA Crop Insurance, Farm Loans and Disaster Programs USDA Farm Service Agency
The USDA Farm Service Agency Farm Programs provide many varied ways to support Farmers of all types. These include crop insurance, disaster support programs, farm storage facility loans with special support for beginning farmers, historically underserved and veteran groups. The Farm Service Agency (FSA) is an agency of USDA that serves all farmers, ranchers and agricultural partners through the delivery of effective, efficient agricultural programs for all Americans.
Teresa Peavey, County Executive Director, FSA
Carolyn Marlowe, Farm Loan Manager, FSA
USDA Office of Urban Agriculture
USDA's new Office of Urban Agriculture & Innovative Production (OUAIP) will be introduced and discuss ideas, opportunities, and suggestions for developing urban agriculture program objectives and building a collaborative urban partnership.
Stuart Lee, Management Program Analysis, USDA-NRCS Office of Outreach and Partnership Division
USDA Rural Development Programs
USDA Rural Development's Value-Added Producer Grant program helps agricultural producers with the processing and/or marketing of bio-based, value-added products. The Business and Industry Loan Guarantee Program supports commercial financing of urban businesses involved in agricultural food projects.
Lyndon Nichols, Area Director, USDA Rural Development Agency