Description
This event is now closed. If you'd like to register for session 2, please go here:
https://www.eventbrite.com/e/ura-mwbe-financial-development-series-session-2-tickets-44892624047
You can attend session 2 even if you did not attend session 1.
The URA's MWBE Program is offering a two-part financial development series in partnership with the DBRC and Credit Power LLC. Join us for Session 1 as credit repair specialist, Saloam Bey, provides firms with valuable information needed to establish good personal credit and explore ways to be build business credit. Attendees will learn helpful strategies to build and maintain good credit. You don't want to miss this event.
The URA will have information available about our new Micro Loan Fund Program!
All are welcome, but space is limited. Register Today!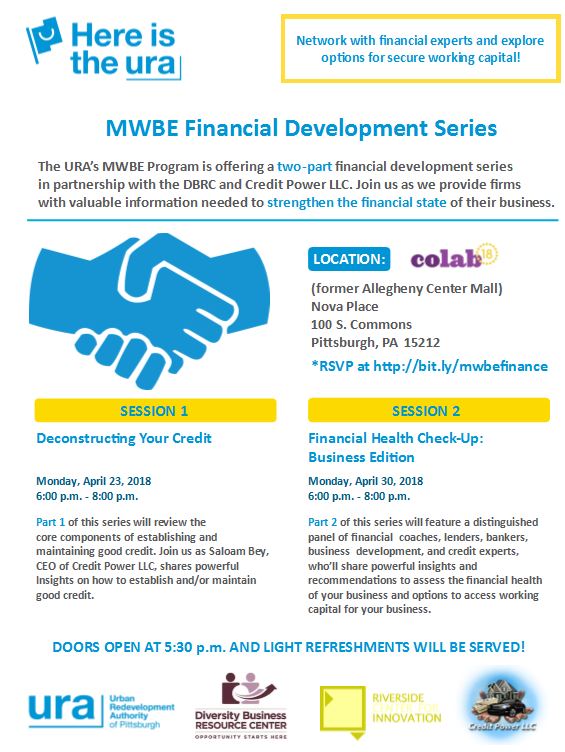 Invited Panelists for Session 2 Include:
Saloam Bey, Credit Power LLC, Guest Speaker
Aaron S. Aldrich, Bridgeway Capital
Halima Tammy Thompson, T3 Consulting
Josh Summits, URA Micro Loan Fund Officer
Ray Garofalo, Dollar Bank
Gary Lee Jones, Jr., First National Bank
Richard Witherspoon, Hill District Credit Union
Panel will be moderated by: James 'Fife' Myers of Urban Innovation 21
There is paid street parking and parking is available in the Alloy 26 parking garage.
Note: This is a two-part series. Interested firms can attend one or both sessions. DBRC at RCI are asked to attend both sessions to meet the DBRC's financial literacy education requirements.
Go here to register for Session 2