About this Event
Upward Gallery: Christine Chaise Greenwood Opening Art Reception
Upward is pleased to present the first artist in its 2020 Gallery series, Parisian native and Connecticut fine artist Christine Chaise Greenwood. Join the members of Upward in celebrating Christine's abstract painting exhibit over complimentary cocktails, hors d'oeuvres & networking at our Opening Reception on Wednesday, January 22nd, at 6:00pm.
The perfect atmosphere for your New Year happy hour with coworkers and friends, this event is open to the public, and artwork is available for purchase via the Upward Community mobile app for Android and iOS.
The artist will also be collecting any gently-used winter jackets for donation to local organizations Hands On Hartford and South Park Inn homeless shelter. Please feel free to bring any winter clothing you are willing to donate to a very worthy local cause!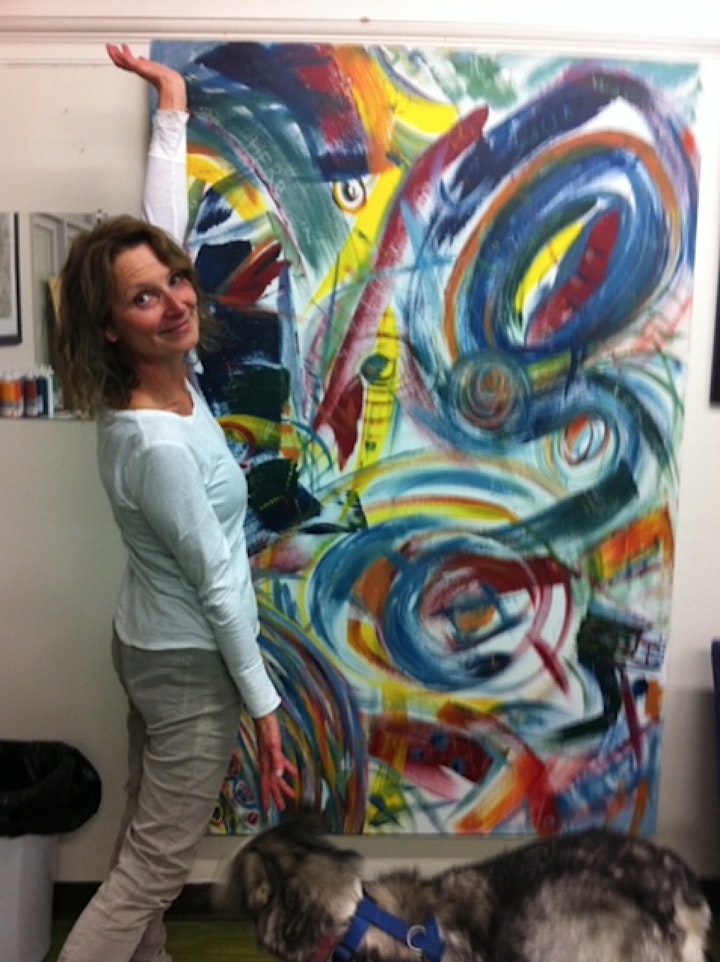 About the artist:
Christine Chaise Greenwood is a Parisian native French certified teacher, an artist and an Art Event planner with 30 years of teaching experience in public and private schools in France and Connecticut. She was educated in France where she received her degrees in elementary & secondary school teaching and special education. General Psychology in TXCC.
Christine has taught French, Art in French, Acting in French in various schools and institutions in the Hartford area, including Farmington Valley Art Center, Thompson Brook, Roaring Brook and Pine Grove schools in Avon, Kingswood Oxford middle school in West Hartford, Farmington and Simsbury continuing education for children and adults. She was an adjunct professor of French at the University of Hartford and the founder and director of the French American Nursery School in Avon, CT from 1998 – 2006.
In addition to her fine art, Christine designs and creates metal sculptures.
She is the founder and organizer of ART2Unite, an annual Art & Music Fundraising event that takes place in Hartford ArtSpace gallery. Art2Unite is a group show with artists and activists collaborating to raise awareness on current social issues and money to give back to the community in need.
Christine started to paint in 1994. She has exhibited her work in various jury selected fine art shows and galleries in New England including:
Glastonbury Fine Art and Craft show, CT
New Britain American Fine Art and Craft show, CT
Canton Artists Guild Gallery, CT
West Hartford Art and Craft show, CT
Farmington Valley Arts Center Gallery, CT
Old Lyme Fine Art Show, CT
Provincetown Fine Art Show, MA
Pia Sjolin Design Canton, CT
ArtSpace Gallery Hartford, CT
Open Studio Hartford - http://openstudiohartford.com/
Featured Artist of the month at Aetna Hartford, CT February – 2016
Upward Canvas, Upward Hartford, CT
American Mural Project Gallery, Winsted, CT
Hartford Library, Hartford, CT
Art League of New Britain, New Britain, CT
As of Monday, 1/6, Christine's collection at Upward Hartford can viewed & purchased via the Upward Community app for iOS and Android.
PRESS
http://www.courant.com/entertainment/museums-galleries/hc-christinechaisegreenwood-jpg-20150918-photo.html http://www.ctnow.com/arts-theater/hc-open-studio-hartford-1113-20151109-story.html
Upward Gallery Opening Reception:
Wednesday, January 22nd @ 6:00pm @ Upward Hartford 20 Church St., Mezzanine Level, Hartford, CT 06103
Gallery Open Hours:
Mon-Fri: 9am-5pm