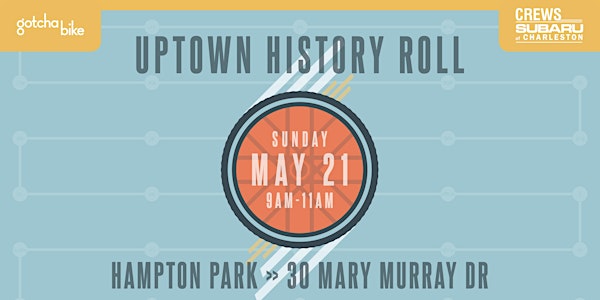 Uptown History Roll (1st rain date)
When and where
Location
Hampton Park 30 Mary Murray Blvd Charleston, SC 29403
Description
Bike Month CHS is presented by The Gotcha Group and Crews Subaru of Charleston.
Note: this event is limited to 20 people, so snag your tickets today to reserve your spot! We'll roll out from the parking lot at Hampton Park (near 10th Avenue) at 9am, returning at 11am.
Charleston's Uptown is a treasure trove of historical landmarks and gems! Join Charleson Moves and professor/author, Kevin Eberle, for a guided bike tour of 20+ historical homes, churches and schools within the neighborhood.
Kevin Eberle is a law professor at the Charleston School of Law, but his real love is Uptown history. Since moving to the Uptown more than 20 years ago, his interest in Uptown history has evolved from an interest to a hobby to an obsession. He first wrote about Uptown history as the neighborhood president of Hampton Park Terrace when he needed material to fill a monthly newsletter. Year later, his research on the namesake Hampton Park was turned into "The History of Hampton Park," an authoritative source for all things related to Charleston's best park. He has led tours of the Uptown for both the Preservation Society of Charleston and the Historic Charleston Foundation. In his free time, he enjoys working on his c. 1914 house and maintaining two old cars.