Description
TICKETS WILL BE ON SALE AT FOX & HOUND UPTOWN FROM 4-6PM FOR $20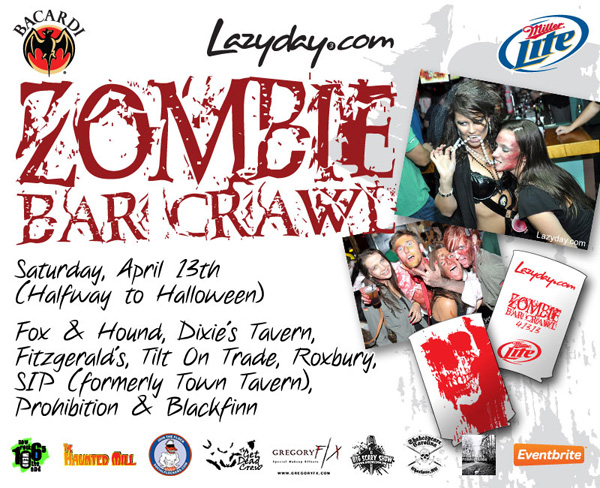 Zombie Bar Crawls Around The Country...
Philadelphia - March 31st
Boston - April 7th
Charlotte - April 13th
Chicago - April 20th
++ 500+ tickets already sold ++
++ thirty zombie make-up artists on site ++
Lazyday.com, Miller Lite & Bacardi Present
Uptown Charlotte's 1st Annual Zombie Bar Crawl
Saturday April 13th, 2013
(Halfway to Hallowen)
Registration of the undead takes place at Fox & Hound Uptown from 4-6pm
Fox & Hound Uptown, Fitzgerald's, Dixie's Tavern, SIP (formerly Town Tavern)
Prohibition, Tilt On Trade, Roxbury & BlackFinn
This is guaranteed to be a killer event.
FREE zombie makeup artists on site (first come, first serve starting at 4pm),
commemorative koozie, 8 bars & clubs and more!
Tickets are $15 in advance and $20 the day of.
Please dress in zombie attire.
Designated drivers are always welcome and can attend any Lazyday.com bar crawl for free. Please email us for more information.
21+ only.