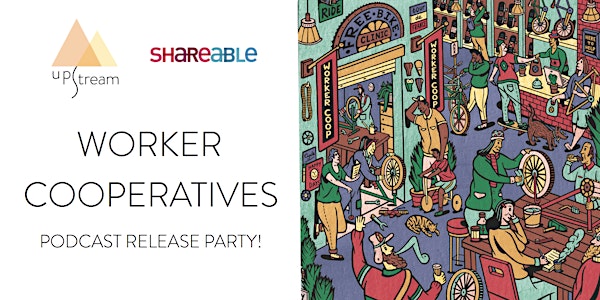 Upstream Podcast: Worker Cooperative Episode Release Party
When and where
Location
SoleSpace 1714 Telegraph Avenue Oakland, CA 94612
Description
Join the Upstream Podcast and Shareable as we come together to host an evening centered around Upstream's highly anticipated podcast series about Worker Cooperatives.
Through a combination of world cafe conversations, cooperatively-themed games, and talks by special guests, you can look forward to an engaging and informative evening of exploration and dialogue. How are cooperatives important in this tumultuous and thrilling 21st century economy? What role does the cooperative movement play in fostering economic and racial justice? What challenges has the cooperative movement faced and how can we learn from them? We'll explore these questions together, drawing from the wisdom and experience of some the world's most important and influential thinkers within the global cooperative ecosystem.
$5 is the suggested "cover charge" to help us cover the costs (no one will be turned away for lack of funds).
For the occasion we've got some special beverages (you'll have to come to find out what they are!).
We invite you to join the Upstream and Shareable teams, along with community change-makers, scholars, activists, and the many folks involved in the cooperative ecosystem of the Bay Area for an evening of talks, conversations, and games.
We look forward to co-creating the new economy together!
---
Thank you to our event sponsors!
Rainbow Grocery (https://www.rainbow.coop/)
Design Action Collective (https://designaction.org)
Arizmendi Association of Cooperatives (http://arizmendi.coop)
The Cheeseboard Collective (http://cheeseboardcollective.coop/)
Box Dog Bikes (https://www.boxdogbikes.com)
Beneficial State Bank (http://beneficialstatebank.com/)

Community Printers (http://comprinters.com/cptemp2/)
Artwork: Phil Wrigglesworth