Description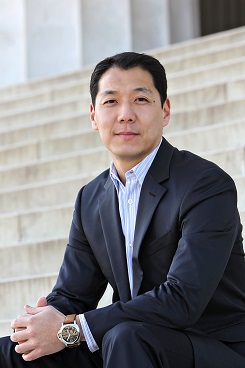 Mike Kim: Human Trafficking Expert and Award-Winning Author
5:30 p.m. VIP Reception (with speaker Mike Kim; includes beverages and hors d'oeuvres)
6:30 p.m. Program
North Korea is the least free country in the world with a repressive hereditary political leadership and one of the world's worst human rights records. On New Year's Day in 2003, Mike Kim gave up his financial planning business in Chicago, Illinois and booked a one-way ticket to China to help North Korean refugees. While living near the China-North Korea border, Kim operated undercover as a North Korean taekwondo student training under two well-known masters from Pyongyang. From there, he used a 6,000-mile underground railroad to lead many North Korean refugees and sex trafficking victims to safety in Southeast Asia.
His memoir, Escaping North Korea: Defiance and Hope in the World's Most Repressive Country, describes his harrowing experiences at the China-North Korea border. Kim also founded Crossing Borders, a nonprofit organization dedicated to providing humanitarian assistance to North Korean refugees. Crossing Borders organizers testified at a congressional hearing on the issue of counteracting human trafficking in China, and it regularly contributes to the U.S. State Department's "Annual Trafficking in Persons Report."
The Upstander Speaker Series was created to showcase Upstanders – people who are willing to stand up and take action in defense of others – and inspire others to demonstrate the same courage and commitment.

Organizer of Upstander Speaker Series: Mike Kim
Hosting more than one million visitors in the past 34 years, the Dallas Holocaust Museum/Center for Education and Tolerance in the historic West End is one of only 23 Holocaust Museums in the nation, and it's the only one serving North Texas, Oklahoma, Arkansas and Louisiana. A non-profit organization, we are dedicated to teaching the history of the Holocaust and advancing human rights to combat prejudice, hatred and indifference.
The Museum has been recognized repeatedly for compelling programming, innovative and original exhibits, and world-class speakers. Along with its core exhibit, the Museum presents thought-provoking, rotating special exhibits several times each year. The Museum hosts more than 86,000 visitors each year.