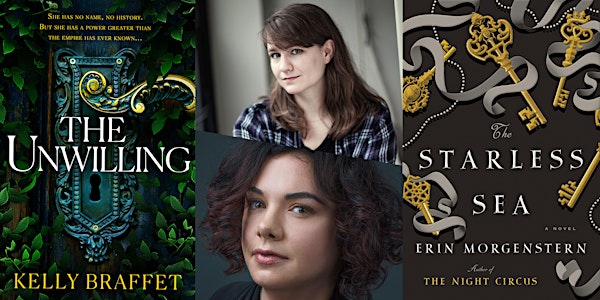 Upstairs at Murray's: Kelly Braffet & Erin Morgenstern
Fantasy fans get your tickets today to hear this powerhouse pair of authors!
When and where
Location
Murray's 73 Broadway Tivoli, NY 12583
Refund Policy
Contact the organizer to request a refund.
About this event
Kelly Braffet's new novel THE UNWILLING is an epic tale of greed and ambition, cruelty and love and is all about bowing to traditions and burning them down.
The Unwilling is the story of Judah, a foundling born with a special gift and raised inside Highfall castle along with Gavin, the son, and heir to Lord Elban's vast empire. Judah and Gavin share an unnatural bond that is both the key to her survival…and possibly her undoing.
"Gorgeously told, The Unwilling is at once a sweeping epic and an intimate portrait of being trapped in an oppressive regime. Meet your new favorite fantasy writer!"-- Gwenda Bond, NYT bestselling author of Stranger Things: Suspicious Minds.
Erin Morgenstern is The New York Times bestselling author of The Night Circus. Her newest novel THE STARLESS SEA is a timeless love story set in a secret underground world.
Zachary Ezra Rawlins is a graduate student in Vermont when he discovers a mysterious book hidden in the stacks. As he turns the pages, entranced by tales of lovelorn prisoners, key collectors, and nameless acolytes, he reads something strange: a story from his own childhood. Bewildered by this inexplicable book and desperate to make sense of how his own life came to be recorded, Zachary uncovers a series of clues—a bee, a key, and a sword—that lead him to a masquerade party in New York, to a secret club, and through a doorway to an ancient library hidden far below the surface of the earth. What Zachary finds in this curious place is more than just a buried home for books and their guardians—it is a place of lost cities and seas, lovers who pass notes under doors and across time, and of stories whispered by the dead.
"..[a] wildly fanciful lark that has all the hits...It's a complex, darkly beautiful story with some of the most inventive storytelling we've read all year."—Good Housekeeping, Best Book of 2019