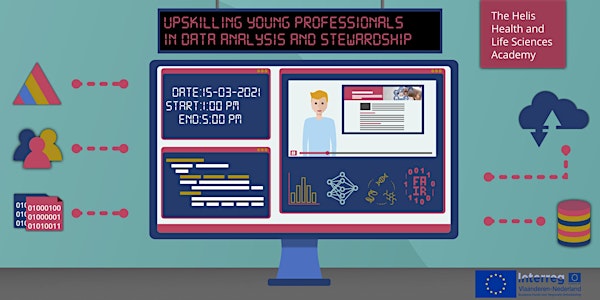 Upskilling (young) professionals in Data Analysis and Data Stewardship
The Helis Health and Life Sciences Academy
About this event
Digital skills in Life Sciences and Helis Academy
The Life Sciences industry is and will increasingly become a crucial piece of the economy for both Flanders and the Netherlands. The ever-evolving technologies are pushing the boundaries to process the vast amounts of data and corresponding volumes of information. This clearly indicates the importance of data analysis and stewardship for companies, yet young professionals often lack the necessary knowledge and skills. The Helis Academy, a 3-year project funded by the EU (Interreg), strives to tackle this knowledge gap by offering trainings on several identified themes. In Helis Academy, the four topics omics data analysis, statistics, FAIR data stewardship and machine learning have bundled their forces under the umbrella "Data Analysis and Data Stewardship (DAS)".
About the event
In the context of the Helis Academy, and as part of its data analysis and stewardship program, Eindhoven University of Technology (TU/e), Dutch Techcentre for Life Sciences (DTL), Vlaams Instituut voor Biotechnologie (VIB) and Maastricht University (UM) have built up a portfolio of courses and course materials in the past three years. With the end of the Helis project approaching (Summer 2021), we are now organizing this event where we will present what Helis Academy DAS has achieved to help bridge the gap between University education and a career in industry.
The event will feature a group of inspirational speakers from industry, academia and government who will provide their insight on the skills gap in Life Sciences & Health and together with the participants we are going to discuss the perspectives on possible next steps, including the embedding of the developed courses.
The spotlights will be on the challenges that employers face in getting and keeping the digital and data skills of their employees on a sufficient level, on the training solutions that exist, on the needed alignment of the outcomes of 'curricula' and the needs of the 'labor market', and finally we will end with a plea for more collaboration throughout the landscape of public and private providers of education & training.
Audience
This event is aimed at professionals working in training and capacity building in institutes, research projects and companies, as well as at policymakers and funders.
Schedule
12:30 - 13:00 Possibility of networking (via the conference platform) before the start of the event
13:00 - 13:10 Welcome (including 5 min tech setup as a starting point)
13:10 - 14:20 Skill gap in Life Sciences & Health in the industry
14:20 - 14:35 Introduction to Helis Academy
"Helis Academy: Becoming industry-ready in Life Sciences" by Pascale Engelen (Co-General Manager flanders.bio, Project Lead Helis Academy)
14:35 - 15:00 Break & possibility of networking
15:00 - 16:00 Introduction to Helis Data Analysis and Stewardship Portfolio
16:00 – 16:20 Helis web-based tools by Rita Neves (TU/e)
RésuMe, a creative orientation tool to guide students/young professionals through their professional path in Life Sciences & Health,
SuitAbility aims to help companies in finding a good match between a vacancy and a potential candidate.
16:20 – 17:00 Outlook and Next steps
17:00 Closing
Registration
Registration is free of charge. Please fill in the Eventbrite registration form.
Contact
In case of questions or technical problems, please contact training@vib.be.