Description
Upskilling America: Why Companies are Struggling to Retrain Their Workforce for Technology Jobs of the Future and How It Could Derail Innovation
a Tech 2025 Think Tank
FULL INFO AND AGENDA AT WEBSITE: https://bit.ly/upskillingamerica
Topic Overview:
"Thousands of companies across the country are in the thick of a digital revolution that requires them to transform their operations. They need an employee base that's ready to do new kinds of work, filling roles that are just emerging and adapting existing jobs to integrate more data and automation. Employers are still trying to master the challenge of mapping the skills of their current workers, identifying the skills required of their future workforce and filling the gaps between the two. By the time many companies figure out exactly who they need, it's often too late to invest the necessary time and money into retraining... A recent Accenture survey of 1,200 executives found that, while nearly half say skill shortages are a major concern for the future of their firm, only 3% said they will significantly increase their training budgets over the next three years." -- Lauren Weber (Why Companies Are Failing at Reskilling, The Wall Street Journal)
We have a potential crisis in the making of epic proportions that corporate America has never experienced before.
The Fourth Industrial Revolution is well underway and big companies like Amazon, PwC, Accenture and Walmart (to name a few) are leading the charge by investing billions of dollars to upskill, reskill, and cross-skill their workforce in emerging technologies that are disrupting products, services, customer engagement and back-office operations. And, as AI and automation technologies develop exponentially, and quickly take over tasks and jobs once done by humans, the problem of upskilling becomes even more challenging and pressing!
With thought-leader guest speakers Lauren Weber (Reporter, The Wall Street Journal), John Pavley (Senior Vice President of Software Engineering, Viacom, and Leslie Short (President and CEO, The Cavu Group), we will explore this topic and its implications on companies (enterprise down to startups), employees, and society at large.
Speaker Presentations and Agenda:
Lauren Weber (Reporter, The Wall Street Journal). Lauren Weber writes about workplace issues and careers for the Wall Street Journal. She will be presenting and speaking on her compelling and thought-provoking article, Why Companies Are Failing at Reskilling (a must-read!). We highly recommend reading several of Lauren's recent articles for great background information including

John Pavley (SVP of Software Engineering, Viacom). John Pavley has led teams at startups, tech companies, and media companies. He has led the design and development of award winning products, such as Apple's ClarisWorks for Kids, DoubleClick's DART5, Spotify's streaming radio service, and HuffPost's verified identify. But his absolute favorite thing to do is to recruit and lead product development teams with an insanely productive agile processes and world-class teams. His presentation will be on why tech departments and tech companies are not hiring women and people of color, and other non-white-cisgendered males into technical roles. He will then use this DEI-lens to analyze Amazon's new "Upskilling 2025" program and what it will mean for ordinary people to suddenly be forced to upskill from non-technical jobs to technical positions in companies.
.
Leslie Short (President and CEO, The Cavu Group), Leslie is dynamic, accomplished Head of Operations/ Diversity & Inculsion thought-leader highly regarded for 20+ years of progressive experience leading organizations by delivering growth and cutting-edge strategies for startups and large corporations -- Known for driving the continuous improvement of key business systems, processes and people through innovative direct approaches. Her presentation will be on how and why companies need to make workplace culture (defining it, redefining it, training, etc.) the foundation of their upspkilling/reskilling initiatives.
VENUE SPONSOR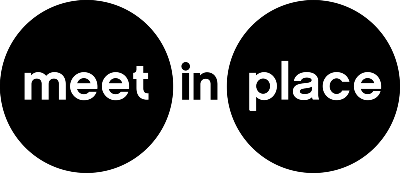 Meet In Place is a global network of boutique offsite meeting spaces, with locations in New York, London and Tel Aviv. Meeting rooms come in various styles and sizes (3-40 people). They are beautifully designed around helping teams and professionals be as productive, focused and creative as possible, while providing all the necessary amenities. Customers use our meeting rooms to conduct off-sites from seminars and workshops to creative brainstorming sessions, quarterly business reviews, sales training, and lectures. And they just opened their doors at 87 Nassau St. -- a great location for downtown meetings!
TECH 2025 members get a 10% discount off first booking using this discount code on their website or on their mobile app: TECH2025
Download their instant booking app: GOOGLE PLAY / APP STORE