Description
Upscale Soulmate Connections offers singles the chance to mingle, connect and network with people for business and personal requirements and invites sponsors for the same.
With a tight day to day schedule, many of us don't get much time to get out a bit and socialize. From the start of the day to the end, we're so booked with work, that we don't get time for ourselves. In the process, we lose the golden opportunity to do one of the most important things in life- make friends, connect with people and have fun!
There are many ways for you to do this. You can always join a club, start yoga lessons in your free time, or simply create a profile on online dating or networking websites. But here's the real challenge; how do you make time for these things when you're too busy to even indulge in a proper breakfast most of the days?
It is precisely for this reason that Upscale Soulmate Connections is hosting the 3rd Annual Social/Singles Mixer. Couples are welcome to attend. The event has been organized to provide today's chic singles with the opportunity to connect with each other for business, as well as personal requirements.
Organized by Ms Gwendolyn Boatright, CEO and Founder of Upscale Soulmate Connections and a professional matchmaker herself, the event is anticipated to draw individuals in the 40 plus and 50 plus.
The event aims to present an exciting opportunity for all guests to connect with others. STARRING JEFF REDD singing all his hits YOU CALLED and TOLD ME , I FOUND LOVE. Special performance by RFC Fresh Recording Artist Four Time Apollo winner PETAWANE. In addition live music by DJ Pute'mup will keep guests in good spirits with his toe-tapping numbers at the event.
Come join us for a night of absolute fun and don't miss out on the opportunity to meet someone special. This event is a must-attend if you're looking to change all of that. Hurry and buy the tickets.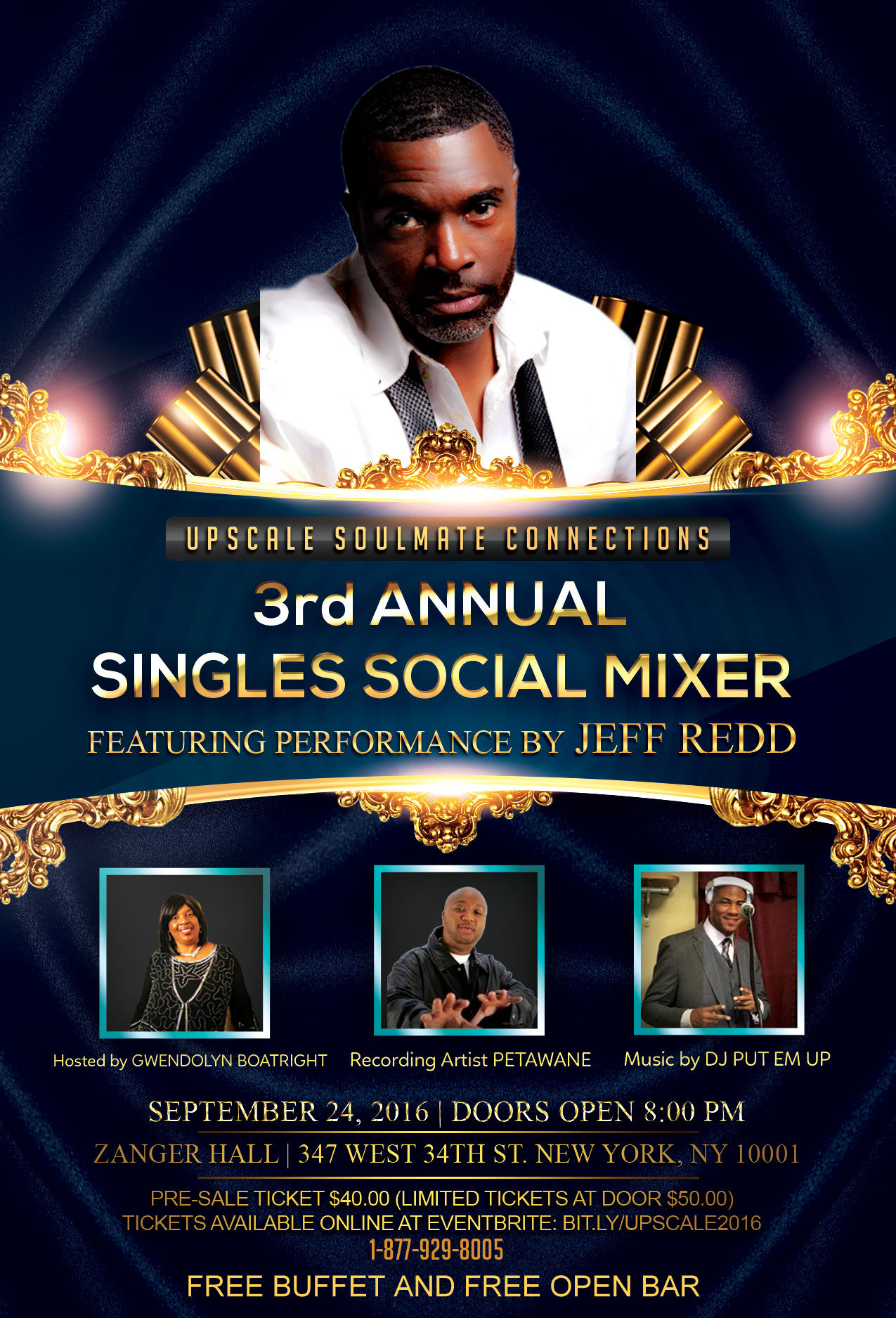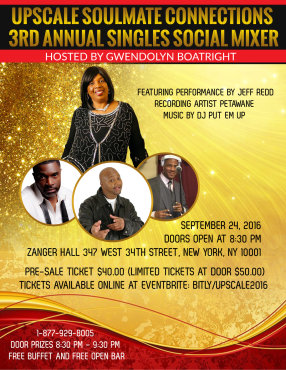 Price includes:
Free Open Bar, Free Buffet

Great Performers, Music and Connections

Mingle and Mix

Door Prize Giveaways from 8:30 PM - 10:00 PM
ALL TICKET SALES ARE FINAL!!!