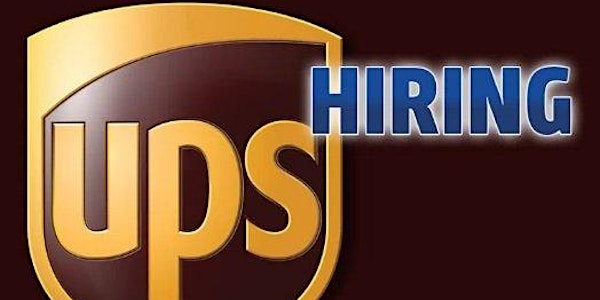 UPS Hiring Now:Part-Time Package Handlers(9/11/18)
Location
City of Atlanta -Rosel Fann Recreation Center
365 Cleveland Avenue Southeast
Atlanta, GA 30354
Description
UPS HIRING PACKAGE HANDLERS NOW
IF you are interested in starting your career with an AWESOME company then please register to attend the UPS COMMUNITY RECRUITMENT EVENT by doing the following:
Step 1: Register to attend one of the pre-screening recruitment sessions to be considered for the Package Handler position (10:00 am, 11:00 am, 12:00 pm, 1:00 pm or 2:00 pm)
Step 2: Present your ID with your Eventbrite registration upon arrival on the day of the hiring event along with the Eventbrite Registration ticket
Step 3: Proceed to the WorkSource Mobile Unit(s) to complete the UPS Package Handler online application. The application will be live only on the day of the hiring event. You will only be able to complete your application at the Recruitment Event.
Step 4: Proceed to the UPS Recruitment Station after the application is complete. The UPS Recruitment Team will provide next steps in the hiring process after completing all steps at this station.
**** NO JEANS or TENNIS SHOES will be allowed. You will must be dressed business casual to enter this event.
_____________________________________________________________
Package Handler Job Description
UPS Part-Time Package Handlers play a crucial role in the success of UPS in a warehouse environment, whether they're sorting packages, loading trucks or unloading trucks. No matter your role, you'll work closely with your team to ensure all the work behind the scenes is done safely and successfully. As a result, you're ensuring our customers receive their packages on time, directly impacting the bottom line on a global scale. As a bonus, the variety of shifts available (mostly Monday through Friday, Tuesday through Saturday or Sunday through Thursday, among others depending on location) will allow you to enjoy a healthy work-life balance and get your degree in your free time. Looking for an opportunity for growth? Fun fact: many of our senior managers started out as Part-Time Package Handlers while in college.
This is a physical, fast-paced position that involves continual lifting, lowering and sliding packages that typically weigh 25 - 35 lbs. and may weigh up to 70 lbs. Part-time employees usually work 3 ½ - 4 hours each day and workdays can vary (Monday – Friday) or (Tuesday – Saturday) depending on the building needs. Package Handlers typically do not work on holidays.
Package Handlers receive a competitive hourly rate and also an attractive benefits package. Please note that these opportunities are part-time only working approximately 17 1/2 – 20 hours per week.