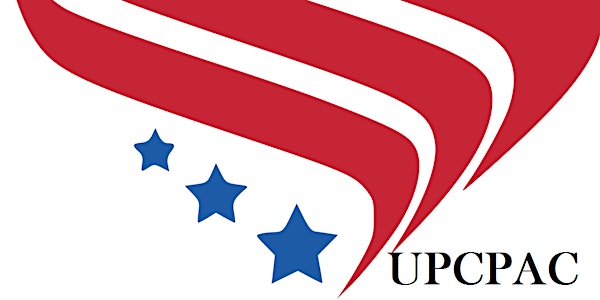 Upper Peninsula Political Action Conference UPCPAC
Description
Upper Peninsula Political Action Conferences (UPCPAC)
Friday Night: June 8, 2018 Highland Golf Club, Escanaba, MI. 6:00pm
Doors open at 5:00pm
*Key Note Speaker: Pulbius Hulda: The Constitution and the Article V Convention
*Key Note Speaker: Philip Haney: Retired Homeland Security Agent and Author of "See Something, Say Nothing":Dangers of Islam in America.
UPCPAC will host a meet and greet for candidates seeking election in the 2018 primary and general elections.
Please come out and cheer on your favorite candidate.
Undecided? This is the place to be! Come and meet local and state candidates. So far, confirmed candidates:
110 State Rep. Candidates: Kirk Schott, Greg Markenan, Brady Tervo, Keith LaCosse
109th State Rep. Candidate: Melody Wagner
38th Senate Candidates: 108th State Representative Ed McBroom, 110th State Representative Scott Dianda, Mike Carey
37th Senate Candidate: Jim Gurr
Governor Candidates: 7th State Senator Patrick Colbeck
AG Candidate: 20th State SenatorTonya Schuimaker
SOS Candidate: Joseph Guzman
US Senate Candidate: Bob Carr
Michigan Board of Education: Richard Zeile
Saturday Morning: June 9, 2018 Highland Golf Club 10:00am
Doors open at 9:00am
The theme of this years event:
"Our Constitution: Yesterday, Today and Tomorrow"
UPCPAC brings togther knowledgeable speakers to help us understand our Constitutions rich history, the differing ways it is under attack, today and what our future may look like tomorrow because of it.
UPCPAC's list of speakers includes:
Prof. William Wagner: President and CEO of Salt and Light Global
Dave Agema: Chairman of the Top Gun Republican PAC, former member Michigan House of Representatives, Republican National Committee for Michigan.
William Mohr: Chairman; State Central Committee of the USTaxpayers Party of Michigan
Norm Hughes: Chairman; Michigan Conservative Union
Terri McCormick Ph.D; Author, Speaker, former Wiscosin State Rep.
Congressman Bergman: Lt. General, Retired; Pilot, Businessman
Michael Warren: Author of "America's Survival Guide"
Jim Hafeman: Marine, retired, Law Enforcement Office
Tom Deweese: President; American Policy Center, author, speaker
Tom Casperson: State Senator, former State Rep., businessman
Organizer of Upper Peninsula Political Action Conference UPCPAC
Michigan Conservative Union has been a proud defender of personal, state and national liberty.
Its forty year history displays its continued and unshakable belief in the founding documents of the United States, the Michigan Constitution and the rugged individualism which characterizes the American People.