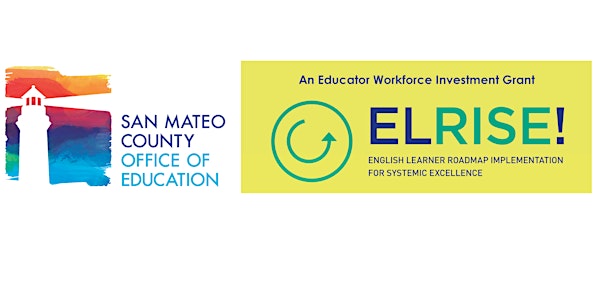 Upper Elementary (Grades 4-6) Culturally Sustaining Pedagogy
Focus on: Creating the Conditions to Prevent LTELS
About this event
Creating an inclusive, linguistically, and culturally affirming classroom community is a central priority for effectively serving English learners. By providing students with mirrors to positively reflect their intersectional identities and windows to embrace the diversity of our world, we can create classrooms and communities that respond to our students' strengths, needs, socio-emotional health and identities. This two-session webinar series, with embedded pre-session work, focuses on how teachers can enact Principle 1 of the English Learner Roadmap policy in their virtual or in-person classrooms. Teachers will learn specific skills and strategies for leveraging their students' and families' cultural and linguistic assets, celebrating, and affirming identity, strengthening classroom community, and facilitating collaborative learning spaces.
Audience: Upper elementary teachers in grade 4-6, Site/local teams of educators, Paraeducators, COE staff
Dates:
Session 1: December 7, 2022
Session 2: January 19, 2023
Time: 3:30-5:30 P.M.
*Zoom link will be provided closer to the date of the event. We suggest participants to log onto the Zoom Meeting 10 minutes prior to the start of each session to test audio and visual access).
*For questions regarding this webinar series, please contact:
Gracie Estrella Hough ghough@smcoe.org
*For questions regarding registration, please contact:
Jasmin Matsuura jmatsuura@smcoe.org