UPPC General Assembly -- "The Gathering"

Daily Event: 7:00 AM (PST)

Culver City, CA
Event Details
The United Progressive Pentecostal Church Fellowship National Office is excited to host it's National Leadership Conference entitled "The Gathering" March 7-9, 2013 in Los Angeles, California. This power packed weekend of fellowship, empowerment and the  historical consecration of Bishop-Designate Gates is sanctioned as a National Church assembly.  It is our desire for all National/Diocesan Officials, credential delegates and pastor seeking affiliation to be in attendance. We guarantee a life-changing experience!
Listed below is the weekend itinerary and events for the 2013 national assembly "The Gathering"
The Gathering and Consecration Schedule of Events
 Thursday, March 7th
Fellowship Dinner                            7:00 pm – 10:00 pm
Friday, March 8th 
Breakfast                                           8:45 am – 9:25 am
Intercessory Prayer                            9:30 am – 9:55 am
General Assembly                             10:00 am – 11:00 am
Leadership Workshops I                    11:05 am - 11:50am
Church Growth & Maximization      
Episcopal Training Part 1
BREAK  (LUNCH)                          12:00-1:00 pm
Leadership Workshops II                   1:00 pm – 3:00 pm
Episcopal Training Part 2      
Introductory to Youth Ministry
Who Are We?
Loyalty the pathway to Success
New Pastors Welcome Reception      3:00pm-4:30pm
Afternoon Break/Choir Rehearsal      3:00 pm  - 6:00 pm
Intercessory Prayer                             6:30 pm  - 7:00 pm
Worship Experience                           7:00 pm  - 10:00 pm               
Saturday, March 9th
General Board Breakfast                   10:00 am - 12:00 pm
Depart from Hotel                             1:30 p.m. - 2:00 pm
Private Close Door Session               2:15 pm - 2:45 pm
Procession                                         3:00 pm - 3:15pm
Consecration Service                         3:30 pm - 5:30 pm
Pictures                                              6:00 pm - 7:00 pm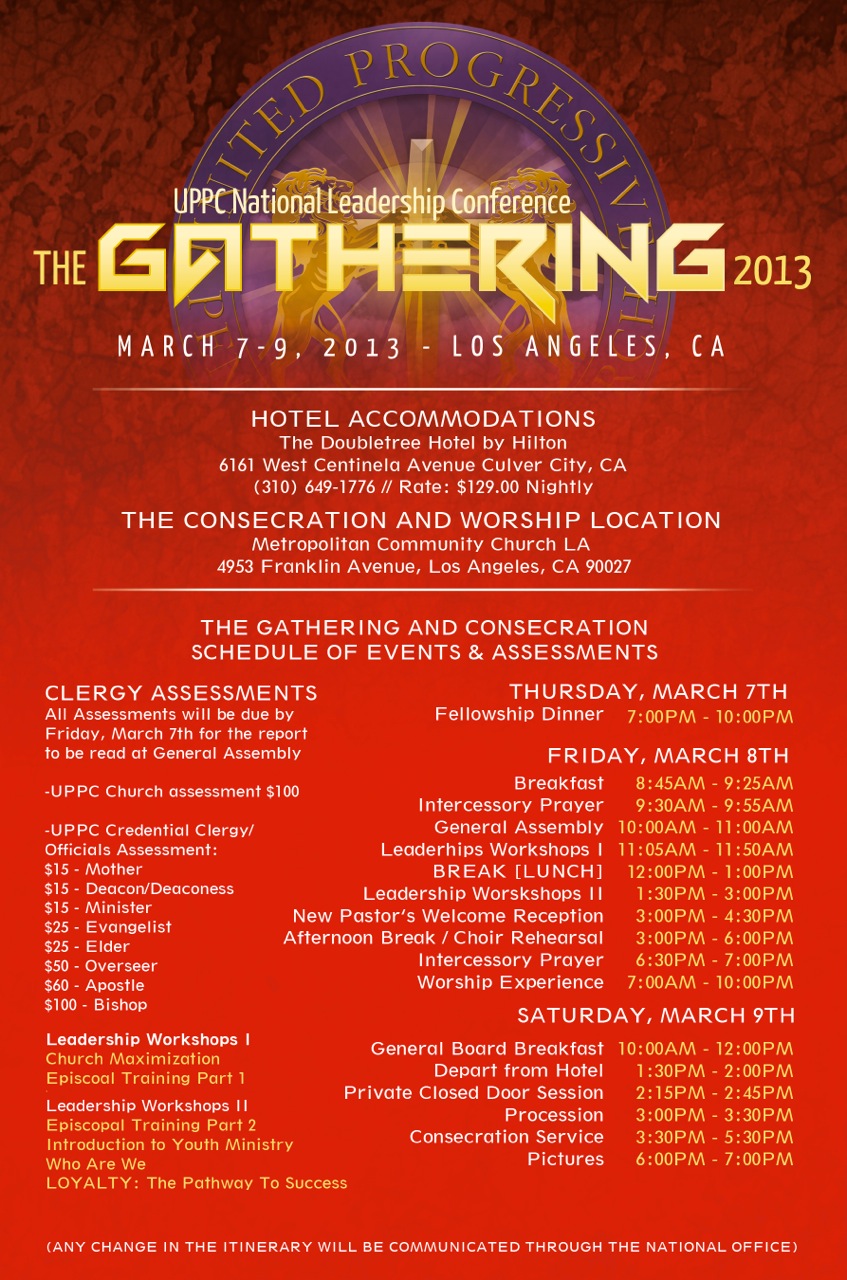 Where


The Doubletree Hotel by Hilton
6161 W Centinela Ave


Culver City

,

CA

90230