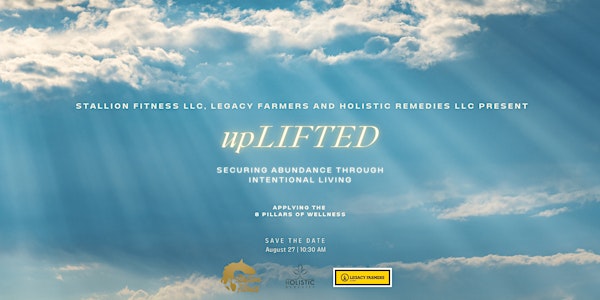 upLIFTED- Securing Abundance Through Intentional Living
Join us for a morning of peace, inspiration, and good quality flower as we reach wellness through intentional living.
When and where
Location
Zeal Creative Studio 544 Freeman Street City of Orange, NJ 07050
About this event
INHALE. EXHALE. You will move your body, mind, and spirit as we explore the 8 Pillars of Wellness and the key role they play in attracting abundance to our life journey.
Guests will experience:
A guided workout and meditation session to center our minds and bodies
A plant-based open market
A curated holistic conversation featuring masters of spiritual, social, physical, environmental, and financial wellness
An engaging discourse about the assumed difference between being "spiritual" vs "religious" as it relates to our wellness
A safe space overflowing with peace, inspiration, and quality flower
Special Guests include....
⭐ Licensed NJ Adult Recreational Use Cultivator, and World's Best Plant Aunt: Shayla Cabrera
⭐ Financial Wellness Educator, Investor, and Entrepreneur: Gislaina Riche
⭐ Artivist, Acclaimed Photojournalist, and Community Organizer: Joseph Sir Moore
⭐ Meditation Guru, Life Coach, Relationship Counselor, Hip Hop Artist/Activist: Dox Diggla
⭐ Owner of Blueberry Cafe, Alkaline Wellness Expert, 4x time plant-based entrepreneur, and artist: Rashena Burroughs
Bring your comfy/workout clothes, your notebook, and an open mind. We're getting upLIFTED!