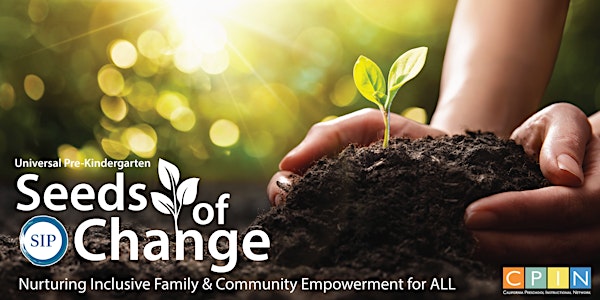 UPK Seeds of Change: Nurturing Inclusive Family & Community Empowerment
Virtual Professional Development Series
About this event
49 days 2 hours

Mobile eTicket
Universal Pre-Kindergarten Seeds of Change: Nurturing Inclusive Family & Community Empowerment for ALL
This virtual professional learning series provided by Supporting Inclusive Practices in collaboration with the California Preschool Instructional Network (CPIN), combines voices of experience with practical strategies for building strong, inclusive partnerships to support our youngest learners and their families. Participants will learn the importance of inclusive practices to empower families and children with disabilities, English Language Learners, and those who have experienced adversity.
Who would benefit from attending? All Pre-K - 12 administrators, educators, caregivers, family members, and community partners (Resource and Referral Agencies, QCC, F5CA, Head Start, LCPC Reps, CDSS Reps, Family Resource and Empowerment Centers)
By registering for this virtual event, you will be included in all six sessions, and provided presentation materials. Space is limited, so please register soon!
January 18th, 2023 3:00- 5:00 PST
Planting the Seeds for High Quality Inclusive Experiences for ALL
Keynote Presenter: Dr. Julie Nicholson
January 25th, 2023 3:00 - 5:00 PST
Inclusion Works!
Presented by: CPIN
February 1st, 2023 3:00 - 5:00 PST
Dual Language Learners: Best Practices to Enhance Language & Learning Opportunities through Inclusion in the Pre-Kindergarten Setting
Presented by: Imperial County SELPA Early Education Team
February 8th, 2023 3:00 - 5:00 PST
Preschool English Learners Guide- Chapter 7 English Learners with Disabilities or Special Needs
Presented by: CPIN
March 1st, 2023 3:00 - 5:00 PST
CPIN Family Partnerships and Culture Guide
Presented by: CPIN
March 8th, 2023 3:00 - 5:00 PST
Empowering, Inclusive Practices to Support Families and Students Experiencing Adversity
Presented by Keynote: Dr. Julie Nicholson, and Special Guests
If you have any questions or require accommodations, please contact the SIP team at connect@sipinclusion.org.