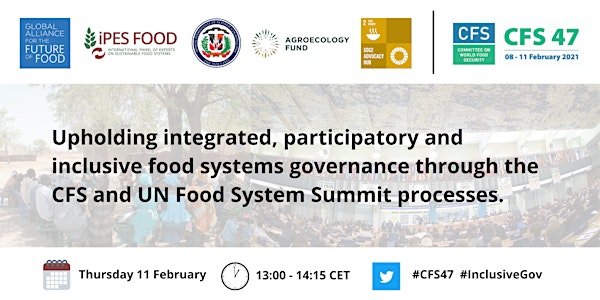 Upholding integrated, participatory and inclusive food systems governance
The 2021 UN Food System Summit is fast approaching, and governance of food systems is on the agenda.
About this event
Today's event Zoom link: https://fao.zoom.us/j/99725171111
Meeting ID: 997 2517 1111
Passcode: 271751
_________
There is growing consensus that food systems must be governed in integrated, participatory and inclusive ways. In the context of the 2021 UN Food Systems Summit, it will be critical to further strengthen effective and inclusive food system governance. This debate is made more urgent because our food systems are increasingly vulnerable to global threats.
Looking then to the UNFSS and beyond, how can we ensure the CFS' centrality and further strengthen it as the core mechanism for inclusive global food systems governance? Panelists in this side event at the 47th Session of CFS will explore and debate the mechanisms and institutional structures that will ensure the robust governance required for resilient, renewable, equitable, healthy, diverse food systems over the next year and beyond.The session is delivered in partnership by the Global Alliance for the Future of Food, Agroecology Fund, IPES-Food, the Dominican Republic, and SDG2 Advocacy Hub. A summary document of the events outcomes and discussions will be produced and circulated widely.