Description
** HUGE JACKSONVILLE CAREER FAIR **
** Tuesday September 19th at 10 am! **
** 100's OF JOBS AVAILABLE IN A VARIETY OF INDUSTRIES**
*Booth space is still available and employers can call (904) 296-3006 for additional information.*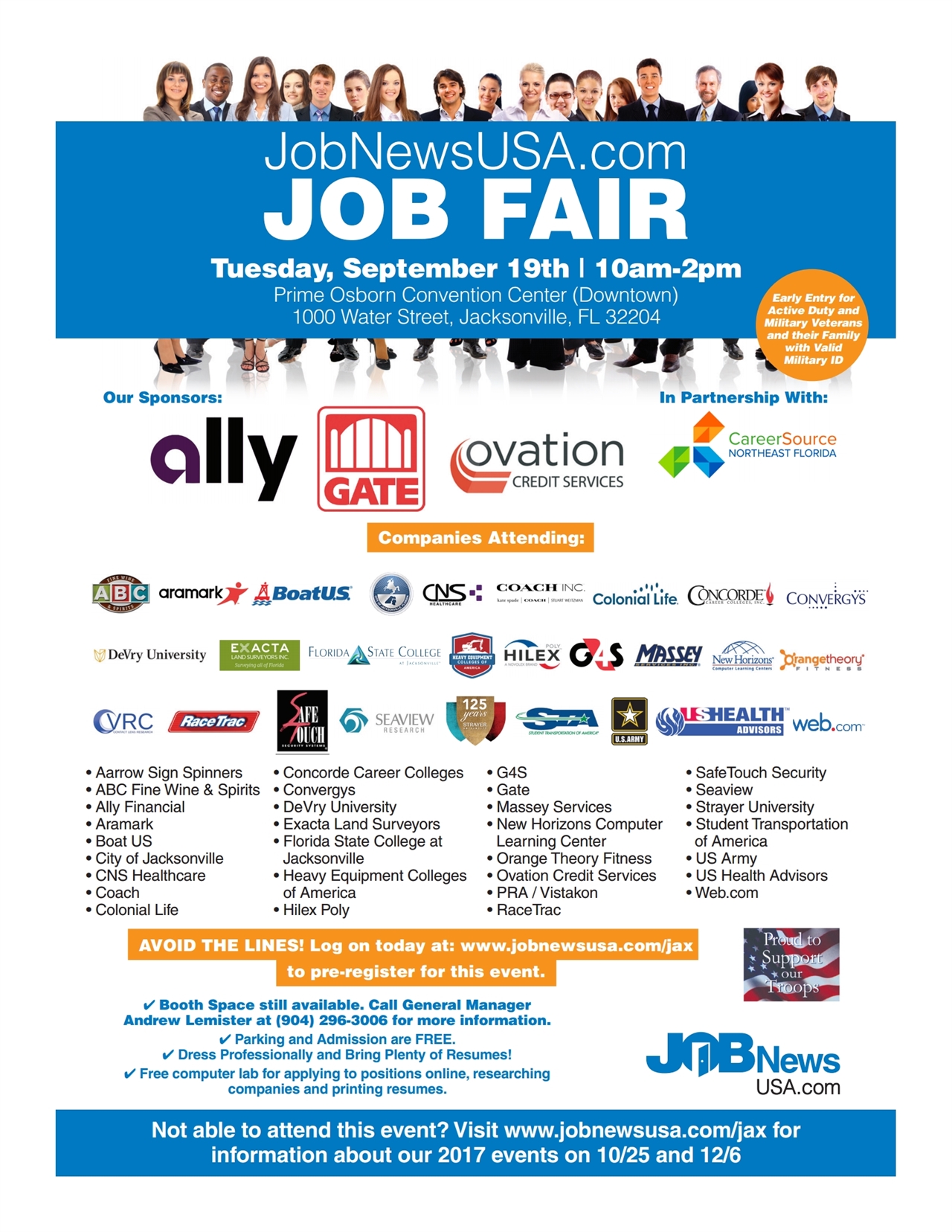 Job News, along with our Sponsors, Ally Financial, GATE and Ovation Credit Services will be hosting a Job Fair from 10 am to 2 pm on Tuesday September 19th, 2017 at The Prime Osborn Convention Center located at 1000 Water Street in downtown Jacksonville.
*** SAVE TIME & AVOID THE LINES BY PRE-REGISTERING TODAY AT ***: https://www.jobnewsusa.com/jax
Jobseekers will be able to meet with some of Northeast Florida's best Companies and Organizations who will be interviewing and hiring for "Hundreds" of Positions including:
SPONSORS:
Ally Financial: Collections Associate, Customer Service Associate
Gate Petroleum Co: Assistant Managers, Managers in Training (MIT), Assistant Manager in Training (AMIT), Sales Associates
Ovation Credit Services: Inside Sales Rep, Customer Service, Collections Agent, Retention Agent
EXHIBITORS:
Aarrow Sign Spinners: Managers, Sign Spinners, Drivers
ABC Fine Wine & Spirits: Manager Trainee, Sales Associates, Wine & Spirit Consultants
Aramark: Cook Supervisor, Cook, Hourly/Lead Supervisor
Boat US: Sales & Customer Service Agents, Assistant Claims Adjuster
City of Jacksonville: Veteran Services
CNS Health Care: Participants
Coach: Team Leader-Customer Care, Account Representative, Intern-Customer Care Training, Facilities Team Leader, Shipping Clerk, Chargeback Specialisty-Customer Care
Colonial Life Insurance: Sales Manager, Entry Level Sales
Concorde Career Colleges
Convergys: Outbound Customer, Service Rep, Outbound Sales Representative, Technical Support
DeVry University: With a long history of helping current and former members of the U.S. military reach their higher education and career goals. Career Education - Associate, Bachelor and Master's Degree Programs - Certification Boot Camps - Military Career Transition Training. A PROUD HISTORY EDUCATING MILITARY STUDENTS.
Exacta Land Surveyors: Field Crew
Florida State College at Jacksonville I-TECH Program: IT Placement Services
G4S: Security Officers
Heavy Equipment Colleges of America
Hilex Poly: Machine Operators
Massey Services: Manager Trainee, Sales, Service Technicians
New Horizons Computer Learning Centers: Technical Instructors, Account Executive, Educational Consultant
Orangetheory Fitness: Sales Associates and Fitness Trainers
PRA Health Sciences Research: Participants
RaceTrac: Store Manager, Co-Manager, Entry Level Manager, Associates - Full Time and Part Time
SafeTouch Security: Customer Service Representatives, Appointment Setters
Seaview: Registered Nurse, Medical Assistants/Phlebotomists, Lab Processor, Data Coordinator, Research Participants
Strayer University: Associates Degrees, Bachelor's Degrees, Master's Degrees
Student Transportation of America: School Bus Drivers
US Army: Over 200 Opportunities at: www.goarmy.com
US Health Advisors: Sales Agents, Sales Executives
Web.com: Sr. Outbound Sales, Collections Specialists, Retention Specialists
and MUCH MORE!
*** Booth space is still available and employers can call (904) 296-3006 info for additional information. ***
Parking and admission are free.
Early admission for Veteran's and Active Duty Military personnel and their families with valid military ID.
CareerSource Northeast Florida's Veteran Mobile Access team will have a free computer lab available to print and update resumes, research companies, apply for positions online as well as provide free resume assistance and tips to land that job.
Job seekers should dress professionally, bring plenty of resumes and should pre-register at: https://www.jobnewsusa.com/jax
What to do BEFORE the Job Fair:
•Pre-Register Online at https://www.jobnewsusa.com/jax
Print out your registration page and bring it with you! This is your "fast pass" into the Job Fair at 10am ONLY!
•Dress your absolute best! This doesn't mean you have to go out and purchase an expensive outfit, just dress clean cut and professional!
•Update your Resume and bring at least 25 copies with you.
•Do your Research! Pick a few companies from the list and learn more about them online. The more you know about the company, the more you can converse with them at the event!
•Last but not least -- make sure you arrange for a baby sitter! No children will be allowed into the event.
What to do AT the Job Fair:
•Arrive with a Positive Attitude and SMILE!
•Bring at Least 25 copies of your resume
•Do not bring any food/drinks/gum into the Career Fair
•Make sure you visit EVERY employer at the event and tell them what type of career you are interested in. If they do not have it available, they might be able to refer you to a company that does!
•No Cell Phones inside the Career Fair room! Treat it as a large interview and be professional!