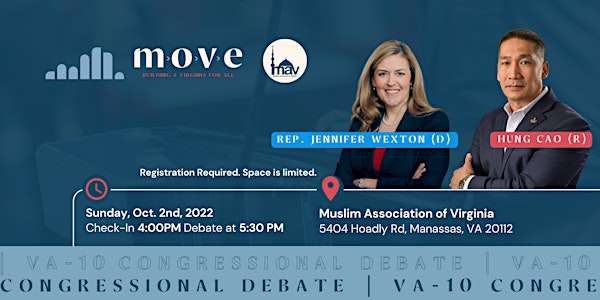 Updated Event: VA-10 Congressional Debate with Jennifer Wexton and Hung Cao
On-site registration is closed, watch virtually using this link: https://www.movechamber.org/va10debate/
When and where
Location
Dar Alnoor Islamic Community Center 5404 Hoadly Road Manassas, VA 20112
About this event
Important Rules:
1. Due to the number of registrants, we are checking in viewers on site at 4 pm.
2. All registration overflows have the ability to watch the debate downstairs on screens. Anyone arriving after the start of the debate will be seated downstairs and will have the opportunity to watch the debate on screens.
3. Seats will be filled on a first come, first serve basis. Please seat in areas that are not reserved.
4. No signage will be permitted inside the facility
5. We ask everyone to remain silent, respectful and civil during the duration of the debate.
6. Comply with all staff, volunteers and security while at the mosque.
7. While there is no official dress code, please be mindful of the fact that the program is being held in a place of worship.
8. Our moderators will be taking questions in advance from constituents via email , social media and onsite.