Refund policy
Contact the organizer to request a refund.
Eventbrite's fee is nonrefundable.
Join us for a special webinar on Update on Washington
About this event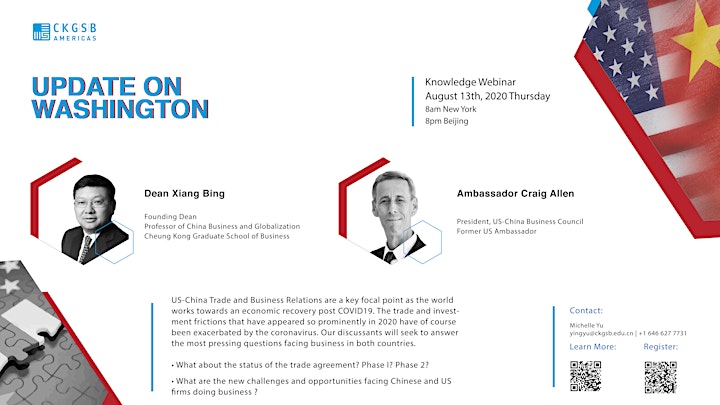 US-China Trade and Business Relations are a key focal point as the world works towards an economic recovery post COVID19. The trade and investment frictions that have appeared so prominently in 2020 have of course been exacerbated by the coronavirus. Our discussants will seek to answer the most pressing questions facing business in both countries.
Are these current tensions and present environment a "new normal"?
What about the status of the trade agreement? Phase I? Phase 2?
What are the new challenges and opportunities now faced by Chinese companies who want to operate in the US? US companies operating in China?
Are the problems mainly attributable to the interplay of US domestic policies and concerns about strategic competition between the two countries?
Is there a path forward to return to a steadier state irrespective of the November US and Congressional elections?
Language: English, with Chinese simultaneous translation
Speakers:
Ambassador Craig ALLEN
President, US-China Business Council
Former US Ambassador to Brunei
On July 26, 2018, Craig Allen began his tenure in Washington, DC, as the sixth President of the United States-China Business Council (USCBC), a private, nonpartisan, nonprofit organization representing over 200 American companies doing business with China. Prior to joining USCBC, Craig had a long, distinguished career in US public service.
Craig began his government career in 1985 at the Department of Commerce's International Trade Administration (ITA). He entered government as a Presidential Management Intern, rotating through the four branches of ITA. From 1986 to 1988, he was an international economist in ITA's China Office.
In 1988, Craig transferred to the American Institute in Taiwan, where he served as Director of the American Trade Center in Taipei. He held this position until 1992, when he returned to the Department of Commerce for a three-year posting at the US Embassy in Beijing as Commercial Attaché.
In 1995, Craig was assigned to the US Embassy in Tokyo, where he served as a Commercial Attaché. In 1998, he was promoted to Deputy Senior Commercial Officer. In 1999, Craig became a member of the Senior Foreign Service.
From 2000, Craig served a two-year tour at the National Center for APEC in Seattle. While there, he worked on the APEC Summits in Brunei, China, and Mexico. In 2002, it was back to Beijing, where Craig served as the Senior Commercial Officer. In Beijing, Craig was promoted to the Minister Counselor rank of the Senior Foreign Service.
After a four-year tour in South Africa, Craig became Deputy Assistant Secretary for Asia at the US Department of Commerce's International Trade Administration. He later became Deputy Assistant Secretary for China. Craig was sworn in as the United States ambassador to Brunei Darussalam on December 19, 2014. He served there until July 2018, when he transitioned to President of the US-China Business Council.
Craig received a B.A. from the University of Michigan in Political Science and Asian Studies in 1979. He received a Master of Science in Foreign Service from Georgetown University in 1985.
Dean Bing XIANG
Founding Dean
Professor of China Business and Globalization
Cheung Kong Graduate School of Business
Dr. Xiang Bing is the Founding Dean and Professor of China Business and Globalization at Cheung Kong Graduate School of Business (CKGSB). Prior to joining CKGSB, Dr. Xiang was a Professor at Peking University's Guanghua School of Management, where he pioneered the school's Executive MBA program. He was also one of the seven founding faculty members of China Europe International Business School (CEIBS) in Shanghai. Previously, Dr. Xiang served on the faculty of the Hong Kong University of Science and Technology.
He served as an independent board member of a number of companies (including two Fortune Global 500) listed in Hong Kong, Mainland China and the United States. He is a member of International Advisory Council of Fundação Dom Cabral (FDC) in Brazil and a Counselor for One Young World Summit in Dublin. He also served as a member of Board of Trustees for United Way Worldwide (US), the largest private charitable organization in the world.
Dr. Xiang's research interests include reform of state-owned enterprises, innovation and the role of the private sector in China. He is a leading authority on China business, innovations in China, globalization of Chinese companies, China's development models and global implications of China's transformation. His writings and cases on these subjects are considered among the most influential in China.
Dr. Xiang has served as a keynote speaker at many influential forums and conferences around the world. His recent keynote speaking engagements include APEC Global Innovator Conference (2015), Sydney China Forum (2016), US Committee of 100 Annual Conference (2016, Los Angeles), CKGSB-Brookings US-China Forum (2016, New York City), China-Europe Trade and Investment Forum (2017, Brussels), FT Banking Summit (2017, London), and Harvard China Forum (2017, 2018 and 2019).
He was a speaker of World Economic Forum, Bo'ao Forum for Asia, Saint Petersburg International Economic Forum, Fortune Global Forum, and the Economist Innovation Summit, etc. He participated in prominent closed-door conferences including Ditchley Foundation Annual Forum (2014), Yale CEO Summit (2016), and Rome Roundtable (2017, 2018 and 2019). He also spoke at Council on Foreign Relations (2019, New York City), Foreign Policy Association (2018, New York City) and Center for Strategic and International Studies (2018). In 2018, he served as the first Co-Chairman of Ditchley Foundation Annual Forum.
Dr. Xiang has offered training to the global leadership team of companies such as China Mobile, China Telecom, Clifford Chance, Cummins, Duty Free Shop, Electricite De France, Ernst & Young, Guangzhou Automobile Group, NSK, Renault Nissan Group and Yokohama Tire. He has also trained senior executives of companies in China and globally, including Bank of China, China Investment Corporation, China National Offshore Oil Corporation, China Railway Construction Corporation, GE (China), Goldman Sachs (Asia), Huawei Technologies, IBM (China), Lenovo, Midea, Petro China, Siemens (China) and TCL.
Dr. Xiang received his Ph.D. in Business Administration from the University of Alberta in Canada and his bachelor's degree in Engineering from Xi'an Jiaotong University in China.