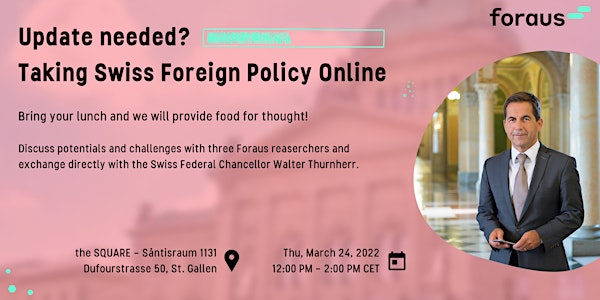 Update Needed? Taking Swiss Foreign Policy Online with Chancellor Thurnherr
We will workshop the digitalization of foreign policy with three researchers at lunch. Then, we discuss our theses with Walter Thurnherr.
When and where
Location
the SQUARE - Säntisraum 1131 Dufourstrasse 50 9000 St. Gallen Switzerland
About this event
As a neutral small state with a high degree of globalization and host state of the second largest seat of the United Nations, digital foreign and security policy represents an important aspect for the safeguarding of Switzerland's interests and its development. At the latest since the publication of the Digital Foreign Policy Strategy in 2021, digitalization has been recognized as an explicit, separate thematic area of Swiss foreign policy.
We will explore the potentials and challenges arising from updating Swiss foreign policy for a new, digital era during a lunch workshop. Together with other students and three researchers from the topic area we will explore intersections of foreign policy with issues related to cybersecurity, platform regulation, digital governance and internet fragmentation.
The workshop helps you to get up to speed on the most pressing challenges and Swiss strategy in this field, which we will then be able to discuss with Swiss Federal Chancellor Walter Thurnherr in a relaxed format. To fill up our batteries after so many questions foraus will offer you a replenishing coffee.
Personality in Residence
foraus St. Gallen is happy to bring you the opportunity to exchange directly with a member of the Swiss government, our Federal Chancellor:
Walter Thurnherr is a studied physicist that has completed an impressive parcours through various diplomatic assignments, stations at the FDFA and DETEC before taking office as the Swiss Federal Chancellor in 2016. At his current post, among many other tasks, he champions the digitalization of the federal administration.
Workshop Instructors
Working together on an unpublished foraus policy paper on digital foreign policy, these three have scrutinized the current strategy of the Swiss government in this field and are happy to share their expertise with you.
Sara Pangrazzi is a PhD candidate at the Institute of International Law at the University of Zurich with research stays at the University of Cambridge, the Woodrow Wilson Center for Scholars in Washington D.C., and the Hague Program for Cyber Norms. She is a member of foraus and ICT4Peace.
Nicolas Zahn is a senior project manager at the Swiss Digital Initiative. In addition to engagements with foraus, Operation Libero and reatch, he also worked on digital transformation in the public sector during his Mercator College for International Affairs.
Kevin Kohler is co-head of the Science & Technology program at foraus. He works as a researcher at the Center for Security Studies at ETH Zurich, focusing on cybersecurity policy and risk management.
Practical Information:
Please bring your own lunch if you want to eat something during the workshop. The SQUARE also has a cafeteria where you can get sandwiches or poké bowls.
foraus invites you for an espresso diplomatique during the wrap-up
Sign-up is required for this event