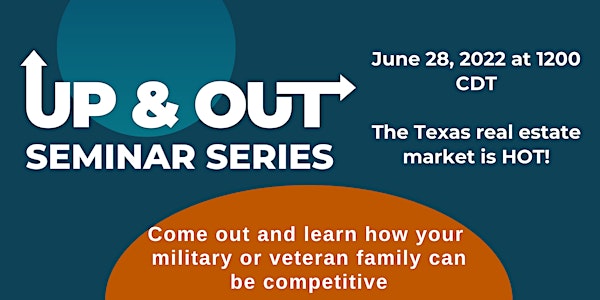 Up & Out Seminar Series: Texas Real Estate Market
How can Veterans compete in the Texas real estate market?
By Veteran Spouse Network
Date and time
Tuesday, June 28, 2022 · 10am - 12pm PDT
About this event
Are you living in or considering moving to Texas? The Texas Real Estate Market is HOT right now, and it can be overwhelming trying to navigate and figure out how to be competitive. Well, we're here to help! We've brought together a panel of Texas Affording Housing Specialists and realtors to provide practical and real-time advice on navigating the market, allowing you to leverage your opportunities and make the best decision for your family to set down roots. Whether you're buying/selling, or renting, our panelists will be able to provide guidance, tips, tricks, and answer questions.
Tuesday, June 28th, join us from 12:00-1:00pm CDT to hear from experts in buying/selling, and from 1:00-2:00pm CDT to hear from rental experts. Join for the full 2 hours or the portion that is most relevant to you and your family! Our presenters are experts in helping military and veteran families navigate the real estate market, however, this seminar is open to anyone in, or considering moving to Texas who can benefit!
Transition can be a bumpy road, and we are here for you, offering an educational and holistic approach to military service transition to help make a smooth transition for the whole family. Our Up & Out Seminar Series will connect transitioning families with experts from across the country to provide needed information on a variety of transition topics, ranging from housing, finances, benefits, healthcare, relationships, and so much more!
Please note that this event will take place on Zoom. You will be able to access the Zoom information by viewing the event's Online Event Page. The Online Event Page can be accessed by clicking the "View the event" button in your order confirmation email, OR by selecting the "Access this event" button on the right-hand side of the event registration page. You will also be emailed the Zoom invite in advance of the 28th. Please join via computer, tablet, or phone.