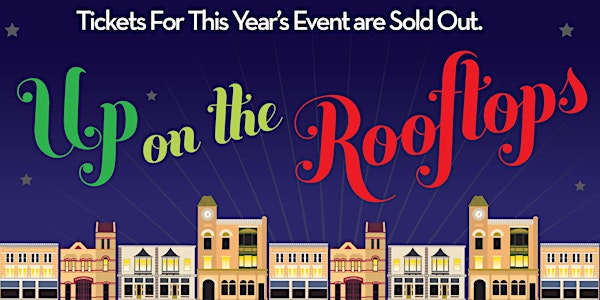 Up On The Rooftops 2019
When and where
Location
Downtown Holland 150 West 8th Street Holland, MI 49423
Description
During Up On The Rooftops on Friday, December 13, you're invited on an exclusive tour of homes and businesses on the upper floors of the historic buildings of Downtown Holland...along with a few secret gems! Tickets for this highly anticipated event are just $30 each and must be purchased in advance. There are a limited number of tickets available, so don't wait. This event sells out each and every year!
Tickets purchased online will be mailed directly to you. Ticket orders can also be placed at the Downtown Holland office at 150 West 8th Street during normal business hours beginning Monday, November 4. (Please note our new address! Our office can be found in the northwest corner of the Holland Civic Center Place, near the corner of 8th Street and Maple Avenue.) No phone or e-mail orders for tickets will be accepted. Tickets will be mailed out at least two weeks prior to the event.
This year's tour features ten locations, including residences above Chico's, above the future Crust 54, multiple residences in the 60 West Building in the new GDK development and multiple homes at Central Avenue Condos. Also featured on the tour are the offices of the newly built At Home Realty, Sperry's Moviehouse and Colliers International, located above Butch's.
The $30 ticket price also includes a dessert reception in the beautiful lobby of Fifth Third Bank, where light desserts will be served, along with wine, beer and coffee. When you purchase your tickets, you must select which reception you plan to attend. All locations on the tour will be open from 6:00 pm - 9:00 pm to accommodate all ticket holders. The Early Reception is from 6:30 pm - 7:30 pm and the Late Reception is from 8:30 pm - 9:30 pm.
Up On The Rooftops is proudly sponsored by GDK Construction Co. and Geenen DeKock Properties, with in-kind support from Alpenrose Restaurant, Fifth Third Bank and Lemonjello's Coffee. Please email info@upontherooftops.com or call 616.796.1210 with any questions.
Please Note: Up On The Rooftops is a self-guided tour and there is a significant amount of walking required to visit all of the tour locations. It is highly recommended that you wear comfortable shoes that are easy to get off and on, as most residences will require you to remove your shoes to protect their carpet. While a number of locations are handicap accessible, not all of them are. Handicap accessible locations will be indicated on your ticket. Up On The Rooftops is recommended for ages 18 and up.