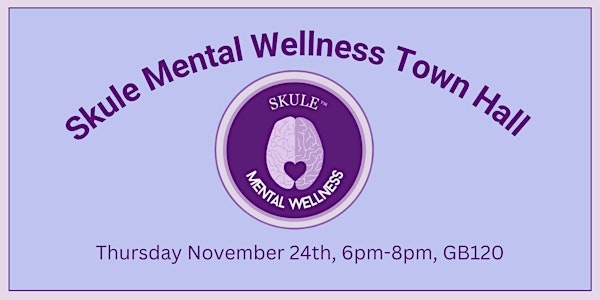 UofT Engineering Mental Health Town Hall
Skule Mental Wellness is hosting a town hall this coming Thursday, November 24th from 6pm-8pm in GB120
When and where
Location
Galbraith Building (GB120) 35 Saint George Street Toronto, ON M5S 1A4 Canada
About this event
The goal of this town hall is to provide a safe space to comment on the state of mental health supports and culture at Skule. What would a "perfect" mental wellness culture at Skule would look like? and how can we (Skule Mental Wellness, Faculty, and Students) cultivate that culture?
Here are some questions you can expect:
*️⃣ What makes Skule unique with regards to mental health? What unique mental-health related challenges and obstacles do UofT Engineering students face on a daily basis?
*️⃣ Which on-campus mental health resources are you aware of? How comfortable are you reaching out to these resources?
*️⃣ How can individual faculty help cultivate a culture that prioritizes mental health and mental wellness? students?
*️⃣ With regards to mental health, what would the "perfect" Skule community look like? What are some common behaviors within the Skule community (students, faculty, etc.) that are preventing this from happening?
*️⃣ What would you like to see SMW be doing to help individuals feel more safe and supported in the community?
The event will be taking place in GB120, with GB220 available as an extra room for anyone who needs a break from the discussions. The UofT Engineering Mental Health Programs Officer will be there to provide support and resources as needed, and Peer Support UofT will also be giving a short presentation on their services. Food will be provided!
Feel free to reach out to us (@skulementalwellness on Instagram, mentalwellness@skule.ca on Email) with any questions about the event.