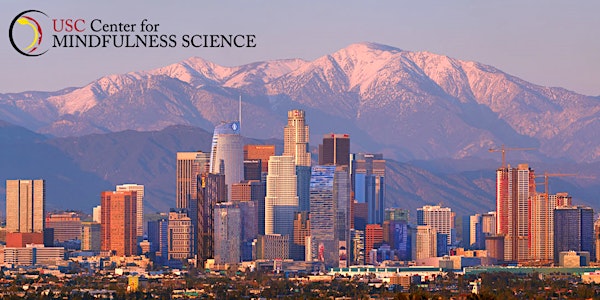 Unwinding Anxiety: Mindfulness-Based Habit Change
Mindfulness for Beginners
By USC Center for Mindfulness Science
Date and time
May 16 · 6pm - June 20 · 7:30pm PDT
Refund Policy
Contact the organizer to request a refund.
Eventbrite's fee is nonrefundable.
About this event
This class is for those who feel stuck from habits caused by the uncertainties of everyday life and for those who are new to meditation and would like to start a regular mindfulness meditation practice. If you are sometimes overwhelmed with worry, distracted by recurring thoughts, experiencing problems with restlessness, tension, or insomnia you may have a habit or even be addicted to anxiety or stress which is often an upstream cause of other habits and behaviors.
An estimated 40 million Americans are affected by anxiety on a regular basis. For many it's a developed habit that can be untangled with mindfulness practices. Stress and anxiety follow a habit loop of specific triggers, behaviors, and rewards that support this loop when we get anxious. Our brains get caught up in "thinking or "fix it" mode" that leads to more anxiety or moves us to avoid stress with unhealthy behaviors like stress-eating, smart phone overuse, substance abuse, or procrastination, creating obstacles to happiness, health, sleep, connections with family, friends, and even ourselves.
This course introduces mindfulness skills that train you to become more aware of and help change your relationship with anxiety. The program will demonstrate science behind the habit loop and the theory of how we form distracting thoughts that can lead to worry and avoidance strategies. You apply the knowledge of how your mind and body works to respond with healthier behaviors that lead to more resilience, calm, and happiness. You actually use the habit loop to diminish your unwanted habits, including Anxiety.
Mindfulness-Based Habit Change (MBHC) is based on the work of researcher and addiction psychiatrist, Judson Brewer, MD, PhD. Integrating both ancient wisdom based on Buddhist psychology and new learnings from modern science, Dr. Brewer developed a step-by-step approach to habit change demonstrated to be effective with anxiety, stress eating, and smoking cessation. You can learn more in his Ted Talk – click here.
In this class you will learn to:
Describe how habits are formed and perpetuated with regard to anxiety.
Describe how mindfulness affects brain processes and how to apply mindfulness skills.
Identify anxiety-driven habitual behaviors.
Discuss how mindfulness approaches can help change addictive habit patterns and break the cycle of worry and panic.
Observe how mindfulness skills and knowledge of reward-based learning are implemented with group participants.
Discuss observations/insights of weekly practices in a group setting.
Relate to difficult emotions with greater moment-to-moment acceptance
Become motivated by healthy self-rewarding actions and letting go of cognitive distortions instead of forcing motivation with willpower.
Integrate experiential learning techniques to increase freedom of choice.
Recognize and cultivate skillful, wholesome mind-states and habits.
Integrate core mindfulness exercises into daily life.
Schedule -Tuesdays 6pm - 7:30pm (PT)
May 16
May 23
May 30
June 6
June 13
June 20
Teachers
Elliott Law, M.S., CYT
Elliott Law has studied mindfulness since 2011 and maintains a dedicated practice. Elliott supports mindfulness at USC as a Mindful USC teacher and the Associate Director of Fundraising for the USC Center for Mindfulness Science. In 2015, he established the Mindful USC Mindfulness Practice Group in Downtown LA, which he leads weekly. Elliott also regularly presents on mindfulness for Keck Medicine of USC medical students.
Elliott is a graduate of InsightLA's Mindfulness Facilitator Training program, where he teaches Unwinding Anxiety and Mindful Eating Mindfulness-based Habit Change courses, half-day nature retreats, and co-facilitates the LGBTQ+ Practice Group. Elliott is also a qualified behavior change facilitator through training with Judson Brewer, MD, PhD. In 2023, he will complete mindful movement specialty teacher training and is a certified yoga instructor.
The sport of tennis is a long-time passion for Elliott. He is a USTA Elite Professional with over 20 years of teaching experience who integrates mind-body practices into lessons.
Elliott loves to connect with nature and wildlife and gets very excited whenever he encounters a bird he has not seen before. He holds an MS in mechanical engineering and works as an associate director with Keck Medicine of USC's Advancement team.
Robert Lurye, MEd
Robert Lurye is an artist, educator, and meditation practitioner who loves teaching the ancient wisdom and modern science of mindful living. He is a certified MBSR teacher through Brown University Mindfulness Center and UMass Medical School's Center for Mindfulness. Robert became a certified Mindfulness facilitator through InsightLA and is also a qualified facilitator for Dr. Judson Brewer's Mindfulness-Based Behavior Change programs which combine app-based training with in-person facilitated sessions to address unwanted habits from cigarettes to smart phones, emotional eating, and anxiety. He's a certified RYS 200 yoga instructor and currently studying Buddhist Eco-Chaplaincy at the Sati Center with Gill Fronsdal.
Robert teaches Mindfulness-Based Habit Change: Unwinding Anxiety and Mindful Eating programs, MBSR, Essentials of Mindfulness, Co-Facilitates the LGBTQueer+ Mindfulness group and the Hollywood Forever Cemetery Practice Group. He also leads mindfulness classes and facilitates sitting-groups for Long Beach Mediation and Mindful USC. He has been a computer animation artist since 1985 working in television, research and development and feature film production. He received his Master of Education degree from The Ohio State University and has taught art at Ohio State, Texas A&M, and University of Texas, Austin.
About the organizer
The mission of the USC Center for Mindfulness Science is the establishment of an academic Center of Excellence at the University of Southern California exploring mindfulness, from it's neural underpinnings to it's implications for social change and cultural transformation. 
Our center is committed to advancing the scientific understanding of mindfulness practices, and executing interdisciplinary, cutting-edge scientific investigations in this growing and important domain of the human mind. We aim to cultivate individual and societal awareness, well-being, and the relief of suffering through a scientific understanding of the impact of mindfulness and related practices on human consciousness and health.