Description
All Donations go to Savvy Ladies, a 501(c)(3) non-profit focused on financial education for women.

Women currently control 51%, or $14 trillion, of personal wealth in the U.S. and are expected to control $22 trillion by 2020. Despite increases in wealth, the path to financial security for divorced and divorcing women is still riddled with obstacles.
Francis Financial conducted a study of women who are going through or have gone through divorce. One hundred fifty women were surveyed in over 25 states, with the average age of respondents being 49, and nearly 60% having been married for over 10 years.
The results shed light on the emotional, legal and financial difficulties that women face during and after divorce. We also share the dos and don'ts of navigating this transition.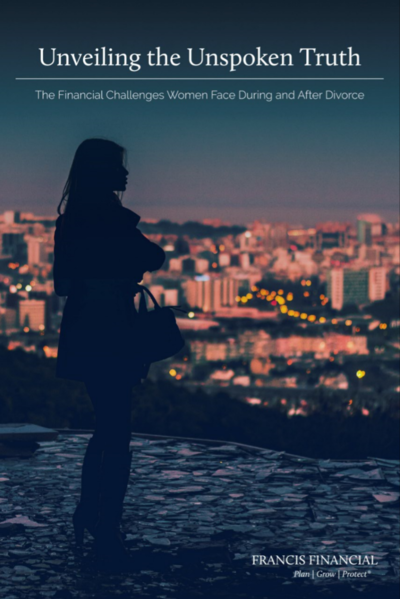 Here are some of the highlights from the white paper:
The top financial worry, when married, was the husband's spending habits.

Twenty-four percent of respondents mentioned concern and told stories of their husbands' unhealthy relationship with money as a contributing factor to their breakups. Neglecting to pay bills on time and out-of-control spending were recurring sources of financial conflict during the marriage.
During marriage, women managed the day-to-day finances while their spouse managed long-term investments, leaving them disadvantaged during and after divorce.

During the marriage, 77% of the respondents explained they played a role in every-day bill paying. However, in 38% of the respondents' marriages, the wife had no say in the investment decisions or long-term savings decisions. Due to this lack of experience, only 35% of respondents felt confident in, and understood, their investment portfolio and investment strategy, after their divorce.

Divorced women feel that they do not have enough support.

Thirty eight percent of women felt they did not have enough support, while eleven percent felt they had no support. Women going through transition, such as divorce, need friends and family, and also professionals who care, work collaboratively with others, and are interested in empowering them financially.
Our goal is to share this information with as many women as possible who have gone through, are going through or thinking about divorce, as well as professionals who support them.
All Donations go to Savvy Ladies, a 501(c)(3) non-profit focused on financial education for women. Savvy Ladies was founded in 2003 by Stacy Francis. Today, Stacy Francis is the President and CEO of Francis Financial, Inc., a boutique wealth management and financial planning firm. She remains on the Board of Savvy Ladies, Inc. and continues to guide and grow the impact of the organization and its programs for women.
FAQs
How will I receive my copy of the white paper?
Please provide your name and mailing address during checkout and you will be sent a copy of the white paper. Thank you for your support.

Date and Time
Location
Refund Policy