Embodied Meditation | Free Movement | Rewilding | Community
About this event
Tickets available at the Lotus Shores Front desk starting Aug 18 | This event will be limited to 25 participants.
Ecstatic Dance is a journey that follows the impulse of Life on its descent from the formless into form, from desire's first breath into the belly of flesh, blood, bone, sinew and stardust.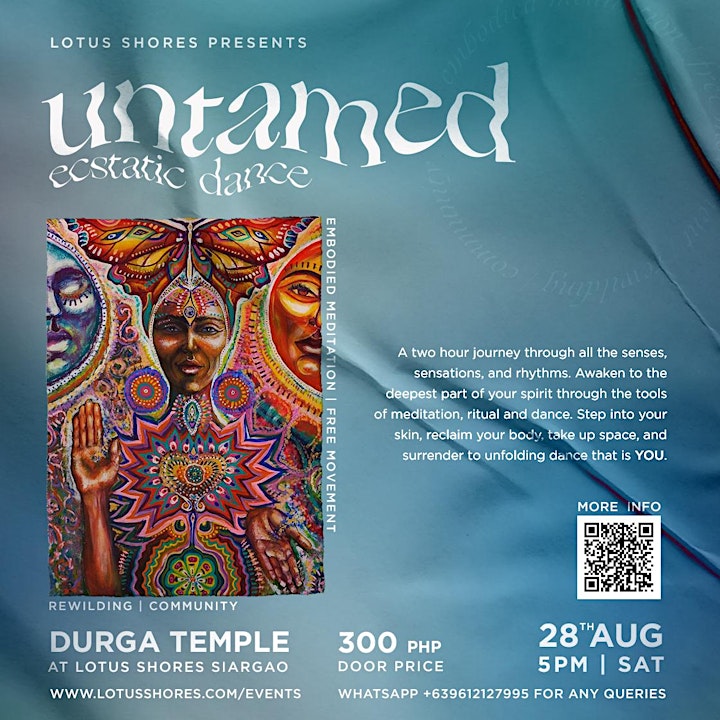 We reclaim the medicine and wisdom held within our bodies through ritual and embodiment practices. Through them, we safely release into the full depth, density and dimension of the body, moving through the clear and opaque parts and pathways that hold the potential for action and expression that is undivided, free, full of awareness and love.
Each new place that we land in is an expansion of the ground of our being, a reclamation of our home in the wild, where every creature-sensation, perception, and emotion is welcomed, met and allowed to move. We become more receptive to the innate clarity and joy that resonates and pervades through every layer of our body, rippling outward. Attuning to the consciousness that is the body, the dance arises by itself. No doing, no doer, no agenda, no rules, no boundaries.
The dance is unorchestrated and unchoreographed; it unfolds on its own.
By doing so, we may discover more of our natural instinct, attune to different parts and energies hidden from our everyday consciousness, or discover new flavors and dimensions to our desire and longing for life, for expression, for creation.
And when what is uncovered is held in safe, non-judgmental space, and is met by a series of rhythms in a multi-dimensional soundscape, what arises is one's own unique dance.
***
Our facilitators hold this practice and space with deep intention and respect. By participating in the ecstatic dance, you become co-creators and are held to the shared agreements of the journey.
These include: Sobriety upon attendance and during the event (no alcohol, no drugs/substances).
We honour each individuals' boundaries. In this ecstatic dance, you make internal contact, exploring what is both hidden and waiting to be uncovered, by inhabiting your whole body more completely. There will be no physical contact with other participants in the journey.
We are building a radically empowered community by giving ourselves permission to freely move and express in a safe, non-judgemental space. By showing up for ourselves, we give the members of our community permission and playful encouragement to do the same.
This is not a dance class. Each person is given the opportunity to discover and define dance for themselves, and are given the space to express with the whole of their body, through movement, sound, stillness and everything in between.
This event will be limited to 25 participants.
Tickets will be sold at Lotus Shores reception from Wednesday, August 18 until SOLD OUT. Follow @lotus_shores_siargao on social media for event updates. Contact us on WhatsApp +63 9612127995 for any questions.
We cannot wait to celebrate with you!