Description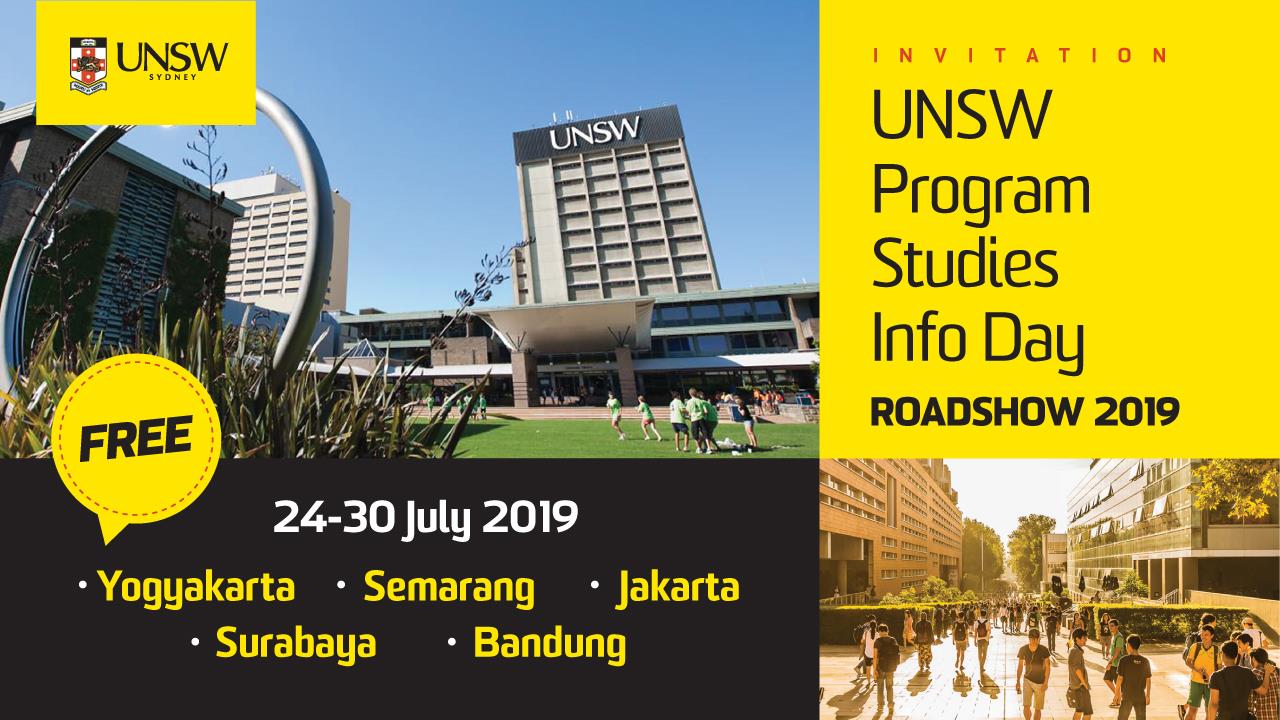 UNSW Program Studies Info Day Roadshow 2019 adalah acara sesi tatap muka, diskusi, serta kesempatan terbaik kamu untuk berkonsultasi dan daftar secara langsung dengan UNSW Sydney, Australia.
UNSW adalah member dari Group of Eight Universities Australia dan menempati peringkat 43 QS Top Ranking University 2020.

Acara ini diselenggarakan di:
Tanggal : 27 Juli 2019
Waktu : 12.00 s/d 17.00 WIB
Tempat : Grand Hyatt Hotel (Bromo & Rinjani Room), Jl. M.H Thamrin Kav.28-30

Acara ini wajib dihadiri oleh pelajar SMA kelas 1,2, 3, S1, S2 yang berminat kuliah di Australia.
Di acara ini kamu bisa melihat showcase dari fakultas dan berdiskusi langsung dengan perwakilan UNSW yang hadir; mulai dari program-program yang ditawarkan, persyaratan yang harus dilengkapi, lokasi kampus, batas akhir pendaftaran (intake), biaya kuliah, ada atau tidaknya beasiswa.
Selain itu juga ada presentasi menarik yang bisa diikuti.
Agenda UNSW Program Studies Info Day
12.00 - 15.55 Presentation Series
12.00 - 13.15 LPDP Scholarship Opportunity
13.00 - 17.00 Opening Both & Individual Consultation
13.30 - 14.15 Why UNSW Art & Social Sciences
14.20 - 15.05 Invert The Future
15.10 - 15.55 Study Architecture
UNSW Program Studies Info Day Roadshow 2019 tidak dipungut biaya sama sekali, karena tempat yang terbatas, daftarkan diri kamu sekarang juga!