Join this masterclass. Don't wait another day! The guided path to redesign and navigate your ultimate life in 50 days.
About this Event
Don't wait another day! The guided path to redesign and navigate your ultimate life in 50 days is here.
You are already successful, but not quite fulfilled. Deep down you feel something is missing, that more is possible. What would you want to change to get closer to living your ultimate life? What would you do if you knew you could not fail?
In this 50-day masterclass we work together to unleash your full potential by exploding old myths and self-limiting beliefs that are holding you back from being your best. Together, we break down the barriers and behaviors that are preventing you from achieving sustainable success and happiness.
The Ultimate Life Masterclass promotes life-long learning to help you create your most extraordinary life in 50 days over 4 courses with community practice and bonus sessions to lock in learnings, get real-time feedback from peers and experts, and see immediate results.
Immerse yourself in our most popular life-changing live event, to:
Uncover your life purpose
Clearly define and set goals
Implement best practices that unleash your unstoppable potential, motivation, confidence and passion
Incorporate daily habits of the most successful people
Attract the right career offers
Expand your professional network
Gain inspiration through small group breakouts in every session
Get noticed, show up and make an impact to bring out the best in others and yourself
Who is it for?
- Mid-senior career business women
- Womxn entrepreneurs
This program is for you if you are an ambitious business women or entrepreneurs wanting to invest in yourself, your vision and purpose and excited to learn best practices and techniques in an intellectually stimulating environment with experts and other like-minded women.
________________
You can opt for 1:1 coaching between events, so you can finally master all aspects of your life - mind, body, emotions, physical health, finances, time and business.
________________
You know a masterclass is good when participants say it was:
"Literally life-changing, I wish I had done this years ago"
"I am finally able to be myself in all aspects of my life--no longer do I self sabotage with limiting beliefs or fears--and I have so much more energy!"
You were born for this and you are ready to unleash your greatness!
________________
Sign up for Your Awesome Life Masterclass today and say, hello 2021!
SCHEDULE:
PUT YOUR MASK ON FIRST - CONFIDENT, MOTIVATED, UNSTOPPABLE YOU
Set Goals. Define Values. Follow your North Star. Learn the Daily Routines of the happiest high achievers including better time management, how to establish boundaries, and achieve work life balance for virtual teams. We'll explore how your health and well-being contribute to success and how living in alignment with your values and purpose empowers greater achievement. By creating affirmations and using visualization techniques, you'll be able to inspire real change along with a sustainable positive mindset.
Speakers: Britta Fischling, Jill Talvensaari, Anne Cocquyt
Date: Friday, Jan 29 Noon PST
__________________
YOUR WORTH: TREASURE, TIME, AND TALENT
Don't let self doubt and fear plague you or hold you back from your greatness! You'll learn how to use Positive Intelligence for success in business and life to achieve the right balance you need to succeed. We'll cover how to have a powerful presence, embrace your inner leader, build your leadership style, and have crucial conversations on collaboration, money, resources, and inclusion.
Speaker: Thais Yafet
Date: Friday, Feb 12 Noon PST
__________________
PERSONAL BRAND POWER: UPGRADE YOUR BRAND TO UPGRADE YOUR RESULTS
Advanced Linkedin Strategies to Attract Clients, Land Careers, and Expand Your Network. Find out how to use LinkedIn to showcase your unique value and elevate your professional presence online.
Speakers: Janine Hogan
Date: Friday, Feb 26 Noon PST
__________________
STORYTELLING FOR PROFESSIONAL SUCCESS: CRAFTING YOUR ELEVATOR PITCH
Summary: Learn how to ask for what you want in 30 seconds or less! You'll learn how to nail a perfect pitch that zeros in on the true value of what you offer with a story that resonates instantly with your target audience.
Speakers: Tara Quinn, Jill Talvensaari
Date: Friday, Mar 12 Noon PST
__________________
5. COMMUNITY PRACTICE Session (Optional) - Share your pitch
Date: Friday, Mar 19 @Noon PST
__________________
6. BONUS: VIRTUAL MEETING MAKEOVER
Date: Mar 26 @Noon PST with Personal Stylist to the Stars
Speaker: Shelley Golden
__________________
Meet the masterclass hosts:
Jill Talvensaari, PCC, CPCC, MBA
Jill is an inclusive workplace advocate, champion of professional women, and transformation catalyst. Her passion is helping leaders thrive and lead with confidence, find joy in life, and uplift their teams for lasting impact on their organization and community. As CEO of Ajillity Executive Coaching and co-founder of Women Speak Tech, she draws on 20+ yrs of experience guiding high-performance marketing, sales, and operations teams at start-ups and tech powerhouses like Microsoft, Adobe, and Salesforce, and has helped thousands of people get the results they want for their careers and lives.
________________
Britta Fischlin, PCC
Britta Fischlin combines 25 years of business and marketing background in media and high-tech with a deep level of listening, years of coaching, somatic practices, and energy healing to help coaches, therapists, healing arts professionals and other small business owners release any obstacles and heal their relationship to business, marketing and selling so that they feel comfortable creating marketing visibility for their business and being the face of their brand.
________________
Tara Quinn, PCC, CPCC, CDC
Tara Quinn, PCC, CPCC, CDC is a certified executive and organizational coach, training facilitator, and speaker. As the Founder and President of Three Month Visa Coaching and Consulting, she has been in practice since 2006 and has established a reputation as a national thought leader on the topics of work/life balance, career strategy and transformation, executive coaching and leadership development, and career breaks and travel sabbaticals - and she has been featured in numerous online and print media outlets including The Wall Street Journal, BBC Travel, New York Magazine, Travel & Leisure, The Christian Science Monitor, and MSNBC.com.Learn more at www.threemonthvisa.com
________________
Thais Yafet, CPCC
Thaïs Yafet is a Diversity, Equity, Inclusion Consultant and Leadership Coach, with 15 years of experience creating safe spaces for people to be themselves. In 2010 she was awarded the Grand Prize for "Women Driving Progress" by Essence Magazine and Ford Motor Corp., for her entrepreneurial and global business endeavors in the garment manufacturing, logistics, retail and tech sectors. Her passion is helping people and organizations achieve their purpose, values and goals. She has her CPCC from Coaches Training Institute (CTI) and specializes in Positive Intelligence for organizational fitness defined by a culture of inclusion and accountability.
___________________
Shelley Golden
Shelley Golden is a Personal Branding Image Consultant, with 20+ years of experience on 3 continents and is the owner of Shelley Golden Style.
As a result of COVID 19 and that more people are working from home, Shelley created The Zoom Make-Over, a 5-step process to help up-level their screen presence to create a more professional image to increase engagement and improve rapport and elevate your brand. Her mission is to help you understand what it takes to up-level your image and attract the people you want into your life, professionally and socially, both in-person and online.
___________
Janine Hogan
Janine Hogan is the LinkedIn Profile Master and host of The All-Star LinkedIn Profiles Podcast. As a personal brand copywriter, she helps countless business owners and executives upgrade their LinkedIn presence, build great brand stories, and maximize the power of the world's greatest virtual business network. As a storyteller of people and brands, she crafts every profile as intricately unique as a snowflake; no two are ever alike, giving you an incomparable advantage over your competition.
https://www.hogancopywriting.com
___________
Anne Cocquyt
Anne is a serial entrepreneur with a passion for connecting people and teaching entrepreneurs realize their full potential. After a career in the corporate world of IT, finance and digital health, she developed and sold a consumer product startup and founded the GUILD (letsguild.com), a community for entrepreneurs and innovators to connect, learn through the GUILD Academy programs and discover their full potential.
Anne offers business coaching for first time womxn founders who are looking for guidance to start their business. Unlike other coaching practices that follow a typical regimen of exercises, Anne tailors each engagement for her clients and offers business advice along with the engagement. Anne helped hundreds of entrepreneurs utilize their strength to find their way through the maze of entrepreneurship. Having started, raised funding, sold and acquired startups, Anne shares shortcuts, practical techniques and resources and connects her clients to the right people in her extensive network of Silicon Valley startup experts and investor to accelerate her client's businesses.
_____________
This program is brought to you by:
The GUILD
The GUILD not only creates a safe space for smart discussions and authentic connection making in an easy-to-navigate forum and through interest groups, we also offer our community curated 1:1 introductions through our proprietary professional match-making technology.
The unique mix of social gatherings and personal and professional development events gives you a chance to connect with and learn from a global community of courageous leaders, investors, innovators and female entrepreneurs.
Join today - it's free or join as a PRO member and benefit from dozens of perks.
Ajillity
Ajillity provides strategic marketing, user experience design, and leadership development that transforms organizations and wins markets for technology enterprises and start-ups. Whether positioning your product and services to take advantage the cloud, or planning and executing a product launch and marketing campaign, the seasoned professionals of Ajillity provide both strategic development and tactical execution consulting.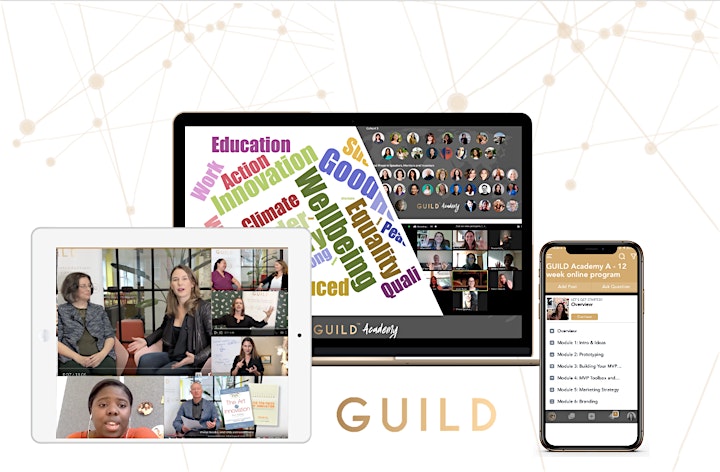 _____________
By participating in this event, you agree to abide by the GUILD's Terms & Conditions. This means we might take your photo or record the meetings and use it for any purpose it also means that you will be added to the GUILD newsletters.
By purchasing a ticket, you acknowledge that this event is being recorded and you might appear in video recordings or event photos that may be used for marketing purposes.
You acknowledge that relevant information may be shared with partners.
Date and Time
Location
Refund Policy