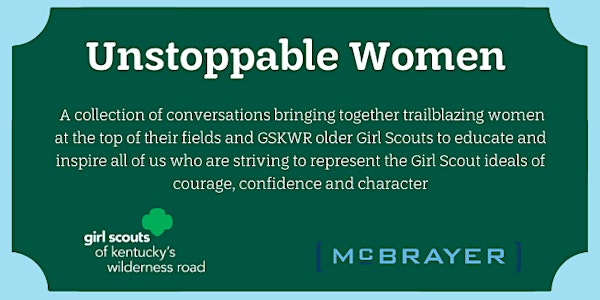 Unstoppable Women: Out Of This World
February 7th at 4:00pm EST for Girl Scouts of Kentucky's Wilderness Road's Unstoppable Women conversation.
By Girl Scouts of Kentucky's Wilderness Road Council
When and where
Date and time
Tuesday, February 7 · 1 - 2pm PST
About this event
Unstoppable Women brings together trailblazing women at the top of their fields and GSKWR older Girl Scouts for a collection of conversations to educate and inspire all of us who are striving to represent the Girl Scout ideals of courage, confidence and character.
Join us February 7th at 4:00pm EST for Girl Scouts of Kentucky's Wilderness Road's Unstoppable Women conversation featuring Jacqueline Caudill and Emily Walter. This month, the conversation topic is Out Of This World! 
The conversation will be moderated by Girl Scout Senior, Nora McGowan.
Meet the speakers
Jacqueline Caudill is a retired teacher from Perry County, Kentucky. She earned a Bachelor's Degree in elementary education from Berea College, followed by a Master's Degree as a reading specialist from Eastern Kentucky University. During her 30-year career, she taught most subjects in grades 4 - 8, however, most of her career was focused in middle school Reading and English Language Arts (ELA). In addition to teaching her students, Jackie served on the district curriculum committee and as a District Lead for ELA teachers. In spite of a lack of STEM (Science, Technology, Engineering, and Mathematics) background and skill set, she found opportunities for her students to bring STEM into their ELA learning. Continuing to step outside her STEM comfort zone, Jackie became the coach of a FIRST LEGO League robotics team for the last 7 years of her career. Her teams reached the top levels of the Kentucky State FLL Championship Tournament and became well-respected in the state.
Jackie's efforts to promote STEM learning were recognized in the spring of 2017 when she received the inaugural June Scobee Rodgers Innovative STEM Educator of the Year Award presented by the Challenger Learning Center of Kentucky (CLCKY). The nomination field was fierce as it included teacher candidates from Challenger Learning Centers from across the United States and internationally.
Currently, Jackie continues her work in education as a flight director, STEAM education specialist, and robotics advisor at the CLCKY. On any given day you might find her flying students on a simulated mission to the moon or Mars, guiding groups through the interactive science center entitled Moon, Mars, and Beyond, working with the region's FLL Robotics program, or collaborating on program development.
Emily Walter is the Mission Operations Engineer and Spacecraft Operator at Morehead State University.
Emily is a Morehead State University Alumna. She has a bachelor's of Science in Space Systems Engineering with a minor in Mathematics. Emily is pursuing a Master's of Science in Space Systems Engineering. She is a former Tactical Networks Summer Intern at MITLL and current Mission Operations Engineer and Spacecraft Operator for the Lunar IceCube project.
This is a free event but all attendees must register to receive Zoom link and passcode. Registration will close 10 minutes prior to the event.
Discovering—and Doing—More
Unstoppable Women conversations showcase a wide variety of topics of interest to women of all ages. To help engage and connect Girl Scouts to the Unstoppable Women program, conversation topics will be tied to badges and journeys for each grade level.
Girl Scouts are encouraged to work on the  Space Science Badges for their age level.  Whoever we are, wherever we're from, each of us has our own associations with the Moon, Sun, and stars. Observing the universe around us and making meaning from what we see are a part of being human! The Space Science badges tap into girls' inherent curiosity, engage their sense of wonder, and offer opportunities to practice science skills along the way.
Join us! Learn, laugh and leave feeling inspired. Questions? Contact Katie Mauldin at kmauldin@gswrc.org.