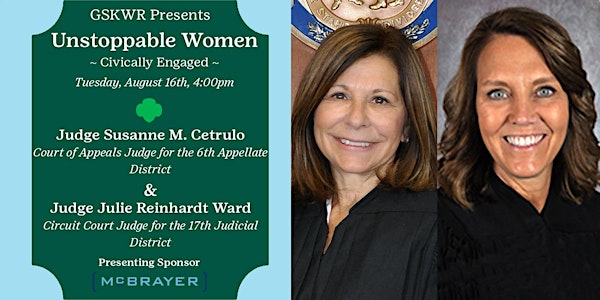 Unstoppable Women: Civically Engaged
Join us August 16th at 4:00pm EST for Girl Scouts of Kentucky's Wilderness Road's Unstoppable Women conversation.
About this event
Unstoppable Women brings together trailblazing women at the top of their fields and GSKWR older Girl Scouts for a collection of conversations to educate and inspire all of us who are striving to represent the Girl Scout ideals of courage, confidence and character.
Join us August 16th at 4:00pm EST for Girl Scouts of Kentucky's Wilderness Road's Unstoppable Women conversation featuring Judge Susanne Mowery Cetrulo and Judge Julie Reinhardt Ward . This month, the conversation topic is Civically Engaged! 
This is a free event but all attendees must register to receive Zoom link and passcode. Registration will close 10 minutes prior to the event.
Meet the Speakers
Judge Susanne Mowery Cetrulo was appointed to the Kentucky Court of Appeals on Sept 15, 2021 by Governor Andy Beshear. Prior to her appointment, Susanne was a founding member of Cetrulo, Mowery and Hicks, PSC, in Edgewood.
Susanne is a graduate of Morehead State University and a 1984 graduate of Salmon P. Chase College of Law. She was admitted to practice before all Ohio and Kentucky state and federal courts as well as the United States Supreme Court. Before going into practice, Susanne had served as a staff attorney for the Kentucky Court of Appeals for seven years, serving under Judge Charles Lester and Judge Judy M. West. After Judge West's death in 1991, Susanne was an associate with the law firm of Kohnen, Patton, and Hunt, in Cincinnati, before joining as a partner with Ware, Bryson, West and Kummer in Edgewood where she practiced in general civil litigation. In 2000, Susanne and her husband, Robert B. Cetrulo, formed their own law firm, Cetrulo and Mowery, which has now grown to include three other partners and five paralegals. This past year, Susanne was honored and deeply humbled to receive the Northern Kentucky Bar Association's Most Distinguished Lawyer award. She is only the second woman in 25 years to receive that honor.
Judge Julie Reinhardt Ward was born in Campbell County, Kentucky and raised in Alexandria. She is married to Mark Ward and has two children. She received her B.A. from Northern Kentucky University in 1992 and her J.D. from Chase College of Law in 1995. She is admitted to practice law in the Commonwealth of Kentucky and State of Ohio. She also is admitted to practice in the Eastern District of Kentucky. From 1995 until 2002 she was a solo practitioner. From 2002 until 2004 she was employed as an attorney with Boggs & Colvin.
In 2004 she was the first woman in Campbell County to be elected as a Circuit Court Judge. She was reelected in 2006 and then again in 2014. From 2008 until 2012 she presided over the Campbell County Community Corrections program. Since 2012 she has supervised a SMART program. Since 2016, she has served as the presiding judge over Campbell County Mental Health Court. She has served on the Kentucky Judicial Education Committee and is currently on the Kentucky Circuit Judges Association Executive Committee. She is the Past-President of the Salmon P. Chase Inns of Court. She is a member of the Kentucky Bar Association and Northern Kentucky Bar Association. She is also actively involved in her church.
Discovering—and Doing—More
Unstoppable Women conversations showcase a wide variety of topics of interest to women of all ages. To help engage and connect Girl Scouts to the Unstoppable Women program, conversation topics will be tied to badges and journeys for each grade level.
Girl Scouts are encouraged to work on the  Citizen Badges for their age level.  These Citizen badges—Good Neighbor, Celebrating Community, Inside Government, Finding Common Ground, Behind the Ballot, and Public Policy—engage girls in age-appropriate activities involving community service, public policy, government, voting, and more. Over time, the badges build girls' knowledge of local and global communities and show them how their actions as citizens make the world better for everyone.
Join us! Learn, laugh and leave feeling inspired. Questions? Contact Katie Mauldin at kmauldin@gswrc.org.