About this Event
POSTPONEMENT NOTICE:
UNSTOPPABLE LIVE has been moved to October 2nd and 3rd 2020 due to the event closing recommendations by the CDC. All tickets previously purchased will be honored for this event!
UNSTOPPABLE LIVE is an unforgettable experiential event for women who want to go deeper, to master their mindset. To rip off the mask and break free from the SHACKLES OF SHAME, to RECLAIM their self-worth, to go from CAGED TO CHARGED. We're talking BREAKTHROUGH!
This ain't no Fluff n' Buff because the truth is that no one has time for that.
We tackle REAL issues that REAL women struggle with (shame, anger, frustration, insecurities, guilt, imposter syndrome, exhaustion, brokenness, betrayal and fear) and deliver proven techniques to BREAK FREE, live BOLDLY and UNAPOLOGETICALLY.
This event is an INVESTMENT in your future and for future generations. We're all about FLIPPING THE SCRIPT, CYCLE BREAKING, becoming DISRUPTIVELY COURAGEOUS, and stepping into who you're designed to be.
This isn't your momma's or sister's women's conference. This isn't about a handful of extraordinary women just inspiring, talking and sharing their stories. THIS ISN'T ENTERTAINMENT. You can go online and get entertainment. This is going ALL IN and CHOOSING TO LEAD AN EPIC LIFE and it starts here.
No more self-abandoning/sacrificing, no more not knowing your worth.
NO MORE LIMITING!
This is an INVITATION to find yourself. Own yourself. We're talking at the REAL and RAW level.
You'll get to step into an EXPERIENCE and participate in exercises that are backed by neuroscience which RETRAIN/REWIRE your brain so you can become UNSTOPPABLE.
It's about mastering your mindset, reconnect or discover for the very first time your value. (and, who doesn't need a girls' getaway weekend!)
Our speakers are renowned dynamic and engaging experts in their field who travel the world to share their superpowers to help others turn LOSS into LEVERAGE and PAIN into PURPOSE and help women become UNAPOLOGETIC and UNSTOPPABLE.
THIS IS A LIVE EVENT FOR WOMEN BY WOMEN WHO GET IT.
WHO IS THIS FOR?
🔑 Women ages 21-65 who want to get UNSTUCK and become UNSTOPPABLE
🔑 Women who are ready to drop the F* bomb (FEAR) from their vocab and start taking some serious action
🔑 Women who are ready to step into their power
🔑 Women who don't want to find themselves in the same boat years from now
🔑 Women who want to grow strong emotionally secure kids and be CYCLE BREAKERS
🔑 Women who want to learn how to protect future relationships
🔑 Women who are courageous enough to pull back the curtain and unravel the lies
🔑 Women who want to learn how to play a different game...and win
🔑 Women who want true transformation and are willing to make radical change
🔑 Women who are ready to rebuild, reinvent and reemerge!
EMCEE & ENTERTAINMENT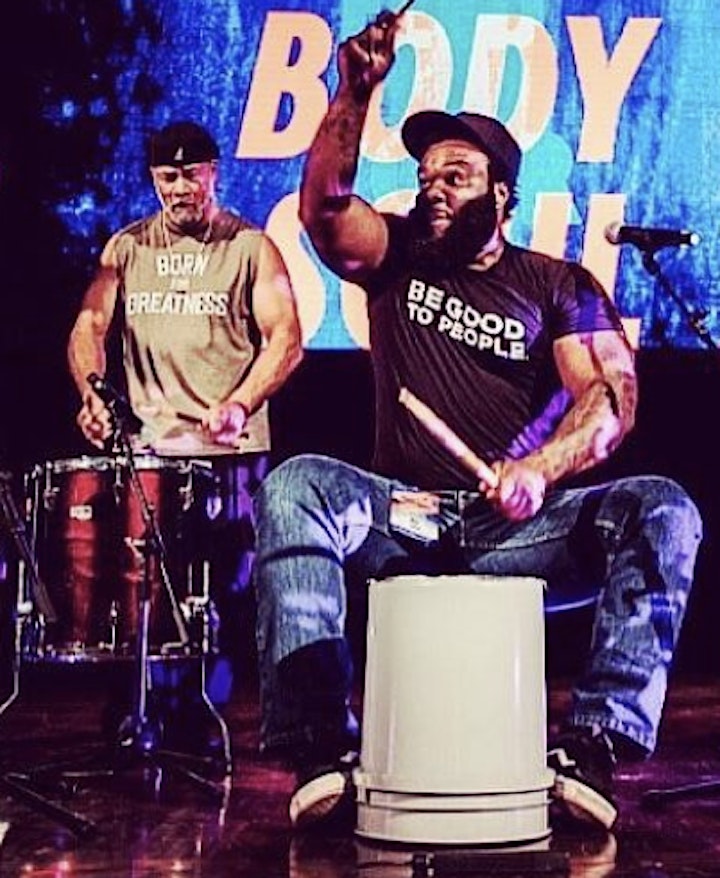 ELEC SIMON
Inspirational. Motivational. Transformational! That's what participants say about Elec Simon's musically interactive production.
In schools, Elec takes students past his story of personal tragedy due to bullying and onto an emotional musical ride with a full band, inspiring them to respect themselves and others.
In the workplace, Elec's drumsticks smash down barriers through team-building and lessons from his journey from obstacles and self-doubt to confidence and success.
In prisons, Elec shares his story and guides inmates to express themselves through music, while drumming positivity and respect into the environment.
Elec performs with the Cleveland Cavaliers Entertainment Team, tours with the world-famous Pieces of a Dream jazz ensemble, and is a ten-year veteran of wowing audiences in the critically acclaimed off-Broadway show Stomp.
Elec's words touch your heart as his music touches your soul in this program for everyone about believing in yourself, cultivating respect, working together, reaching your dreams, and living your best life. Elec Simon
Elec was one of the 2019 recipients of the Ten Outstanding Young American awards.
THE UNSTOPPABLE SPEAKERS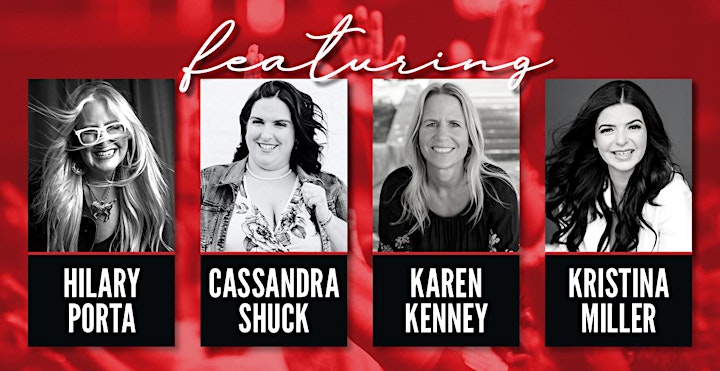 HILARY PORTA
A shame slayer, life-warrior, generational shifter, soul-ignitor, expander.
I believe we can live better lives than the ones we've settled for, break out of the boxes others have put us in, and push through the limiting beliefs of our own minds.
I believe because I've done it.
I emerged from a high-conflict and costly divorce and turned my loss into leverage. I ripped off the shirt of shame, activated my potential, and rebuilt my life. Through trial and triumph, I went from wrecked to redeemed.
I'm thankful I was broken; through the pain I learned the power of resilience, and discovered my passion for creating resilience in others.
After I rebuilt myself, I discovered a passion for using my story to bring perspective, healing, and freedom to those who are damaged from their past and stuck in stagnant mindsets.
We are all learning how to be brave and vulnerable despite the wounds that have made us.
We are all just becoming.
And none of us have to live broken or be limited to the blueprint we once used to build our life.
Let's scrap it. Lets rebuild, reinvent, and reemerge.
As a leading resilience and mindset expert, Hilary strives to provide her clients with evidence-based strategy and a framework to manifest their highest level of emotional intelligence and reach their fullest potential.
Leaving behind her successful career as a corporate strategist, Hilary's spent the last decade diving deep into neuroscience, neuro-linguistic programming, cognitive behavior, industrial psychology, theology, and Advanced PSYCH-K® to help people rewire the software of their minds so they can experience radical growth.
With over twenty-five years transforming both organizational culture and the lives of individuals from various backgrounds including corporate, financial, manufacturing, legal, film, higher education, special forces, non-profit, motorsports, professional sports and celebrity arenas, Hilary's passion lies in helping others pull back the curtain, get real, raw; gain clarity and learn how to pivot, recalibrate, rebuild, reinvent and reemerge.
Hilary Porta is a Generational Shifter, Resiliency & Mindset Expert, Shame Slayer, Courage Ignitor, Life Architect, Advanced PSYCH-K®️ Practitioner and global speaker who is hell-bent and fiercely committed to helping others release the past, shatter the mental limits and awaken the soul to become UNSTOPPABLE. She is principal owner of H Porta Coaching and founder of R3 International, Inc. with offices in Charlotte and the UK.
CASSANDRA SHUCK
Cassandra's always been good at "the hustle."
From a young age, Cassandra cultivated the belief that she had to be self-sufficient to succeed. This helped her escape from a turbulent upbringing in a household stricken with abuse.
Cassandra's entrepreneurial endeavors taught her first hand how trauma can manifest in different ways; self-sabotaging, doubting your intuition, white-knuckle control and even, perfectionism.
Despite these challenges, she was able to create and grow multiple successful businesses including Tola Marketing + Creative and Milkin' Cookie, from the ground up.
She's discovered what it truly takes to leverage trauma and define a new level of income, impact, and fulfillment.
Through her experience helping women in some of the most meaningful times of their lives, as a birth doula, she realized the power of women working together.
In her current role as a business growth and profitability expert, Cassandra helps female entrepreneurs unlock their highest potential. She approaches each client and project with a fresh perspective, innovation, and curiosity.
For more information about Cassandra's story, programs, and podcast, or to book Cassandra for a speaking engagement, connect with her at CassandraShuck.com
KAREN KENNEY
Karen Kenney is a writer, speaker, spiritual teacher and the founder of Fearless Flow Mentoring .
She's a certified Spiritual Mentor and for the past 27+ years has been a student & guide of A Course in Miracles. She's also a longtime practitioner of Passage Meditation, a certified Gateless Writing Teacher and has been teaching yoga since 1999.
KK grew up in Lawrence & Boston, MA and is known for her storytelling, her sense of humor and her "down-to-earth" approach to spirituality. Her signature workshops, retreats and 1:1 Mentoring Programs: Your Story to Your Glory™ & Fearless Flow™ have helped people to let go of their old limiting stories of suffering and victimization, so they can choose Love over fear and live a new kick-ass story from a place of power, forgiveness, freedom and Spirit.
A sought-after Expert, Guest Teacher and Spiritual Thought Leader for Live Events, Podcasts, Coaching Programs and Shows, Karen speaks on various platforms across the country and leads Transformational Retreats in the New England area and at the Omega Institute in NY.
KK is the host of The Karen Kenney Show podcast and The Sunday Spiritual with Karen Kenney. She's currently at work writing her memoir.
You can learn more and connect with Karen at: KarenKenney.com
KRISTINA MILLER
Kristina is a 34-year old serial entrepreneur and Massachusetts native who saw a need for a fresh new networking group in town and founded Boston Business Women which now has over 22,000 active members.
Kristina's is also the CEO & Founder of Moroccan Magic | Clean Beauty. After only 3 years in business, Moroccan Magic lip balms are available in over 30 plus retailers. Target, CVS, Walgreens, Wegman's, Stop & Shop, Bed, Beth & Beyond, Whole Foods to name a few. Everyone from The Today Show to the cofounder of Apple, Steve Wozniak to Oprah Winfrey's make-up artist, calls it, "the best new drugstore lip balm."
Kristina is also founder of Busy Girl Boston, ZOOS Greek Tea, a published author, Huffington Post blogger, and an active mentor and volunteer to young women interested in entrepreneurship. She and her brands have been featured in USA Today, Forbes, The Boston Globe, and many other high-profile publications.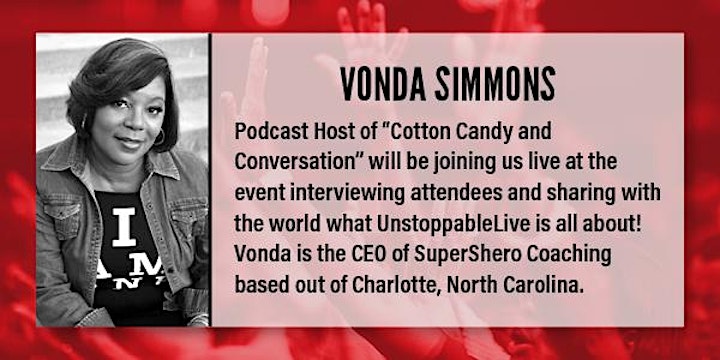 EVENT SCHEDULE
Friday, May 1st - Registration 5:30 - 7:00 Kickoff @ 7:00pm
No better way to get the weekend kick-started! Join us for an UNSTOPPABLE evening of connectivity, making new friends and getting hyped for the breakthroughs and transformation the following day! Entertainment with Elec Simon....and a BONFIRE on the beach!
Saturday, May 2nd - Morning & Afternoon - Unstoppable LIVE 9:00am-5:00pm
Saturday - VIP Experience - 6:30pm
TICKET PACKAGES
Early Bird Special – $197 (valued at over $500)
General Admission – $297 (valued at over $500)
VIP Early Bird – $597 (valued at over $1600)
VIP General Admission – $697 (valued at over $1600)
Includes Kickoff, Entertainment & Bonfire on the Beach, Friday evening
VIP Level Seating (Best in the House)
VIP Dinner with Hilary Porta & Speakers Saturday Evening (Valued at $75)
Access to Special VIP area – Snacks & Beverages
Lunch on Saturday in the VIP Lounge (Valued at $25)
VIP Swag Bag (Valued at $50)
PSYCH-K® Session (Valued at $350)
Power Hour of Mindset Coaching (Valued at $800)
Power Hour of Business Coaching (Valued at $800)
(A la Carte) Lifestyle Photoshoot with Taylor Jenson $500 (Valued at $1500).
*As a special offering, we've arranged an opportunity for VIP's to be professionally photographed by Taylor Jenson , who personally travels with Lewis Howes, Maisie Williams, Lil Jon, Peyton Manning, Trevor Noah, Aubrey Marcus, Jesse Itzler, Dean Graziosi, Leann Rimes, Trevor Hall, also Ferrari, RedBull, Clif Bar and other famous celebs!!!! THIS IS A CHANCE OF A LIFETIME.
For those who aren't in the know, Taylor is an International photographer who works with 7-figure+ entrepreneurs expand their brands through photo and video content.
Fair Warning: These VIP tickets are VERY limited and SELL OUT quickly so get yours now before it's too late!
SEATING IS LIMITED, so grab your ticket while they last and join the thousands of women who have already experienced BREAKTHROUGHS and stepped into BADASSERY.
VENDORS/EXHIBITORS
If you are interested in becoming a vendor at UNSTOPPABLE LIVE, please email r3intl.events@gmail.com.
YOU COULD BE ON THIS LIST:
Tola Marketing + Creative
Better Business Bureau
Parker Gray
SPONSOR US
If you are interested in becoming an official Sponsor of UNSTOPPABLE LIVE, please email r3intl.events@gmail.com. Help bring this event to life and support all these female leaders by providing a complimentary service, or a donation! Email r3intl.events@gmail.com for information regarding sponsorship levels and what you get in return for sponsoring this AWESOME event.
YOU COULD BE ON THIS LIST:
VOLUNTEERS
If you are interested in volunteering for UNSTOPPABLE LIVE, please email r3intl.events@gmail.com. By joining us as a volunteer, you will be partnering with us in providing the best possible event experience for those who attend.
REFUND POLICY
Tickets for this event are NON-refundable. You may change the registered attendee name on purchased tickets at no additional charge but we cannot offer refunds for this event regardless of circumstances. If, however, this event is cancelled for any reason you will be entitled to 100% of your money back.
VENUE
We're excited to announce that as an added bonus, we've negotiated special rates for the Sea Crest Beach Hotel in Falmouth at a courtesy rate of $209 per night. This negotiated rate is for their newly renovated signature rooms and includes the $30/night resort fee. Rooms book up quickly, so if you are interested in reserving a room, you are urged to do so as soon as possible.
You can reserve rooms online or contact the Sea Crest Beach Hotel directly by calling (508) 356-2185. Use this code to get our group rates:10Q7HW
(Again, this is a PERFECT girls' getaway weekend…on the BEACH!)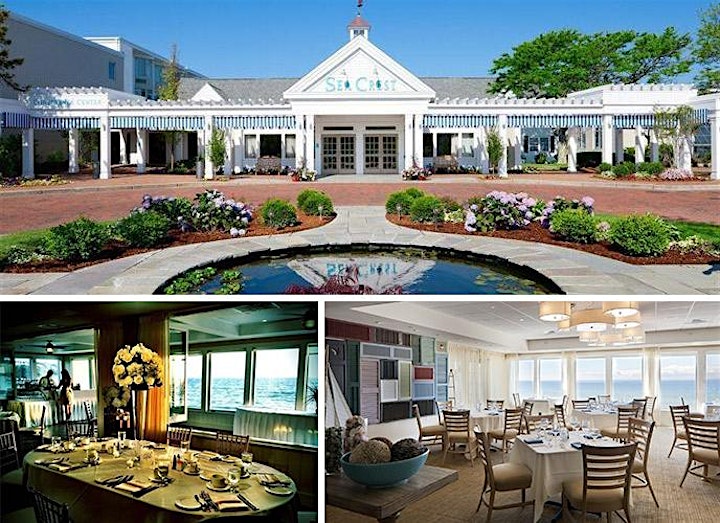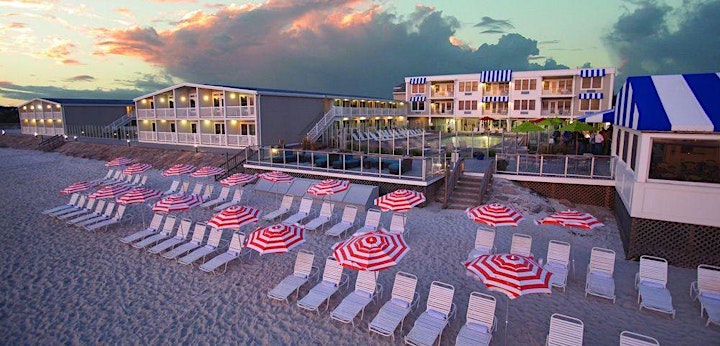 R3 is a place where substance and sisterhood meet.
It's a movement.
A tribe.
A global community of UNSTOPPABLE women.
Join Hilary and a tribe of UNSTOPPABLE women who are building a GLOBAL MOVEMENT. Your soul will leave nourished, empowered, and FREE!